BY: NADIA ZAIDI
Photo Credit: Daniele Tamagni 
Most of us probably wouldn't associate made-to-measure suits, the finest silk ties, and fancy smoking pipes with the areas of the world's poorest countries. Yet, such a subculture exists in the Congo.
Le Sape ( meaning a Society of Tastemakers and Elegant People) is a subculture in the Republic of Congo that considers themselves to be the best dressed individuals in the world. They even devote their entire incomes to expensive clothing and accessories, simply for the pleasure of others. Le Sapeurs (as they are referred to) believe that they should exemplify courtesy and good will to others. They use their fashion to boost morale in their communities.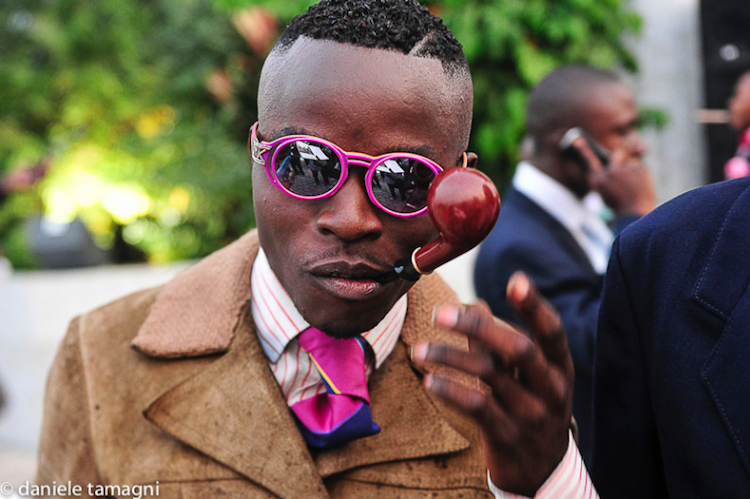 There are strict rules to being a Sapeur. Socks have to be a certain height. You can't wear more than three colours at a time. Severe attention to the fine details are key to being a man of substance. Furthermore, he is probably a Catholic who attends Church regularly and promotes peace and resolution over weaponry and warfare.
Sapeurs also participate in weekly "Throw downs", where they compete to see who has the best outfits.
Often also referred to as 'dandy men,' the subculture dates back as early as the 18th century. During this time, slaves were given the clothes of their European masters in order to fit in. Subsequently, it sort of spoke to the liberated African male who could now create his own unique style.
But their fashion goes simply beyond the realm of good taste. It's a political statement against the forced conformity of the Colonial past when men were forced to wear tunics.
In 1922, a religious and political figure named Andre Matsoua spearheaded this subculture when he returned from Paris, adorned in French clothing. Yet, it wasn't until decades later in the 1960s when Congolese pop star Papa Wemba revolutionized this style into the movement it is today.
This was quite the counter-culture under the influence of president Mobutu, who moved towards eliminating any Western influence in Congo after its independence from Belgium.
During the day, Sapeurs work hard as taxi drivers or labourers, but once the work day is done, they transform. Staring at photos of these men, you almost feel as though you are flipping through the pages of GQ magazine – that is, until you look closely at their surroundings.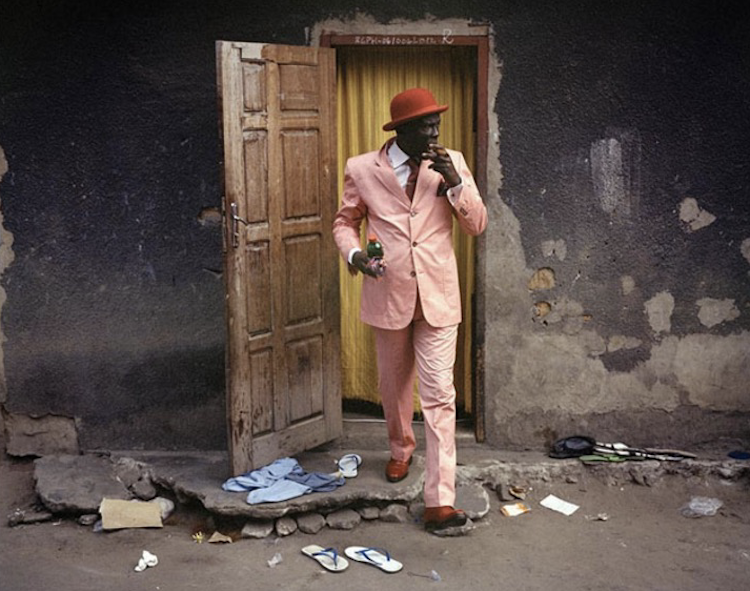 In the Democratic Republic of the Congo, the average annual income is only $100 USD, which is among the lowest in the world. Yet somehow many of the Sapeurs are decked out in outfits that cost upwards of $10,000.
Still, Sapeurs are largely respected and admired within their communities, as they are said to bring a sense of joy, positivity and hope when people need it most. Yet, it still makes a person wonder if the reward is worth the cost. A $10,000 suit could feed a lot of mouths, or build community centres that everyone can benefit from.
As we've seen first hand in North America, material items contribute to a culture based on showmanship. We believe the best brands represent the "best" of us, and we use fashion to create class hierarchies. Are these Sapeurs really helping, or are they simply ignoring, and subsequently exacerbating, the issues the community faces?