BY: QUENTIN STUCKEY
Sarah Anne Johnson may or may not be a familiar name, but her striking brand of photography has left a mark on Canadian art and culture. A graduate of the University of Manitoba, Johnson's diverse photographic exhibitions have included works such as statues, paintings, live performances, dance and video; all of which address themes of nature, utopia, mental health and contemporary society.
Her latest exhibition titled The Kitchen is based on the personal experiences of a family member. Back in the 1950s, when mental illness was an extreme taboo, Johnson's maternal grandmother was disturbingly subjected to various mind control experiments as part of a CIA Program when she attempted to seek professional help for post-partum depression. Sarah Anne Johnson presents the impacts of her grandmother's struggle through the daily life of a domestic housewife in the post-WWII era where women were expected to fill the traditional role of a mother and caregiver simultaneously.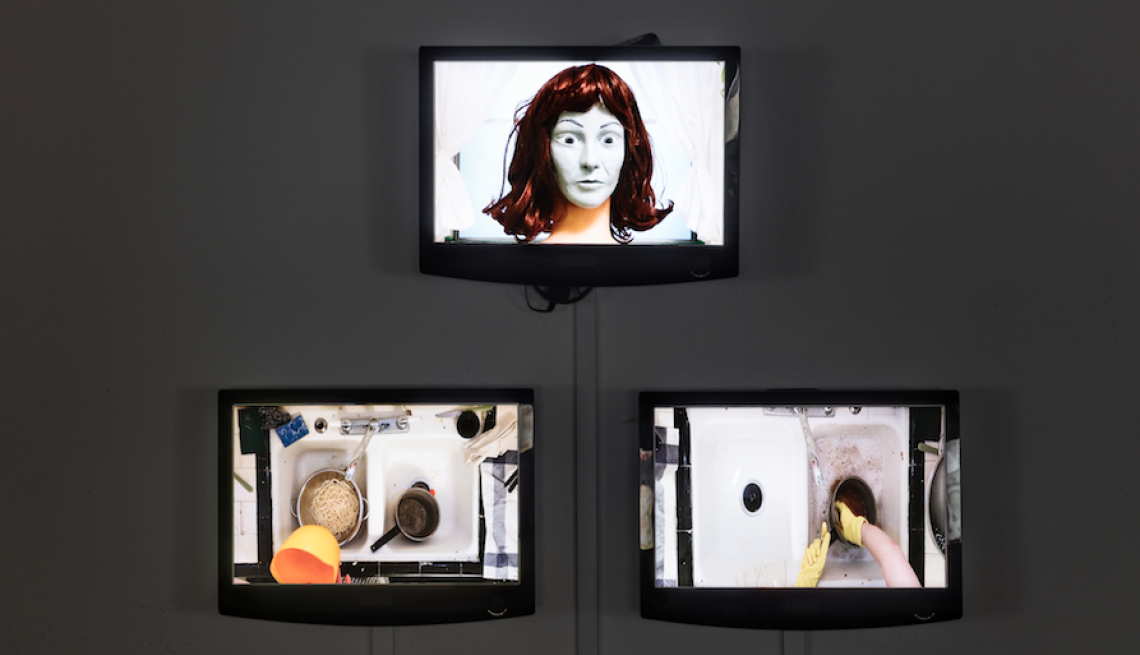 Johnson has chosen video as the medium for this exhibition. On her official website, full-length clips of the work are presented. Even though the clips are being viewed from the comfort of a computer or phone screen rather than a museum, the message and frankness of the piece still gets across effectively.
The video clips show the subject with a grey, emotionless face plastered on the back of her head. Her body attempting to perform the cooking and cleaning duties of a housewife literally trapped in the space of her white kitchen. We see her struggling to peel carrots and potatoes with her backwards body; cringing as she comes close to cutting her finger several times, crawling around the kitchen floor in an overhead shot unable to stand herself back up and using the dull side of a knife as she attempts to cut a loaf of bread. The subject is clearly handicapped and yet striving to live what was considered an ordinary life back in that time period.
These images are chilling and powerful, leaving the viewer with an emotional understanding of Johnson's grandmother's traumatizing ordeal. Viewers also gain an awareness of the inhumane experiments and activities often lead by the government in the 1950s and the effect on the unaware participant.  To view clips from The Kitchen and more of the photographer's extensive work, visit Sarah Anne Johnson's official website.