2020 has been a real sunavabitch.
It's not news, it's hardly even worth the breath it takes to point that out anymore.
Nonetheless, it's been an undeniably overwhelming time for most. More than ever, folks are realizing how necessary a little fresh air and human interaction really are. Even more so, how crucial some regular R&R and time away are to our collective well-being. 
Neatly situated lakeside amongst the mountains and forests of the Okanagan Valley, the breathtaking cities of Kelowna and West Kelowna famously cater to this exact spirit.
Thanks to its vast outdoor playgrounds and unique local flavors, Kelowna has long since been a favorite year-round B.C. getaway. These days it is still home to some of the purest forms stress relief British Columbia has to offer. 
Here are some of our favorite Kelowna summer adventures for all of you who are not quite ready to throw-in-the-towel for this year in defeat and boredom. Summer ain't over yet, after all. 
Visit One Of The (Many) Wineries
As you pass through the cities you will no doubt notice that wineries abound in Kelowna – about forty total. The relatively mild, shorter winters combined with long summer days create the perfect grape growing conditions in the Okanagan Valley. The valley is in fact Canada's second-largest wine-producing area.
Today, the sprawling, open-air layout typical of wineries is the exact kind of layout that has found new vigor in a post-COVID world. Many of the wineries also boast unmissable views overlooking the surrounding valley. There are self-guided wine tours mapped out for you to taste as you go, or you can book guided wine tours as well.  Making a stop by B.C.'s oldest continuously operating winery, Calona Wines, is great place start and get in the spirit. 
Rent A Boat For The Day On Okanagan Lake:
"Bigger spaces, fewer faces," so goes the newest oft-heard mantra around town. Boating Okanagan lake is the perfect escape. Whether you prefer to kayak, paddle-board, sail, or commandeer a pontoon, you can recreate at whatever speed you prefer.  There are plenty of rental options around Kelowna's downtown district depending on your tastes.
Exploring Okanagan via watercraft is after all the best way to enjoy some of Kelowna's best summer activities like casting out a line, scuba diving, wakeboarding, and schmoozing it up at the yacht clubs (if you're into that kind of thing).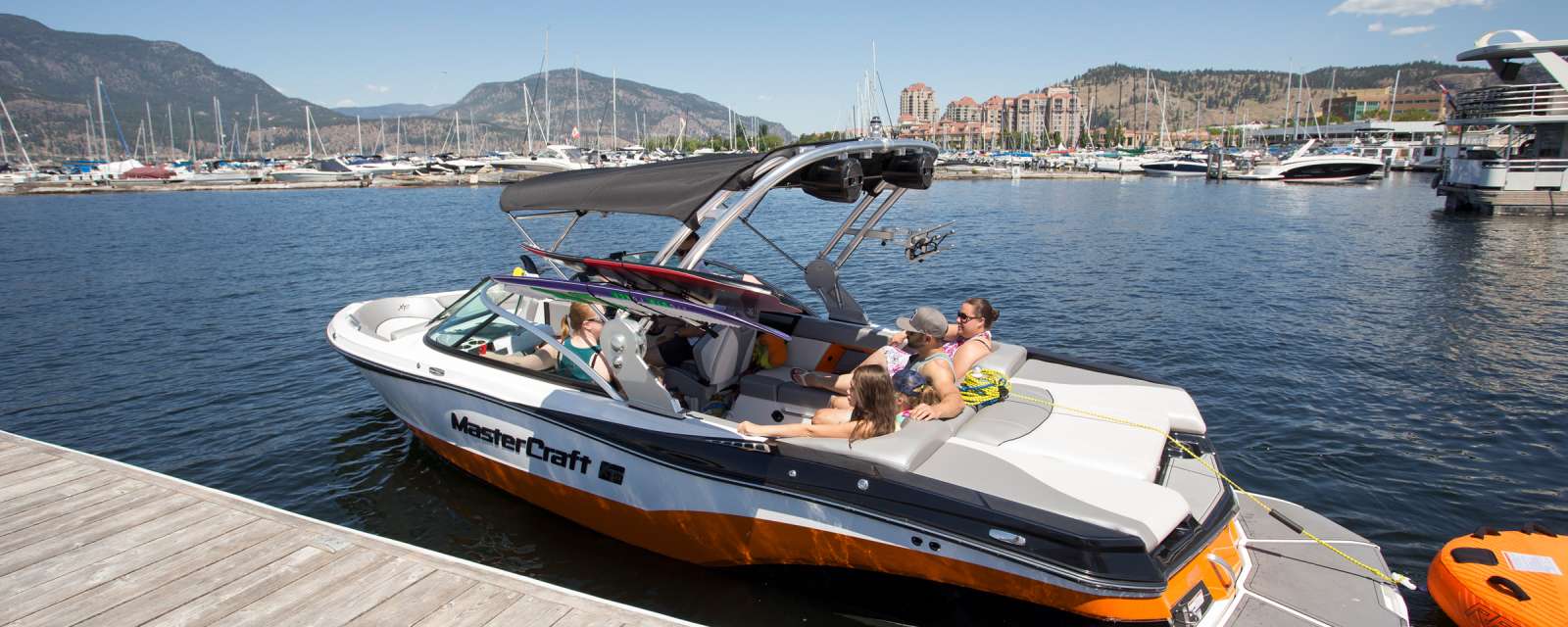 Take A Hike
Pick a direction and start walking. Really, it's just about that easy. From short, scenic hikes like that to Hardy Falls (a 15 or so minute hike to a secluded waterfall) to longer, more involved trails to overlook points like that to the top of Mount Boucherie, there are many hikes in or around the city depending on your desired intensity.
The natural beauty of the Okanagan Valley is the primary draw for many visitors seeking a fresh, nature adjacent getaway. Some of the best hikes around town include Lebanon Creek Regional Park,  Angel Springs Trail (featuring lots of tree coverage, so it's perfect for those hotter days), and trails at Myra-Bellevue Provincial park. Many trails get busy around mid-day so beat the crowds by showing up early, or in the evening.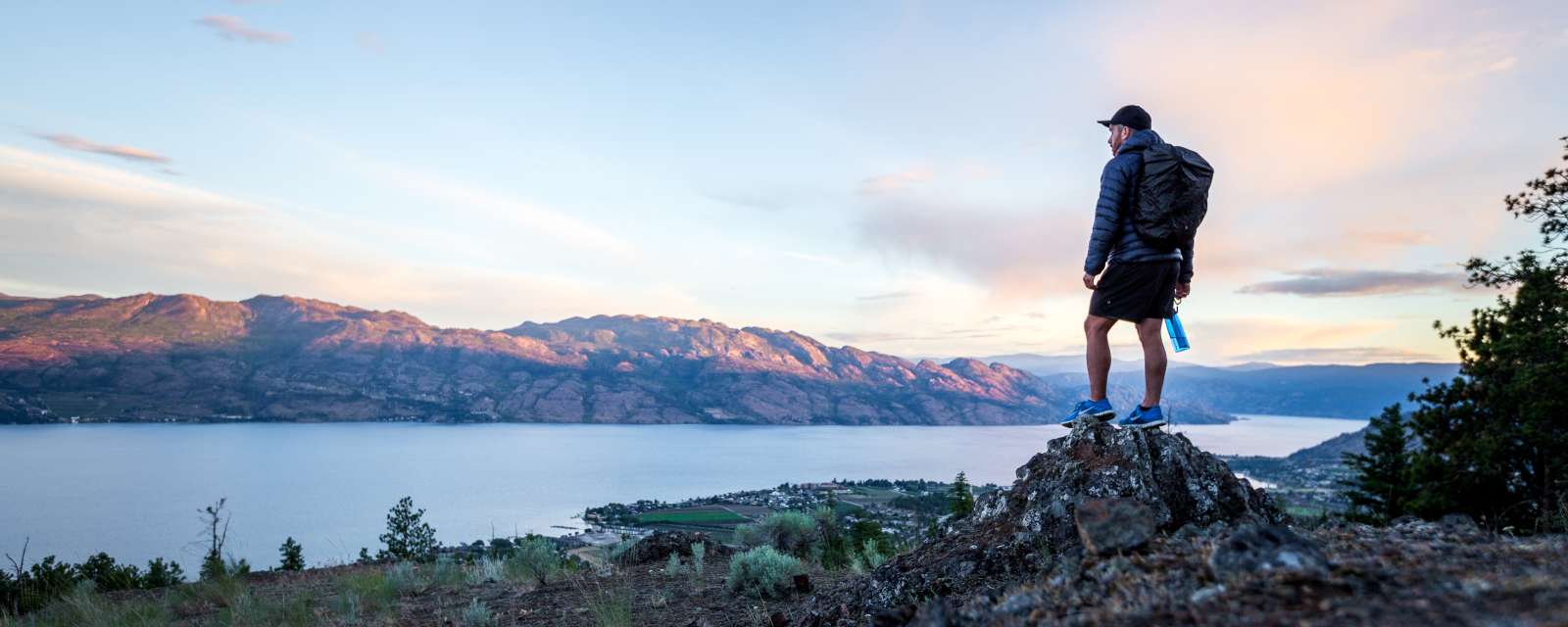 Go Mountain-Biking
Though the city is know for it's laid-back approach, there is still plenty on-tap for the adrenaline-junkie out there. Mountain-biking is popular in the area thanks to the extensive downhill and cross country trails that twist through the region. This is an incredibly accessible means to explore the area as there are numerous bike rental companies across the Kelowna, as well as trails that suit all skill levels. Some good trails to check out include the Vapour trail, Connector trail, and the Bermslang trail.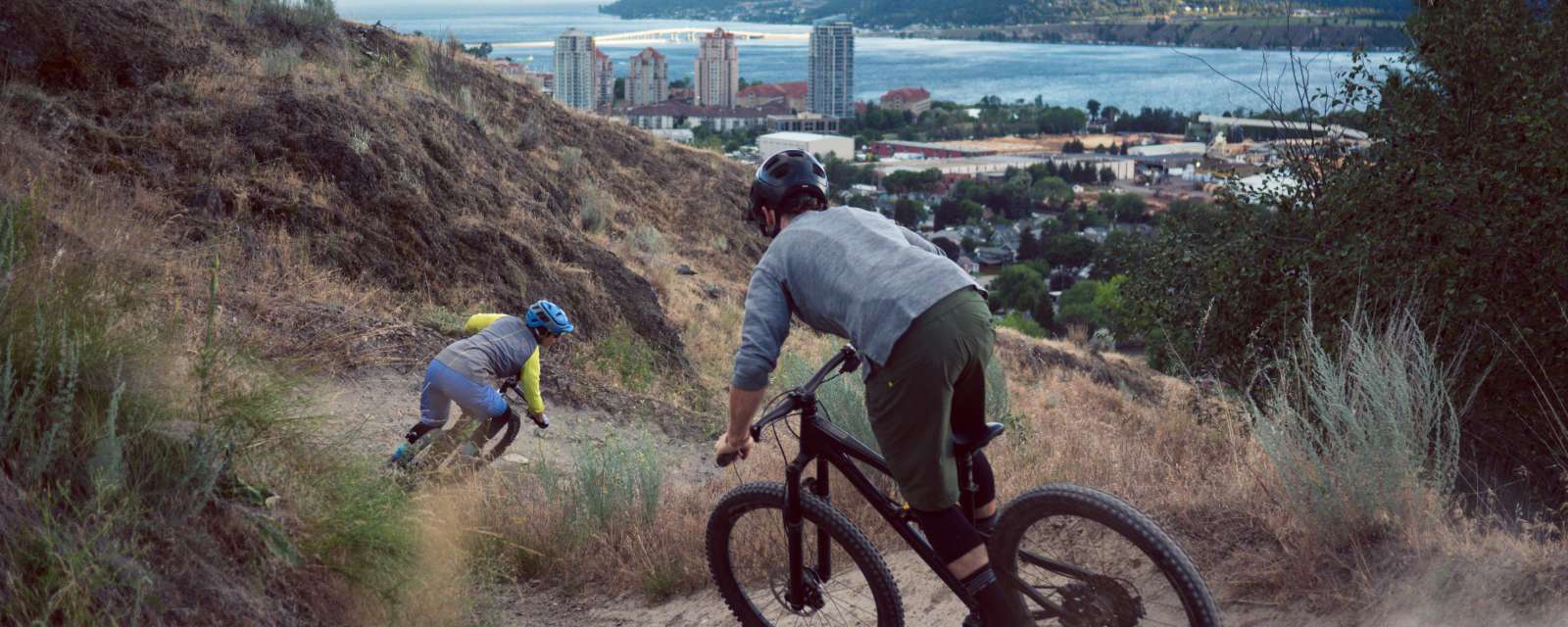 Stop By A Dispensary in Kelowna:
Marijuana has always been a staple in the laid-back West Coast culture. It became recreationally legal in B.C. in late 2018 and has since taken root in the area. An impressive handful of dispensaries have already opened their doors throughout the area in that short amount of time. Both locals and visitors alike were quick to take to this perfect companion-piece for a day of exploring.
One local favorite, which began as a simple and well-stocked headshop has recently expanded to open their own dispensaries alongside their original store locations. Mary Jane's HQ, which has been serving the Kelowna community for going on twenty years now, opened up the doors to their Cheeba Cheebas Premium Cannabis Dispensaries just last year- directly adjacent to their two Mary Jane's HQ locations. On a level of personal-convenience that would make Amazon Prime shipping blush, you can peruse countless strains of high-quality flower at Cheeba Cheebas and walk right next door to stock up on whatever papers, pieces, vaporizers, dab rigs, grinders, or accessories fits your fancy at Mary jane's HQ. Of course, the big hit there is their nearly overwhelming selection of Bongs and glassware. A selection that has turned many-a traveler passing through into a life long customer (thanks to their even more massive online headshop selection).
If you time a visit to their Kelowna location just right, you can even catch local artists at work in the on-site glassblowing studio, where some of the glassware pieces that are for sale were crafted.
One tip for now, maybe save the communal joint passing for healthier days ahead…