BY: JESSICA BURDE 
The minute you read the word "dominatrix" you imagine skintight leather, fishnet stockings, a horsewhip and a ruthless attitude. Words like "worm" spill out of her mouth and she survives by feeding on cowardly whimpers and grinding pathetic men into the dust.
Excuse me while I laugh.
After over five years in and around the BDSM community, I've never met a 'dominatrix.' What I met, and met often, are dommes.
Domme is one of the more common terms for a dominant woman who is in or wants a dominant/submissive (D/s) relationship. Other terms include femdom, domina, and dom – all derived from the word "dominant." The rarely used "dominatrix" is almost exclusive to pro-dommes – women who help men live out their fantasies with a price tag per evening. For most dommes, being dominant is part of who they are, not something they get paid to do.
So what is a domme? Pearl, a Femdom blogger at O Miss Pearl, explains.
"Whatever your personality is like, what makes you dominant is the desire to dominate, whether it is limited to your significant other once a month after church, or done all the time with a forty person harem carrying you about on a sedan chair."
A domme is a woman who desires to dominate. Aside from that basic desire, no two dommes are alike.
Of course, no relationship is built on a single person. A domme's counterpart is a sub, or submissive. Pop culture pairs dommes with male subs, but femdom/female sub relationships, often abbreviated to "F/f," are common as well. You can also find gender non-binary subs in many communities. The capital "F" in those pairings is just as likely to be a femme pixie as it is a hard-ass butch bitch.
Where a domme is a woman who wants to dominate in her relationships, a sub is a person who wants to submit, to let someone else take control. This is why, out of all the players in femdom relationships, male subs get the short end of the stick in popular culture. Female subs and non-binary subs are ignored by media portrayal, leaving male subs alone to receive the sharp end of stigma. As male sub Tomio Hall-Black, author of Further Erotic Stories of Female Domination, puts it, "A man is supposed to be in control, and a [male] sub isn't. Therefore, he is not a man. The logic is straightforward and iron-clad."
Despite the common belief that femdoms hate men, Pearl says "We can't despise you if we want you to be our sub. We can pretend. We can say all sorts of mean things. But only an emotional masochist will get into a relationship with someone who really makes their skin crawl or really is unsatisfying company."
Hetero dommes and male subs spend a fair amount of time deconstructing both traditional gender roles and the "script" of the pop culture dominatrix. Men and women new to BDSM, often think the porn hyperinflation is what a femdom is supposed to look like. Tomio's self-examination led him to reject the traditional definition of what it means to be a man.
"If he's vulnerable – physically or emotionally – then he is engaged in a masculine activity, because he is revealing his masculine self." Says Tomio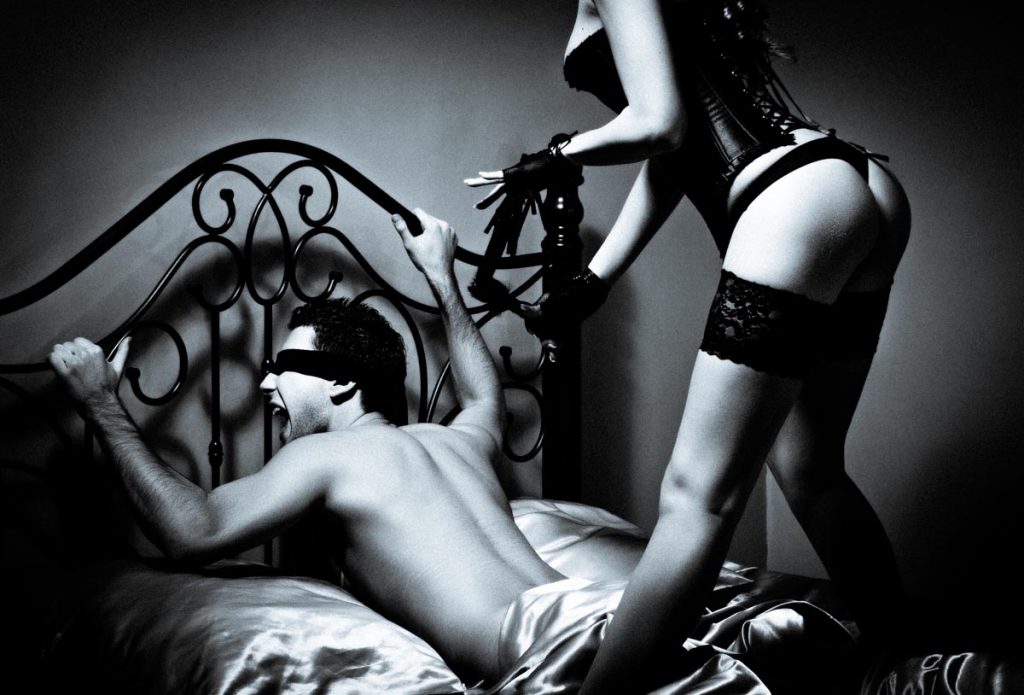 The pop culture dominatrix personified by whips, chains, leather and fishnets is about as real as a Darth Vader cardboard cutout.
It's time to strip away the leather and with it, the false notions of female supremacy. Most dommes find the notion that "All women are superior" just as insulting as the falasy that "all women are inferior." Femdoms are not selfish, but satisfying a curbed desire. Contrary to popular myth, all a submissive has to say to break the D/s dynamic is say "no".
As the artist behind Submissive Guy Comics says "Before you swing to female supremacy, let's get you squared away on Feminism 101."
Like all subgroups idealized by pop culture without the movie-shine or stigma, the reality is much more ordinary. Dommes wear jeans and striped socks, skirts and sandals, or maybe nothing at all. You could pass by a domme in your school, your office, your apartment building, and chances are you would never know it.
Like most people's lives inside their bedroom, most dommes and subs keep their relationships extremely private, as they should. Publicity kills intimacy.
As Sharyn Ferns of Domme Chronicles says, "Dominant women looking for a submissive are women seeking a relationship. While the relationship may be of a different kind than you are used to, and there are many variations in detail – it's still a relationship. Generally, it's an intimate and personal one that connects on many levels "
Remember people, intimacy isn't all moonlight and candles – sometimes a good spanking leaves a longer lasting mark.