BY: SAMANTHA TAPP
Here are urban garden ideas that will inspire you to create your own in your city.
It doesn't need to be said how important farms and gardens are. As more and more of the world becomes urbanized and there's less land for farming, there still needs to be spaces to grow crops and food. According to the U.N. Food and Agriculture Organization, about 15 per cent of the world's food is grown in urban areas and urban farms already supply food to around 700 million city dwellers. These stats will continue to grow as it is estimated that by 2030, 60 per cent of people in developing countries will be living in cities.
Cities around the world are filled with buildings, roads and of course, people. Most highly populated cities don't have acres of land lying around waiting to be filled with crops. However, cities have designed urban gardens that are successfully growing food and helping to sustain a clean environment.
Brooklyn Grange, New York City, USA
The Brooklyn Grange is two rooftop farms, which grow over 50,000 pounds of organically-cultivated produce annually. The urban gardens spread over 2.5 acres in cultivation space. Along with the urban gardens, the Brooklyn Grange operates the city's largest apiary with 30 naturally-managed honey bee hives. Additionally, they operate educational events to teach others about the pros of urban gardens, including promoting healthy and strong local communities.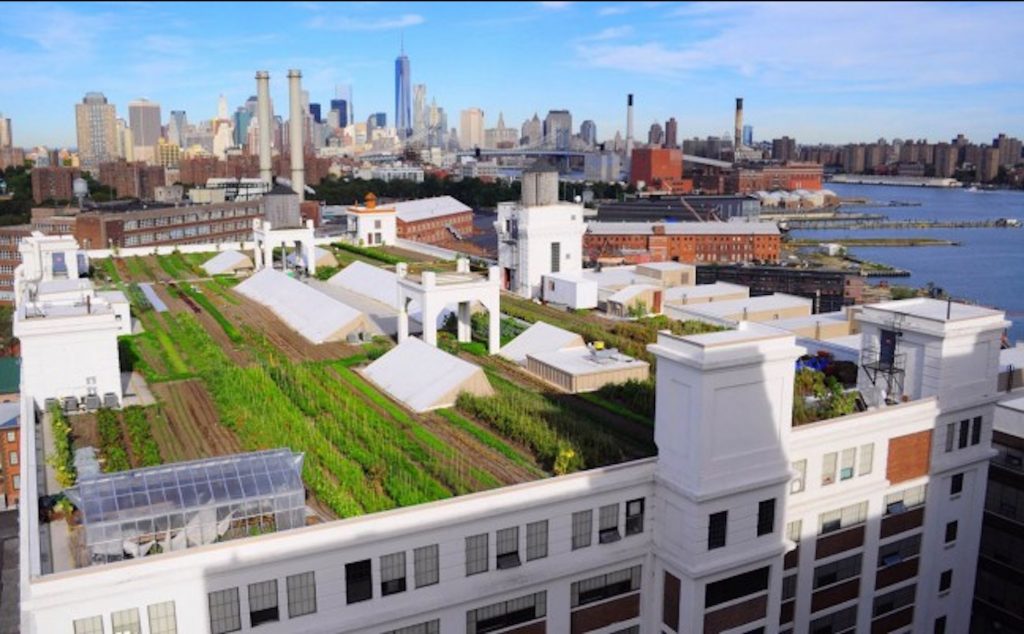 Huerto Tlatelolco, Mexico City, Mexico
This is an edible urban forest, which is the home to 45 different types of trees, a seed bank and a huge bio-intensive gardening section. The forest covers about 1,650 metres of land and one of their main claims to fame is their intense composting operation. The volunteers that tend to the garden teach other citizens how to harvest produce, hoping that one day the entire community can lend a hand working in the garden.
Grignon Energie Positive, Paris, France
Run by the ArgoParisTech program for sustainable development, this is an experimental urban farm. The farm's goal is to reduce harmful energy inputs to minimize the carbon footprint, while also producing enough organic food to feed between 5,500 to 8,000 people per year. The farm's main three pillars are environmental (use solely environmentally-friendly techniques), economic (creating employment for residents, and educating others), and nurturing (feeding lots of people).
Lufa Farms, Montreal Canada
This is a rooftop urban garden, which covers 31,000 square feet. The garden, which is basically a greenhouse built on top of a brick building in the downtown core, produces over 40 different types of crops year round, giving residents the opportunity to have fresh produce even throughout the winter months. They focus on sustainable agriculture, meaning recycling water, eco-friendly energy use and using non-toxic products. Fun fact: this is considered to be the world's first commercial greenhouse on top of a building.
Camino Verde, Puerto Maldonado, Peru
This urban garden focuses on planting trees. The garden is a botanical garden that is home to over 250 tree species and actively protects endangered varieties. The species in the garden include over 70 types of fruit trees and 40 flowering species, which in total cover seven hectares of land. The program also hosts education programs to teach the public about the positive factors of urban gardening.
Rooftop Garden, Chicago City Hall, USA
In 2000, this urban garden was created in Chicago as a way to test the benefits of green rooftops and how they affect the temperature and air quality, if at all. Chicago's urban garden is home to more than 150 species of shrubs, trees and vines that are native to the city. A main goal of the project was to combat the urban heat island effect, which is a process when urbanized areas with hard surfaces tend to be degrees hotter than green areas. So far, the garden saves the city $5,000 on utility bills annually.