BY: THE PLAID ZEBRA
When you're a child, things go over your head. But once the cold hard world has pissed all over your cotton candy dreams, sometimes a reassessment of childhood memories will forever change their connotation. Brace yourself. Your visions of innocence are about to be forever stained.
Why did the chicken cross the road? Because he was a sad, pathetic loser who couldn't hack it anymore.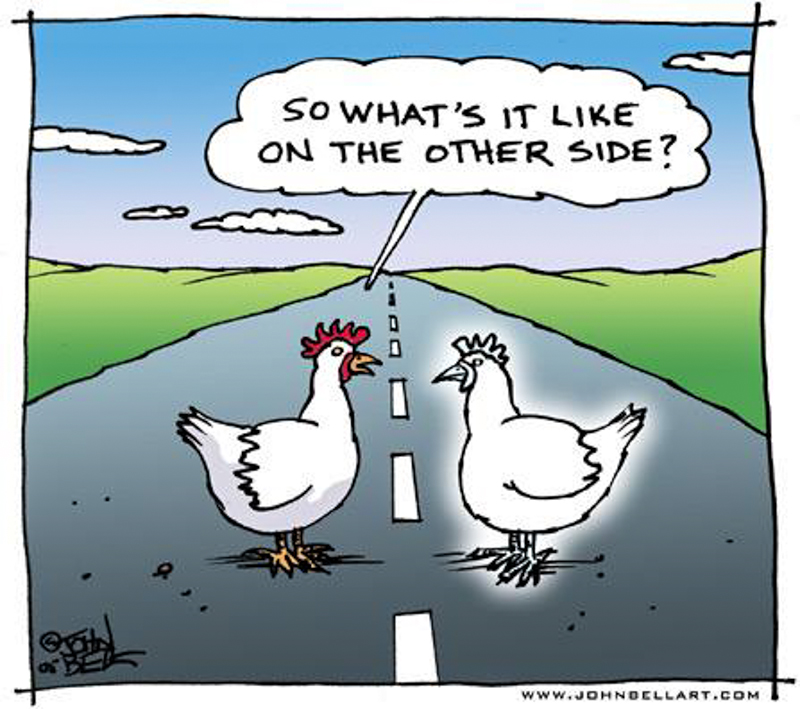 At some point, everyone has told this joke and no one has laughed. Anti-humour at its finest, the joke is a virus of disappointment that continues to catapult generations and soil family dinner conversations. As it turns out, the joke isn't as much a joke as it is a child's first philosophical brush with tragedy. Let's take a deeper look.
Why did the chicken cross the road?
To get to the other side.  
The other side isn't referring to the opposite side of the street. It's referring to death. The Other Side is a common euphemism for heaven and the chicken has the intention of getting hit by a truck.
Turns out the punch line of what's thought of as a notoriously G-rated joke is really about a hopelessly desperate chicken committing suicide in probably the most selfishly traumatic way possible.
Monopoly was trying to warn you about the tyranny of unchecked capitalism.
The world's most successful board game, Monopoly has been played in 111 countries by 1 billion people who speak forty-three different languages. But out of those 1 billion, very few know its history.
The game was designed in 1903 by an actress named Lizzie Magie as a way to teach children about the potential wickedness of unrestricted capitalism. The game went under several names, Auction, Monopoly, Landlord, and was meant to teach two alternative views of capitalism based on ideas of economic thinker Henry George. The hope was that players would cooperate, and pay into a common pool to achieve a shared wealth and societal prosperity. Alternatively, it can be played to gain a monopoly on land and concentrate wealth to a single player. Henry George made it his life's work to save capitalism from its own self-consuming nature, believing that private land ownership led to special privilege that would begin to hurt society at large. As land becomes scarce, its market value rises beyond the value it was purchased for. According to George's thinking and shown in Monopoly, unemployment rises as productive investment and innovation are discouraged because you can sit back and collect.
The official history credits Charles Darrow, a Philadelphia steam-radiator repairman. It was patented by Parker Brothers and Darrow in 1935. But now the point of the game was not to educate, it was to dominate.
In a 2012 Harpers article, Christopher Ketcham interviews the 2009 U.S. national Monopoly champion, Richard Marinaccio. Marinaccio says,
"Monopoly players around the kitchen table"—which is to say, most people—"think the game is all about accumulation," he said. "You know, making a lot of money. But the real object is to bankrupt your opponents as quickly as possible. To have just enough so that everybody else has nothing." In his view, Monopoly is not about unleashing creativity and innovation among many competing parties, nor is it about opening markets and expanding trade or creating wealth through hard work and enlightened self-interest, the virtues Adam Smith thought of as the invisible hands that would produce a dynamic and prosperous society. Instead, it's about shutting down the marketplace… The initial phase of competition in Monopoly, the free-trade phase that happens to be the most exciting part of the game to watch, is really all about obliterating free trade and annihilating competition in order to replace it with monopolistic rent-seeking.
Willy Wonka's Oompa Loompas were actually just African slaves.  

A children's author who wrote classics such as James and the Giant Peach and Charlie and the Chocolate Factory, Roald Dahl is also remembered as a racist, anti-Semite and misogynist.
Many probably remember Oompa Loompas as they looked in the 1971 Mel Stuart film, Willy Wonka and The Chocolate Factory— turtle-necked dwarfs with skin stained sun-bed orange and garbage green hair. In the first published version in the United States in 1964, Oompa Loompas are described like this:
"a tribe of 3,000 amiable black pygmies who have been imported by Mr. Willy Wonka from 'the very deepest and darkest part of the African jungle where no white man had been before.' Mr. Wonka keeps them in the factory, where they have replaced the sacked white workers. Wonka's little slaves are delighted with their new circumstances, and particularly with their diet of chocolate. Before they lived on green caterpillars, beetles, eucalyptus leaves, 'and the bark of the bong–bong tree.'"
When revised editions were published, Oompa Loompas were portrayed as hippy dwarfs with long golden hair, presumably because hippies had become the new punching bag for society.
When you sang London Bridge is Falling Down, turns out you were singing about children dying of dehydration.
Perhaps you have heard of immurement. No? Well then, allow me to shit on your childhood. Immurement is a practice by which a living person is encased inside a structure and left to die of dehydration or starvation.
London Bridge is falling down,
Falling down, falling down.
London Bridge is falling down,
My fair lady.
Set a man to watch all night,
Watch all night, watch all night,
Set a man to watch all night,
My fair lady.
Entombing people alive was witnessed in Persia, Mongolia, and Rome as a form of capital punishment, but it's recorded through folklore that immurement was also a method of human sacrifice. It was believed that entombing a living child inside a structure would ensure its stability by being an "eternal watchman."
Lady Gomme, author of Ethnology in Folklore believed that child sacrifices were included in the foundation of the London Bridge. Seriously, these guys were the Legos of the 17th century.
I know this sounds too fucked up to be true, but consider this; when children sing London Bridge is Falling Down they form a circle and form an arc with their hands. Then a single child runs through as the others collapse their arms and trap them.
Sleeping Beauty was the victim of a Bill Cosby-like date rape scenario.
In the Disney adapted classic you know and love, the eighth fairy feels snubbed when she is not invited to the palace banquet for the infant princess. The eighth fairy then decides to curse the infant princess, even though babies clearly don't have enough mental capacity to write an invite list in the first place. What a bitch. Anyways, the child grows up, pricks her finger on a spindle and falls into a deep slumber. Sleeping Beauty awakens from a century of slumber after being kissed by the velvet lips of a handsome prince. They fall in love. They have a feast. They get married.
In the earliest version of the story from the 13th century, and again in the 16th century version, Sleeping Beauty isn't woken up by the kiss of her handsome, rich lover, but by the prodding of her children that she gave birth to while sleeping. In Giambattista Basile's version, she pricks her finger and Sleeping Beauty's grieving father puts her on a bed of velvet cloth and leaves her in the forest. Later a rich nobleman finds her in the forest and rapes her. Nine months later, She gives birth while somehow still remaining asleep and forest fairies care for her two children. While the fairies lift one of the children to breastfeed, one thinks her thumb is a nipple and sucks out the splinter, thus breaking the curse. When the nobleman comes back for another taste of rape, he sees she is awake, confesses and returns home to his wife. The rapist's wife finds out, and instructs their royal cook to kidnap the children so they can be cooked alive in a stew and fed to the rapist nobleman. Nice-guy cook substitutes lamb for the children and the rapist, children and Sleeping Beauty with Stockholm syndrome live happily ever after.
Years later they get their own family sitcom.
The folksy French ditty Alouette is actually a song about taking joy in mutilating a living bird.

The song sounds harmless enough. Its history can be traced back to French Canada. French Canadian fur traders known as voyageurs would often sing while canoeing with the belief that the distraction of music would make them paddle faster. The song spread across cultures during WWI when it was often sung as a distraction from the horrors of trench warfare. Allied soldiers then returned home, sang it to their children, who passed it on to theirs without really knowing what the lyrics meant. Looking back at its origin—Canadian fur traders who were responsible for spreading alcoholism and small pox that would desecrate Aboriginal populations and would sing the song as they paddled around with a canoe full of sun-dried animal carcasses—it's weird that we assumed it was child-friendly.
Alouette, gentille alouette,
Alouette, je te plumerai.
Translation:
Little skylark, lovely little skylark,
Little skylark, I'll pluck your feathers off.
Je te plumerai les ailes. x2
Et les ailes!  x2
Et le cou!  x2
Et les yeux!  x2
Et le bec!  x2
Et la tête!  x2
Alouette!  x2
A-a-a-ah
Translation:
I'll pluck the feathers off your wings. x2
Off your wings!  x2
Off your neck!  x2
Off your eyes!  x2
Off your beak!  x2
Off your head!  x2
Little lark!  x2
O-o-o-oh
The song is commonly to teach children the French names of body parts. Please take a moment to imagine an entire Canadian classroom singing about disfiguring a living bird. The only thing creepier is an entire nation of classrooms being forced to recite the Pledge of Allegiance in mind training unison every morning.
This children's toy with hidden picture of demonic child cutting herself
This one needs no explanation. Seriously, what sick fuck dreamed up this cyanide to childhood innocence?
Sources: i.ytimg.com,  scontent-b.cdninstagram.com