BY: TREVOR HEWITT
"Now is the time of The Simpsons."
Let's face it – hallucinogenic psychedelics and cartoons go together like peanut butter and jelly.
For years LSD has been used to induce spiritual journeys and help treat mental illness.
Earlier this month, Dan* made a post on reddit detailing the revelations and insights he gained from watching the beloved cartoon for two days straight while tripping on acid.
Afterwards, I spoke to him a little bit about the events leading up to this two-day marathon. Dan says that comedy and The Simpsons were a huge part of his childhood routine – every night he would sit by the TV with his own family, and watch the silly antics of the Simpson family.
On his most recent trip Dan found himself, like so many do while tripping, bored and high after his pre-made playlist ran out. "I just started looking through my files and ended at the Simpsons."
He says that he loves LSD for its ability to force you to experience negative past emotions, thoughts or memories, and come to terms with them in a positive manner.
"It brings things that are in your subconscious out into the forefront of your conscious and forces you to deal with them."
More recently, one of his dogs has become very sick, something he credits LSD with helping come to terms with. "I realized that our relationship has been one of nothing but positivity."
While watching the Simpsons, Dan had an epiphany. That the show's plot and characters were representative of real life experiences we all share.
The Simpsons doesn't just parody everyday life, it represents it.
"I realized that we all have aspects and personalities of ourselves represented in The Simpsons."
Here's how he breaks it down:
We are all Bart– We all feel unappreciated, because people decide to focus on our flaws instead of our talents. We've been influenced by bad people, and been a bad influence. We all seek thrills that hurt us, and those around us.
We are all Lisa– We all feel unappreciated when we try to be the voice of reason and intelligence, and the people we love ignore us. We all feel like we're getting nowhere, despite our gifts. We all feel like we're trapped with people that'll never understand us.
We are all Marge– We all feel unappreciated when we try to voice concern, and the people we love write us off as a nag. We all feel like we're being smothered by our loved ones, to the point that we'll never develop our own personality.
We are all Homer– We all feel unappreciated when we don't deserve to. We're all mercurial and willfully ignorant. We all try to numb the pain of a life that'll never satisfy us, to the point of hurting our brains.
We are all Maggie– We all feel unappreciated because we feel unheard and easily forgotten. We all have talents that we feel no one can see. And, if you do as many drugs as I do, you probably fall down a lot.
The Simpsons evolved American society. They got us talking about corruption on both sides of American politics, gay rights, good and bad parenting, good pet ownership, the ethics of vegetarianism, the tropes in our entertainment, and just about everything else.
"We are Springfield. We are the Simpsons. Matt Groening is a God. Dan Castellaneta, Yeardley Smith, Nancy Cartwright, Julie Kavner, Hank Azaria, and Harry Shearer are some of the best satirists, improvisers, and voice actors who ever lived."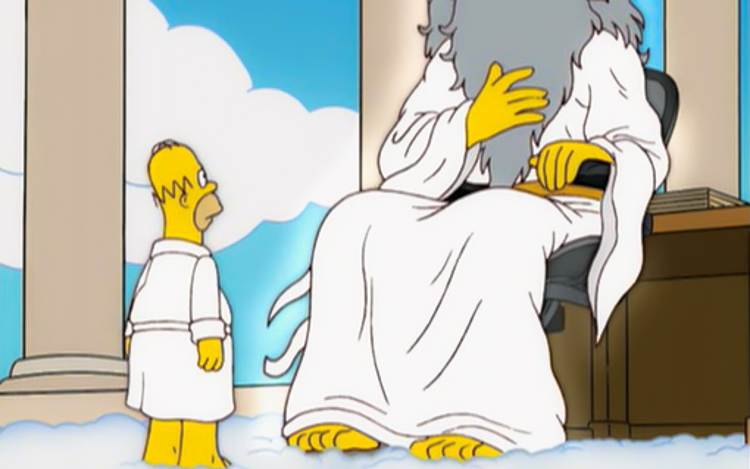 When I asked him if there was anything he thought necessary to add, Dan had one final thing to say.
"If there's someone you haven't talked to in a while, for whatever reason … call them up while on acid and talk to them. It might not fix things, but it will definitely let you look at the situation from a whole new angle."

*Names have been changed to protect source's identity