BY: RACHEL MINAHAN
A tiny house means limited space. It also means that designing can be a bit harder than it would with a big house. However, having a small house can also be a blessing in disguise sometimes. While you have to get more creative, less space ultimately means less stuff to worry about.  Having a tiny house also means that you'll have a small bedroom.
Small spaces can create changes in living and promote less clutter. There are a lot of ideas that you can keep in mind when designing a small bedroom for a tiny house. Here are some ideas to get you started:
Home Office Nook
When dealing with a small bedroom for a tiny house, never let extra space go to waste. Turning a closet into an efficient and simple work station is a great starter. Try adding some shelves above the desk to help provide extra space to store and display books. Make sure that the desk is built-in the wall and is foldable, so that you have additional space for when the desk is not is use.
Always Keep Things Open
Sometimes you'll get the greedy feeling to buy a big bed, but the space just won't allow for it. Big beds can also make a small space have an uncomfortable feeling. Instead, choose a bed or mattress that has a small stature. Don't over-stuff the room. Keep in mind that the mattress or bed size still depends on the style of the bedroom.
Some tiny houses have bunk beds and lofted beds, while others use non-lofted and cornered beds. Also, pick a bed that will have another purpose other than for sleeping. It will help in creating more room and will allow for some storage space.
Don't Under Decorate
There is always the assumption that a small space must be completely minimal or have fewer decorations. However, that's not always the case, and sometimes it can even result in a flat and underdesigned bedroom. Even in small spaces, there is no need to feel scared in accommodating elements that can help make the room feel large. Rugs, decorative lighting, and pictures are all elements of decor that add to the feeling of the room. Properly designing the bedroom can make it cozy and will make it a place you want to spend time in.
Think Up, Not Out
Always design up, as it draws the eye upwards and creates the illusion of more space. Adding storage spaces like extra-tall shelves and a sliding door to the bedroom will help add some extra room. Besides saving space, it is also aesthetically pleasing.
Raise The Roof
Designing a tiny bedroom is extra tricky, especially with all the corners and odd nooks. Don't be afraid to use light and crisp colors to beat the unique features of a room with lower ceilings. Using light colours will make a room look bigger. If you're building your tiny home from scratch, opt for high ceilings, as it adds space without adding square footage. You can even transform a ceiling into a spacious place for rest and play.
Multipurpose Space
In any tiny house, having a multipurpose space is inevitable. The home office and bedroom combo is a perfect example. An ideal thing about having versatile space is to use surrounding walls.
Above the desk, you can add extra shelves, which will provide more storage. If the tiny house has enough space, it is a great idea to use a Murphy bed. It'll give enough working space during the daytime and provide a spacious and cozy bed during the night time.
Do Not Be Afraid To Use Mirrors
Using mirrors is an old trick written in the design books. However, this trick still works in making a tiny space feel large. The reflections that mirrors give creates an illusion that the space is double what it really is, and it will also let the light reflect around the house. Try utilizing big windows instead of walls.
Put the Collections on Display
No space for personal collections? No worries, just design a shelf with baskets then fill them with random things that need some place for storage. Try putting your make-up and accessories in the baskets – that way you have space for your items, but don't create a look of clutter, as the baskets keep everything hidden.
Invest in Smart Furniture
For tiny houses with small bedrooms, it is important to consider the furniture that will fit perfectly inside the house. Make sure to invest in furniture that can have a double or triple function in the house, like a couch bed or bunk bed.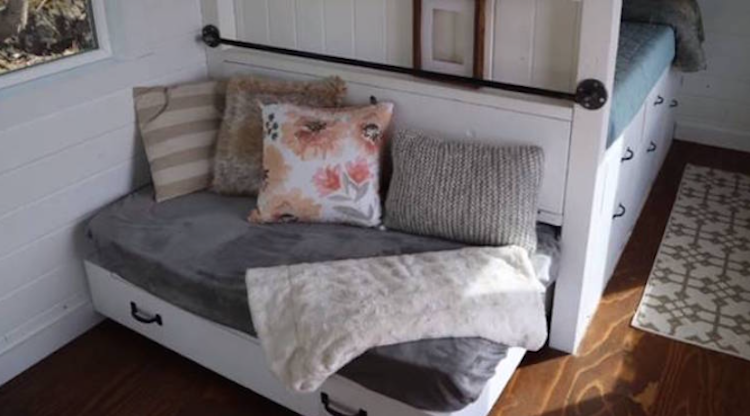 It is a blessing in disguise to have a small space. Even if it is harder to design, it is not impossible. With smart thinking, one can utilize each and every bit of space in the house. Designing a bedroom for a tiny space is a fun challenge.
Since small spaces promote less clutter, having a small bedroom also means less mess. Using the design ideas mentioned above, decorating a bedroom for a tiny house becomes easy peasy.