BY: TYLER FYFE
Blatantly ignoring the speed limit on a serpentine stretch of blacktop is the most effective therapy I've ever found. It's a familiar meditation for  The Southsiders— a group of 4 best friends who have been driving their custom Cafe racers across Europe searching for the perfect surf for over a decade. Hundreds of thousands of kilometres of open road gave them a lot of time to think—nothing compares to waking up in a beat up tent on some strange beach. After years of drunken campfire conversation, it was in 2009 that The Southsiders' dream finally crystallized. Wheels and Waves was born.
Vincent, Julien, Jerome, and Benoit, are best friends who decided to start motorcycle club. They dubbed themselves The Southsiders.
Photo courtesy of Southsiders MC
Their mission was simple; live life on their own terms.
Photo courtesy of Southsiders MC
So in 2009, they decided to bring everything they love–vintage motorcycles, surfboards and tattoos to small coastal town in the South of France.
Photo by Lewis HP
The Southsiders called it  Wheels and Waves and it draws thousands from all over the world.
They decided the crystal blue coastline of Biarritz  was the perfect backdrop for drag racing.
Photo by Jonathan Noakes
Over four days, thousands gather to race custom bikes in a knockout style race  down a two-lane highway along the mountain range.
Photo by Jonathan Noakes
Most festival-goers have built their motorcycles with their bare hands.
Photo courtesy of Southsiders MC
Most custom builders see working on their bikes as an act of meditation.As Robert Pirsig writes in Zen and the Art of Motorcycle Maintenance,  "The real cycle you're working on is a cycle called "yourself".
The Southsiders are constantly travelling or as they call it, "taking a French leave". They have spent years documenting their travels, like that time they sped through the unforgiving wilderness of Andalusia.
Photo courtesy of Southsiders MC
Now, Harley Davidson and BMW are using Wheels and Waves as an opportunity to unveil their wildest concept bikes.
Photo courtesy of Southsiders MC
As it turns out, vintage motorcycles and breaking surf just might be the perfect combination.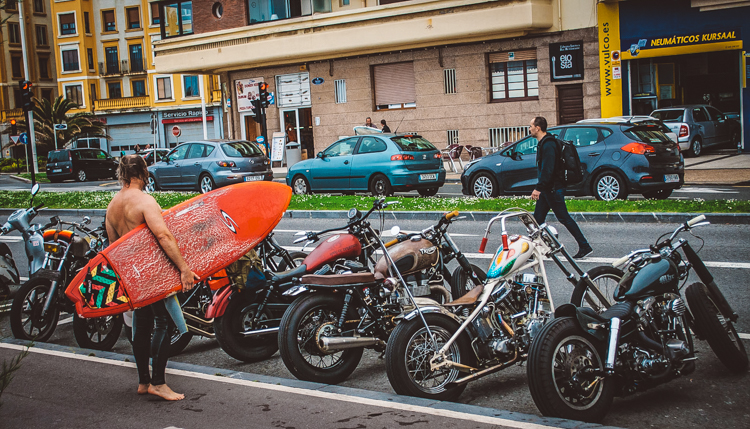 Sources: blogspot.fr,  wheels-and-waves.com,  highexistence.com,  instagram.com,  gqmagazine.fr