The Kalpalli cemetery, also known as St. John's Cemetery, in Bengaluru is the largest burial ground in Karnataka, India. It is also home to 15 dalit families, who make a living out of these graves. Their jobs include everything from digging graves to looking after its upkeep. At present, the burial ground is occupied by the sixth generation of grave diggers. Since burials may not happen every single day, this is a low paying job. Many of them are uneducated, making it impossible for them to change professions.
At present there are 30 children living with their families at the Kalpalli cemetery. Their parents only dream is to make sure that they have a brighter future. As a result of their social and economic background, these families are neglected, making it hard for them to change the course of their lives. However, the Hand in Hand Charitable Trust has made it their mission to change their narrative. They conduct after-school classes, provide the children with access to better educational and health services, and even offer emotional support so that they do not have to continue their lives as disadvantaged members of society. The organization got in touch with Farhan Hussain, a photographer whose work is deeply rooted in his interest in people and the hidden subcultures of India.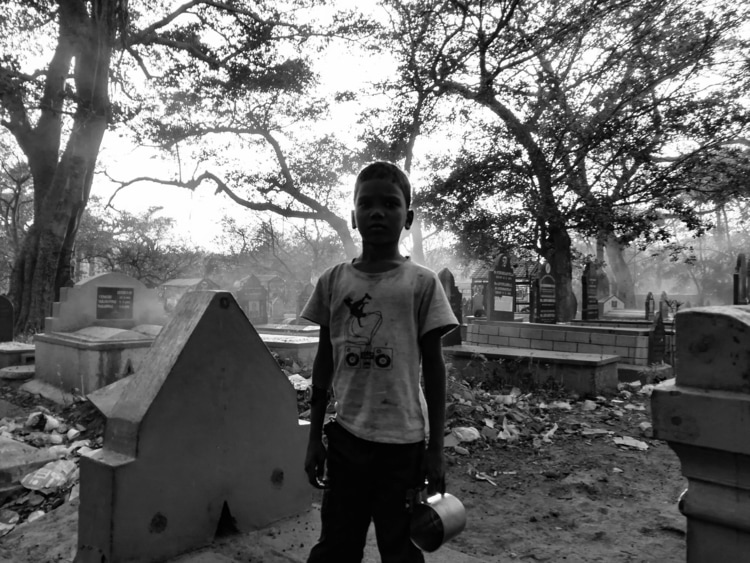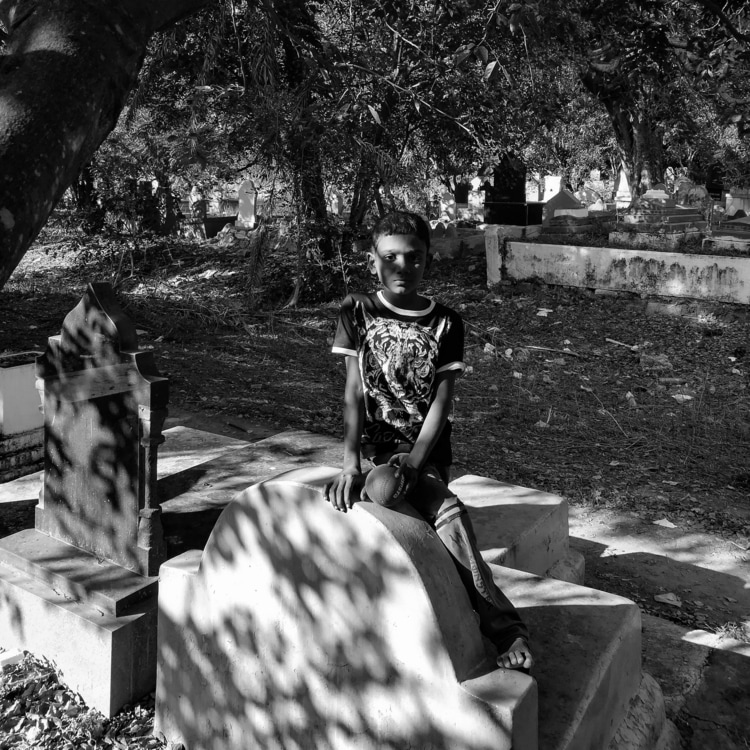 Hussain, who was born and raised in North East India, believes that it was his travels across the globe for his work that helped shape his perspectives. According to him, a good photo is not only aesthetically pleasing, but also has a story to tell. "Conversation, curiosity and human connection"—the three things that drives his decision to capture something. All his photographs act like a window into the life of his subjects, something that is evident in the series he shot with the children of Kalpalli.
"My heart belongs in documentary photography; capturing life and sub-culture on and off the streets," says Farhan. "Most of my photography revolves around capturing the human form and how I communicate with it. Humans are naturally curious, and photographs are a great way to show the poignant, the weird, the funny and the tragic in a single frame. It's not the physical beauty that calls first, but what makes me photograph a person is their vulnerability that the camera helps unveil". 
The Children of the grave is a poignant, thought-provoking series that gives us a small peak into the lives of the children. "Before my first visit to the cemetery, I could only imagine a bleak, rather morbid, life for these kids I'd only just heard about," Farhan writes on his website. "In search of lesser documented realities my opinion about these kids took on a different shade of bleakness as I visited them over the past couple of days. These children of grave diggers, like any other children, find entertainment from their surroundings."
It is the exact sentiment that makes these images unforgettable. They capture a sense of innocence and happiness set against the backdrop of death and grief, reminding us that children are just that, no matter what the circumstance.
Given that one of the driving factors behind all his work is human emotion, it was important to him that he first approach the children and establish a connection. "A lot of time was spent getting to know them, roaming the graveyards and gaining their trust while sipping on tea and playing throw ball, he explains. "I used my phone to photograph the series because they seemed somewhat intimidated or at times too excited when I took out my DSLR. I wanted them to forget the camera, and was driven to make it feel more like a mutual conversation."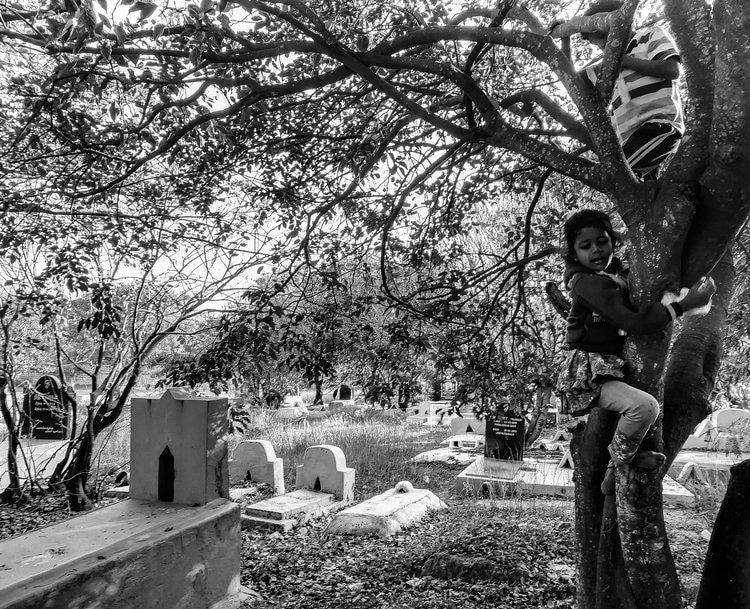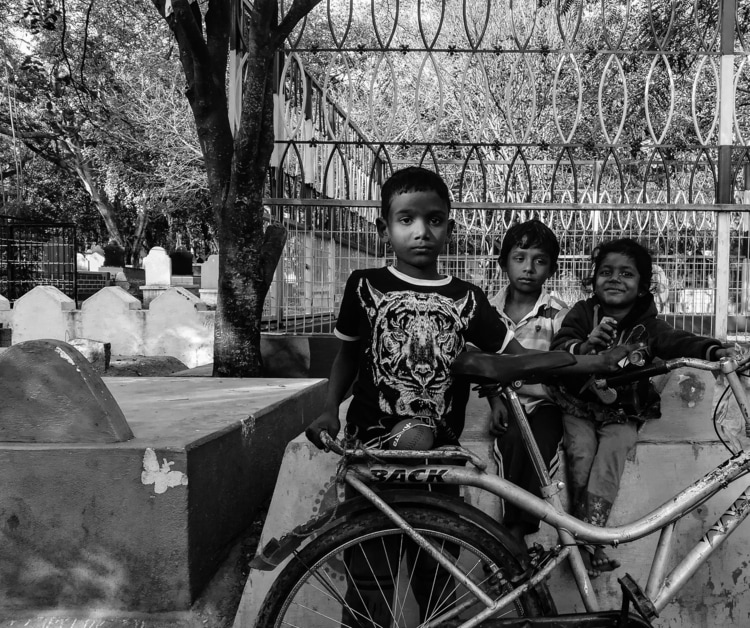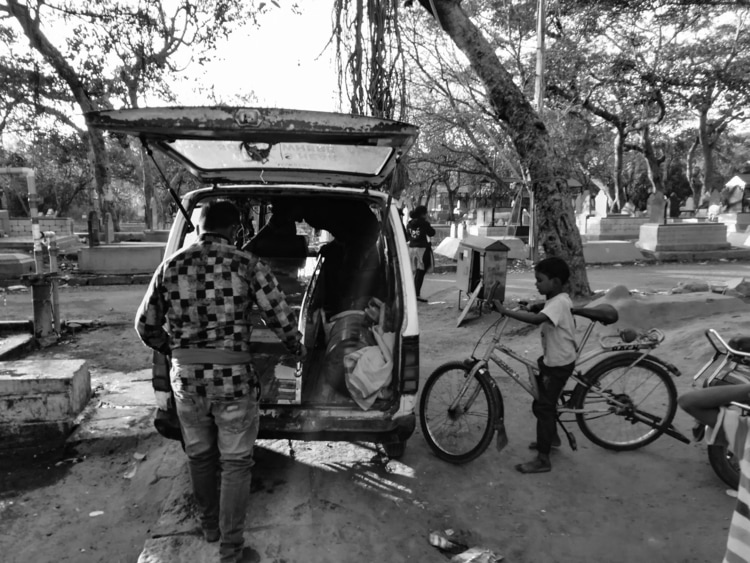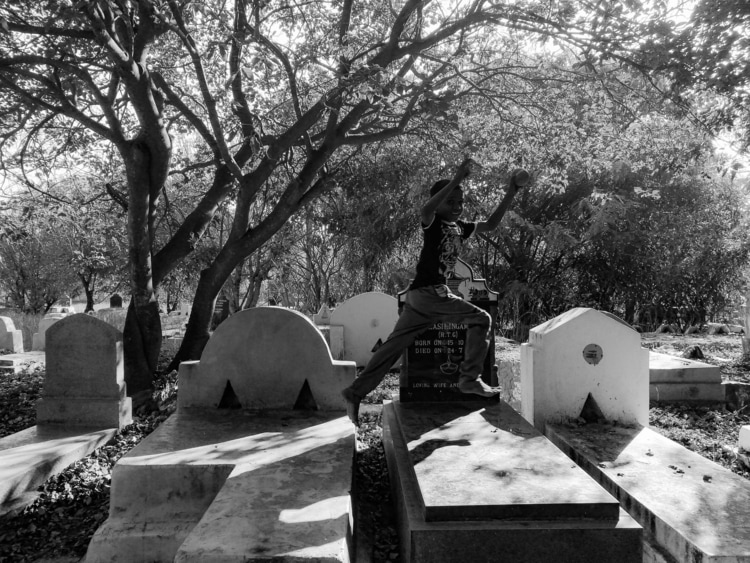 Take a look at the rest of the series and his other work here.