BY: RYAN SQUIRES 
Latin America – a region immersed in a myriad of rich history and diverse cultures, also well regarded by "gringos" as a popular travel destination. Among the most visited nations is Panama, the land bridge between the Americas that even has a Van Halen song named after it.
So what exactly is a gringo? And who the hell is Balboa? Does this have anything to do with my future trip? Yes, it has to do with EVERYTHING. Understanding what a gringo is, is understanding how the locals view you. And Balboa? Apparently knowing a brief tidbit of a long dead, medieval born, Spanish explorer is the key to modern Panamanian society. First things first – a gringo is someone of a certain denomination; Westerners, particularly (but not exclusively) white Americans. The people of Latin America will view you in one of two ways: a benevolent cash cow or as a ripe target, so be wary of where you walk alone at night. That being said, Latin America is a very warm and accepting place, especially if you have the jingle in your pocket. On to Balboa – how is this man THAT important to Panama? Simple really, he made it.
Born Vasco Nunez de Balboa in Castile (modern day Spain), he was known from an early age to be adventurous, so it's benefiting that he became the Conquistador and Explorer known today. Not only did he form the first European settlement on the mainland (Santa Maria), he also proved that the Pacific could be reached just on the other side of the American landmass, which was pretty big news back in 1513. The modern Panamanian people attribute everything to this man; from their local currency (note you can always use USD), to their surprisingly tasty beer… Balboa is everywhere.

A statue of Balboa in Panama City
Chances are, you will start your journey in Panama city as I did, usually flying in from your closest major International Airport. I personally flew from my location in 2012 (Moncton, New Brunswick) to JFK in New York, where I stayed for a few days. I would recommend doing this if you have never personally been to New York, or enjoy it there, as it's so worth it. Seeing Times Square and climbing to the top of the Empire State Building before heading to paradise is a good way to kick off your time abroad. Be sure to check out the infamous Madison Square Garden and Central Park if you find yourself with the extra time. To get the real run down of New York before heading to Panama, I recommend two to three days there.
Entrance to the Empire State Building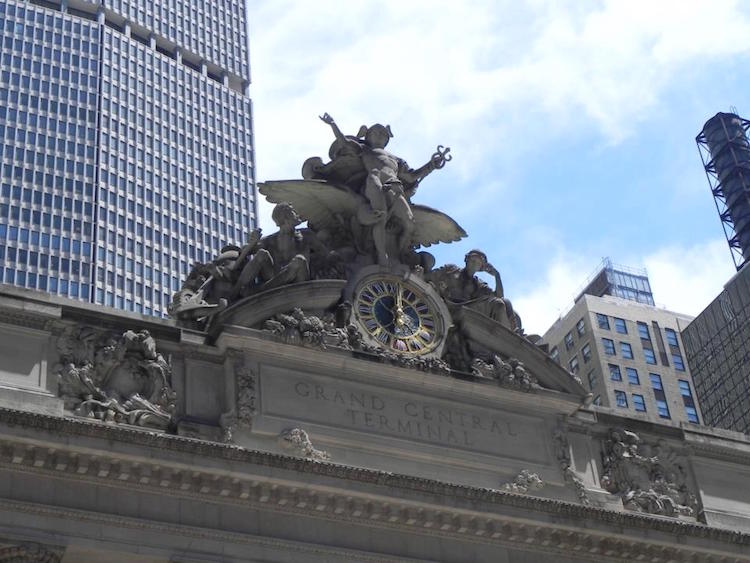 Grand Central Station
Times Square
Myself (right) with Tigger in Times Square – mascots and buskers frequent the area 
Upon arriving in Panama City you will be quite surprised; the capital city of a small Central American nation is quite clean, populated and fairly well organized (for the region). You have your standard and luxury hotels if you're so inclined, but there are plenty of "ma and pa"-run accommodations. Upon arriving into Panama City, I had booked a room at a villa run by Spanish expats for my first night in the country. With a bit of luck and some help from a local driver, I was able to find the spot and I certainly had no regrets. It was in one of the residential areas of the metro, so it was a drive into the city, but it was certainly worth it. Built like a Mediterranean villa, it had an elaborate garden and walkway in the yard, and was impeccably clean, while the building itself was aesthetically pleasing and the accommodations were comfortable. For 25 USD a night, you can feel like a king on the dole. Good news – these sort of businesses are quite common.
Walkway and garden in the yard of the Villa, Panama City
View from the room's doorway towards the garden and walkway, Panama City 
There are many things in Panama City that are worthwhile to note and see – such as the historic part of the city and the notorious Panama Canal. I will not cover this, as I'm sure it has been covered extensively in other articles, and where they may be good for a single or two-day adventure, they cannot hold up to the splendour of the smaller regions and the Pacific coast.
Next stop – Santa Catalina. A wondrous little village on the aforementioned Pacific coast that has been "making waves" over the past few years for being a hotspot for surfing, fishing, diving, nature watching and just having an overall good time. With a variety of accommodations and restaurants you get many choices despite being in a fairly isolated area. Wish to save a bit of money and stay in a hostel? Or would you rather spend a little extra and rent out a cottage on a hill overlooking the jungle and ocean? Maybe you'd care to switch it up? There's almost always a local beach bum patrolling the bars and teaching gringos how to surf for a small bill for his nightly beers, and if you're already an experienced surfer, for $5 USD the same beach bum will rent you a board for the day. A local fisherman will take you on his boat to a prime spot to fish some exotic species, and you can get a local to fry it up fresh for you.
30 pound Pacific wahoo I caught on a local's boat 
Snorkelling in Santa Catalina's clear waters
Out front my personal cottage on the top of the town
Another gem of Santa Catalina is the island of Coiba – an isolated nature reserve with only a single ranger station and a single bunkhouse for visitors. As a world traveller, I can attest that Coiba was definitely one of the most – if not the most – remote place I have ever been. Seeing a variety of crocodiles, birds, monkeys and small mammals in their natural habitat with little to no human contact is a seldom experienced treat. A day or two here, and the weight of the city life simply melts away.
A rodent (roughly the size of a rabbit) the locals call a "Nyeke"
Night view of Coiba – the Lightless Island
A Coiba Capuchin enjoying a plantain 
One can take any approach to their time in Panama, and there are things and places I personally did not cover that you may want to research for your own viewing. Panama truly is the wonder Balboa found it to be – a clean and modern capital city, with a more stable economy than its neighbours, however still affordable. It's a popular tourist destination that still has remote regions and clear waters. Activities stretch from sightseeing to surfing, diving to jungle adventures. I hope you will consider this amazing place for your next vacation, and that you enjoy it just as I have, and those who have before me.