BY: SINEAD MULHERN
Nestled on the bank of the Yukon River in Canada's north, Dawson City is home to a population of 1,319. The subarctic town fosters a culture that's influenced by First Nations, artists and the Klondike Gold Rush, and on an average day in January, the subarctic town's temperature will hover at around – 26 degrees Celsius. It's a kooky old town and if you venture out into the deep freeze, zipped into a parka and drudged through the snow into the Downtown Hotel and asked for Captain River Rat, he might convince you to order a shot of Yukon Jack with a crusty mummified toe plonked straight into the shot glass.
This is perhaps the world's grossest drink garnish and yet it's one of Dawson City's claims to fame. It's even a major tourist attraction for those who dare to touch their lips to a disembodied toe (shrivelled nail and all). It's called the Sourtoe Cocktail and has been around since the early 1970s. Anyone who downs their whiskey with the black gnarled and leathery toe joins the Sourtoe Cocktail Club. They give you a membership card and certificate as proof. It's repulsive to most yet it's drawn over 100,000 members from across the world.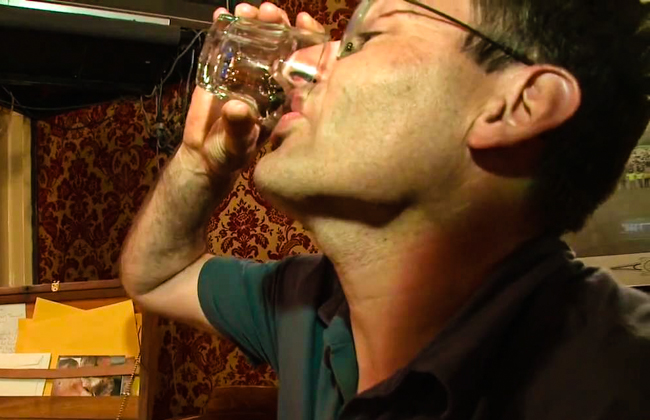 A tradition as twisted as this one doesn't come without a story. And this is no mediocre legend. Years ago in the 1920s, rum runner Louie Liken and his brother Otto were on their way back from cross-border business. As they hit a blizzard, Louie stepped off their dog sled, but fell through the overflow soaking his foot. They continued on unable to stop because they thought police were on their tail. But soon the big toe became a frozen solid block. To prevent it from getting worse, the brothers had to hack it off with an axe. According to the story, they preserved it in a bottle of alcohol to keep it as a sort of trophy to remember the moment.
The brothers had abandoned their cabin and it was left to sit for years. It was discovered then in the '70s by Captain Dick Stevenson, and it was he who created the tradition of ordering it with Yukon whiskey and drinking back the Sourtoe Cocktail as a display of daringness.
Here's how it works. Anyone brave enough to order the drink with the floating black appendage that looks like a decades-old pepperoni stick must walk into the bar, ask for Captain River Rat, purchase a drink and pledge the "Sourtoe Oath". With a grin, he will tell you the rules in a cutesy rhyme. "You can drink it fast, you can drink it slow, but your lips have gotta touch the toe." You watch as the toe is dropped into the booze with a kerplunk and then, drink it down. Sometimes this will happen 30 or even 40 times a night.
There's a $2,500 fine for swallowing the toe.
Right now the bar in on toe number 10. Number nine was swallowed intentionally in August 2013. At that time, the fee for drinking the toe was $500. Most of the toes donated have been products of frost bite or other medical amputations. Once, one arrived at the bar with a note:
"Don't wear open-toe sandals when mowing the lawn."