BY: JESSICA BEUKER 
Whether buying, building or renting, there are a lot of things to consider when opting for a tiny home. Even though space is limited, it's very easy to get creative with your tiny house design.
From floating cabins to converted sheep wagons to tiny treehouses that would make Wes Anderson jealous, these are some of the best (and coolest) tiny homes in the United States.
Silo Studio Cottage – Tyringham, Massachusetts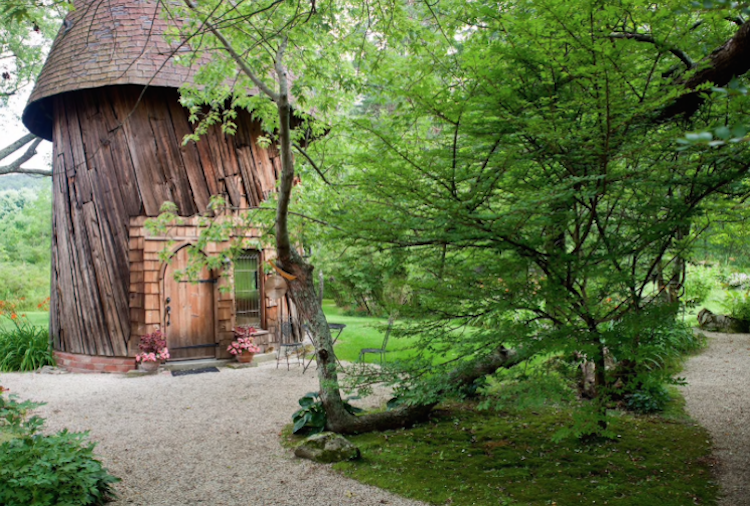 The two-story cottage has a bedroom with a 35-foot cone-shaped ceiling and a fairy tale-like canopy bed.
The downstairs area has a kitchen and a living room, which looks out onto the gardens that surround the area.
A stunning lily pond waits just outside your door, with rows upon rows of lush greenery beyond that.
Find it here.
Secluded Intown Treehouse – Atlanta, Georgia
The treehouse has 3 different rooms – all connected by rope bridges – including the living room which has a deck that overlooks an acre of lush woodland.  
Fall asleep under the trees and wake up to the sun shining on your face and birds softly singing.

Find it here.
Oceanside Retreat – Freeport, Maine
At 411 square feet, the Oceanside Retreat has a full kitchen, bath, laundry, gas fireplace, living space, sleeping area and loft.
Wake up and have a cup of coffee outside while you take in the fresh air that drifts over the water.
Find it here. 
Getaway – New York
The best part about Getaway, the startup that builds and rents tiny cabins in the woods, is that you won't actually know where you're going until after you book.
Locations are kept secret until after booking, however all are located in the woods, within a 2-hour drive of a major city.
With no Wi-Fi in sight, the tiny homes are meant to be a getaway from the stresses of everyday life.
Find it here.
Fairy-tale Gingerbread House – Geyserville, California
This cob Gingerbread House is decorated with stained glass windows with LED lights inside the glass.
Beautiful trees wrap around the hut making it feel as though you're in a forest grove. It has a wood-fired oven outside, complete with a picnic table. 
Find it here.
Fully Restored 1920s Sheep Wagon – Shirley Basin, Wyoming 
Originally used on a family ranch from the 1920s until the early 1970s as a working sheepherders camp. In 2013, the owners completed a full restoration of the sheep wagon.
The wagon has a full size bed inside, and an add in bed that accommodates two more people. There are also two built-in cold boxes for storing and keeping your food cold, a pull out table that can seat four, and a fully restored and operational wood burning cook stove/oven. The Wagon is set up so you can plug your own generator into it for electricity.
The ranch that the wagon sits on spreads 30,000 acres, leaving you with lots of space to explore and enjoy the silence.
Find it here.
Floating Tiny House – North Haven, Maine
The floating hand-built cottage was built by Foy and Louisa Brown, who spend their summers floating on the water.

The tiny floating haven was built by creating a float onshore first, rigging plastic floatation tubs, Styrofoam, and pontoons as foundation. Next it was towed to sea, where the cottage above was built, using mostly pine shiplap.
Louisa collects water daily for a 55-gallon tank that supplies water for the shower and kitchen, while barrels collect rainwater for plants and flowers. Two propane tanks power the refrigerator, stove, and hot water on demand. At night the cottage glows with candles and oil lamps while solar lights illuminate the platform.
Photos by Nicole Wolf. Find it here.
Micro A Frame
At 80 square feet the Micro A Frame is definitely smaller than most, however it makes exceptional use of its space with an openable roof, and legs that drop down to transform into a porch, giving the cabin 30 extra square feet.
The entire tiny cabin was built for under $1,200.
Find it here.
The Zebu Sisters – Texas
The pair of tiny houses – known as Vicky Zebu and Arched Zebu – sit across from each other and were each built using 95 per cent pure salvaged materials.
Gathered from more than 25 other houses, many of the materials used are over 200 years old, creating a stunning antique look.
Find it here.
Converted Laundry Room – San Francisco, California
What was once an 88 square foot French laundry is now a stunning tiny guest house, designed using reclaimed wood and red brick.
Using every inch of space possible, the house has a living area with a leather couch, a kitchen with plenty of storage space, and a coffee table.
The mezzanine floor has a bathroom with a wall-mounted toilet, a stainless steel medicine cabinet, a sink, and a floor drain shower, while the last floor has a queen-sized bed with storage above the headrest.
Photos by César Rubio Photography. Find it here.