BY: SWIKAR OLI
While the thought of giving Rover a hit of something should make any pet owner scream blue murder (and rightfully so), there may be medical reasons to get some of our furry friends properly lit — well, sort of. Turns out, with the right case and chemistry, there are some pets that could actually benefit from weed: in some cases, it's shown to relieve extreme pain and even save lives.
Matthew J. Cote of Auntie Dolores, which is a California-based edibles manufacturer, recalls a woman's dog that was in so much pain that she considered putting it down. However, "the day before he was scheduled to go under, she administered our treats and just like that the dog was up, walking around and acting normally again."
ABC News reports "biscuits, edibles and capsules containing cannabis compounds are being marketed to owners of ailing and elderly animals as natural pain relievers and anti-inflammatory supplements."
In another case, CBS Denver met Chiara Subhas, the owner of Leo, a 14-year-old Pomeranian who started having seizures — "just violently shaking, his mouth is open, his eyes are rolling back, he's drooling." Now, on two capsules of Canna Companion a day, Subhas says Leo's seizures have "definitely decreased."
Edibles made for pets are not the same as those made for humans. Pet edibles have low-THC and high-CBD. CBD is the non-psychoactive component in cannabis, which means that for pets, it's more about relief than reefer.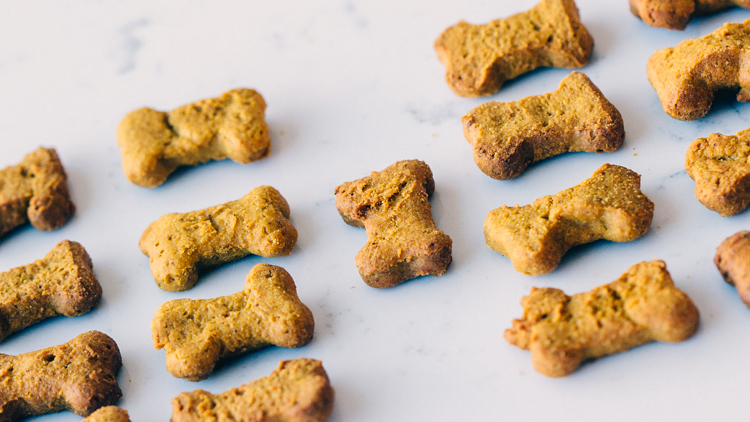 But not everyone is sure about its efficacy. The FDA has sent letters to pet edible manufacturers, warning them of the lack of proper research for administering CBD treats to animals. In a letter to Canna Companion, the FDA calls their products 'unapproved.'
For now, the issue seems to be with the wording. The pet-edible makers need to be careful not to claim that their product is a drug (something that the FDA takes issue with because of the lack of clinical research involved in the business). Instead, these products could be marketed as relief aids for ailing pets.
Dr. Tina Wismer, medical director for the ASPCA Animal Poison Control Center says of CBD products for animals: "Whether it's THC or other cannabinoids, the problem is we have no therapeutic dose. We don't know, are you underdosing your animal or overdosing your animal?"
Pet edibles have a long way to go before they are seen as an approved and regulated treatment for sick animals, but there's a lot of potential to help beloved pets lead better lives.
Sources: nbcnews.com,  thcuniversity.org,  health.com,  linkis.com