BY: Leah Hansen
In any conversation about the state of the world today, the word "globalization" makes an appearance. Our world is more interconnected and closer than ever, and they say, we're more aware of global issues now than ever before.
The truth is, we are more responsible for these issues than ever before. An eight-year-old works twelve-hour days to make the clothes you wear. The phone you're using was shipped 9000 kilometers from China. And that salad you ate for lunch? Its individual components came from six different countries, traveled an approximate combined distance of 40,000 kilometres and took unfair advantage of the humans who grew them.
The world's industrial food industry, as it stands now, can be inherently harmful and unhealthy, said Arlene Throness, Ryerson University's agriculture coordinator. The use of pesticides, exploitation of subsistence farmers in the Global South and the amount of fossil fuels used to transport foods are just a few of the issues.
With that knowledge, many people in Western cities have turned to growing food themselves. Urban agriculture is on the rise, and Toronto is no exception.
Throness has worked in the urban agriculture industry for six years, and runs the green roof on Ryerson's George Vari Engineering and Computing Centre.
"I guess my interest in urban agriculture started as a political thing," she said. "I saw it as a reaction to the industrial food system and urban agriculture as a solution to social and environmental issues in the food system."
The green roof at Ryerson produces more than 5,000 pounds of produce each season, she said, most of which goes to Ryerson's cafeterias or is sold at the Ryerson farmer's market. Onions, romaine lettuce, tomatoes, eggplant and carrots are all going towards helping the community reconnect with where their food comes from, said Throness.
The rise in urban agriculture in Toronto is directly connected to a dramatic rise in interest in locally grown food. All this international awareness has led to more knowledge about the food industry, whose practices haven't always been the most scrupulous.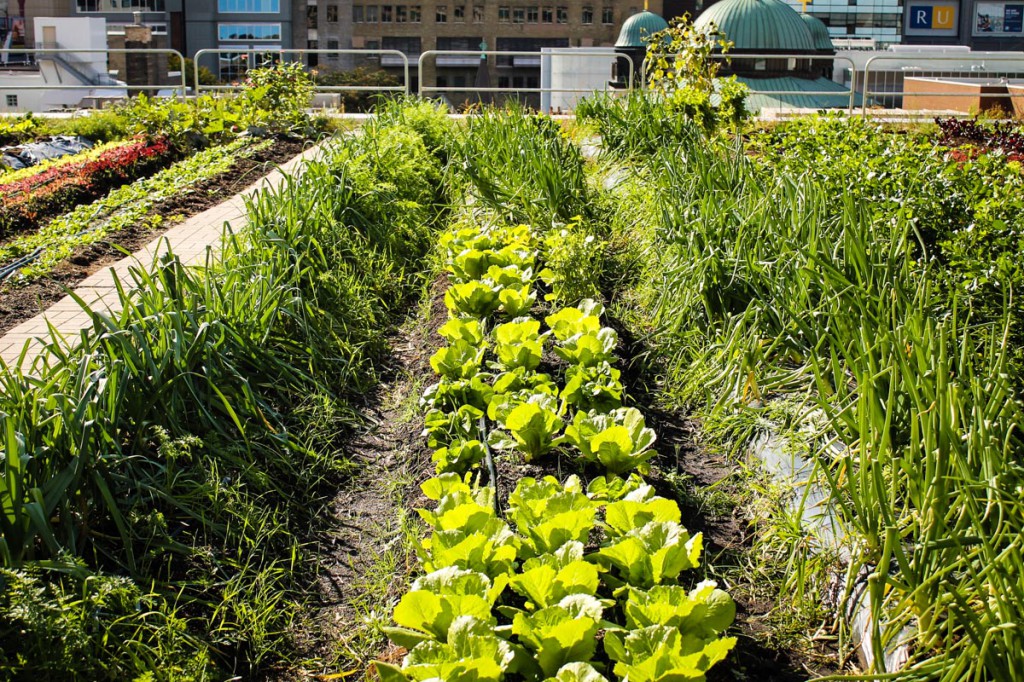 "People are underpaid in that food system and they're also exposed to all the pesticides and chemicals that go into it," she said. "We talk a lot about organic, but the alternative to organic is a lot of fossil fuels, a lot of pesticides, a lot of herbicides."
In addition to health concerns, waste in the industry is also an issue. According to the Research Program on Climate Change, Agriculture and Food Security (CCAFS), a third of all food produced is lost somewhere in the food supply chain. The demand for food is set to increase 60 per cent by 2050 according to CCAFS — industrial agriculture is also the world's largest contributor of green house gasses and is responsible for 73 per cent of rainforest destruction. Cutting out the need for such large-scale production and growing locally instead is the key, said Pablo Alvarez, co-founder of Aqua Greens farm.
Urban agriculture in large cities goes a long way in redefining the food industry, he said. Piloted by Alvarez and fellow Humber College Graduate Craig Petten, Aqua Greens is trying to do just that with an innovative yearlong growing cycle. They use a process called "aquaponics" to produce basil, chives and arugula for restaurants and grocery stores around the Greater Toronto Area (GTA).
SEE ALSO: Aquaponic – The Cure To World Hunger For The Price Of Fish Food
Aquaponics is a hybrid of hydroponics and aquaculture, Alvarez explains. Hydroponics refers to growing in soil-free mineral nutrient solutions, usually water; aquaculture describes the farming of fish and other water-based organisms. Aqua Greens uses a closed-loop ecosystem composed of both processes to grow their produce. Plant roots are placed in the tank that contains a fish called tilapia; water containing waste materials from the fish is absorbed by the plants, who use the waste as a sort of fertilizer. The water is then recycled back into the tank.
Because the whole process takes place indoors, Aqua Greens can take advantage of a yearlong growing season, said Alvarez. While stores chains like Loblaws and Sobeys are a long ways off from buying local produce, he said they have had some interest in local organic stores and places like Wychwood Barns.
It just makes sense to grow locally, said Alvarez, both in terms of health and the economy. Reconnecting the urban population with where their food comes from and the growing process is another goal, said Alvarez.
"If you ask kids right now, even adults, where does their food come from, they'll think it's from Sobeys or Loblaws," he said. "We can reconnect people with food again and teach people and kids how to grow food sustainably."
Even though the benefits to urban agriculture seem pretty straightforward, it isn't always that simple, said Throness. In order to work with locally grown food, chefs in commercial kitchens have to be flexible, she said, and work around what produce is in season. Budgets come into play too — fresh, locally grown produce is more expensive than canned varieties shipped in from source countries.
Urban gardens and farm plots face further challenges in finding the space to implement them, said Throness. Many people pinpoint roofs as ideal and underutilized space for growing food in an urban environment, she said, but it isn't always that easy to convert the roofs of existing buildings.
"The roof has to have the load-bearing capacity to do that, so it has to be safe for the building. You also have to have access to the roof so it's safe for the gardeners and somewhat convenient to get the supplies up there. Those two challenges can be in addition to how hard it is to grow food in an out-of-ground setting," she said. "So it makes a lot of sense for new buildings to just have that as part of their design."
Toronto is the first city in North America to pass a bylaw stating that new buildings must incorporate green roofs. While green roofs don't necessarily equate the production of food (green roofs could be populated with plants or other inedible flora), it's a step in the right direction, Throness said.
The bylaw requiring green roofs applies to all residential, industrial and commercial building permits submitted after 2010. The percentage of rooftop covered by greenery depends on the square footage of the building.
While we're a long way off from being completely self-sufficient when it comes to our food production, Alvarez said he believes we could get there. Attitudes towards local, organic foods are already starting to change, he noted — organic sections in grocery stores are expanding all the time and the popularity of farmers' markets has jumped.
"If you want to be a world-class city, you have to start embracing this and start designing this city around urban agriculture," Alvarez said. "Aquaponics is going to be part of the green economy and the future of food production but it's getting there slowly."