BY: KAROUN CHAHINIAN
Natural fires and urbanization have put our beautiful forests in danger.  Re-planting trees can literally be backbreaking work, but two University of Victoria students may have found a futuristic solution.
Meet the "TreeRover", a prototype robot that was built for the sole purpose of planting tree seedlings.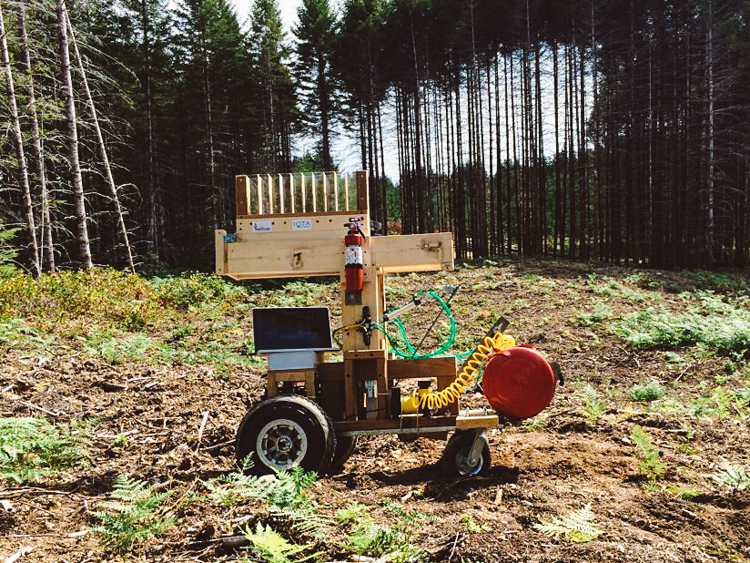 As part of their independent entrepreneurial term work Nick Birch and Tyler Rhodes, third-year mechanical engineering students, organized their own funding and built the go-cart sized tree-planting robot.
"We'd really like it [to be] something that can [substitute] what [tree planters] do and just increase the number of trees that are replanted, especially in light of the forest fires we've seen this summer," said Birch to Gregor Craigie, the host of On the Island.
The "TreeRover" is four-wheeled, battery-powered and holds the tree planting mechanism which consists of a magazine of 10 tree seedlings. Through the use of compressed air, a hollow spike is dug into the ground which releases the seedlings. After the seeds are in the ground, a mechanical arm taps the earth to secure them and then, with its electric motor, it moves on to the next site. The 10-tree magazine takes approximately 15 minutes to complete.
While the "TreeRover" is very innovative, there are still many glitches that must be fixed before it appears on the market. For one thing, the rover has difficulty functioning on rough terrain, which is basically all terrain in tree-planting areas.
"One of the main reasons we still use humans has to do with the terrain navigation," said Birch to Motherboard Vice. "Especially with the mountains, there are a lot of steep slopes and stumps. Planters have to navigate around that, and it's quite difficult to program a robot to do that."
While it is a difficult task, the engineering students are still optimistic and are planning on adding GPS and obstacle-avoidance systems to the robot. In fact, they launched a crowdfunding campaign through Indiegogo on September 1. They have already reached their goal of $5,000 plus some extra. Contributors are rewarded through "TreeRover" merchandise and trees planted in their names.
These two University of Victoria students are hoping to get more than an A out of their independent study project.
Sources: indiegogo.com