PHOTOS BY: Manol Ceron,
From the electric lights of Manhattan to ocean front photo shoots on Greek islands, Elizaveta Bulokhova walked down runways across the world with a cultivated grace.
In her seven-year career as a fashion model, she saw places that most of us only dream of. But in May 2014 Bulokhova and her boyfriend, Roman Troubetskoi, were vacationing in Amsterdam enjoying the rare moments that they get to themselves when her jaw began to swell, causing her excruciating pain.
At the ripe old age of 24 Bulokhova had contracted a rare form of bone cancer in her jaw. CT scans soon revealed that that for her to survive Bulokhova's jaw would have to be removed. But still worse, was when doctors informed her she would also have to abort her unborn child, Valentin, before beginning five grueling cycles of chemotherapy.
Photo: Manol Ceron
"It was fucked up; we basically had to tell the doctors to kill our perfectly healthy baby, but we had no choice," Troubetskoi said to VICE of their months-long torment.
It took 16 hours of intensive surgery to remove her jaw and reconstruct it using her fibula and skin grafts from her right leg and shoulder. Ninety-five percent of her jaw was removed – that's a full 17 centimetres of bone. She knew that this would put an end to her modeling career; and asked her husband to throw a blanket over the bathroom mirror during her recovery. It took her nearly a month to work up enough courage to stare at her own reflection.
Photo: Manol Ceron
Yet blessings often come in disguise. As complications arose from her surgery the chemotherapy was postponed. Just two days before her scheduled abortion "with Valentin being nearly 28 weeks, we asked doctors where that put him. Is it safe to deliver him? They said, 'Absolutely, let's do this.'"
Valentin was delivered by C-section ten weeks early. Though he spent the next 51 days in neonatal intensive care, given that he had survived months of anguish and had no developmental disabilities from the anesthesia Bulokhova was administered during surgery, this birth was nothing short of a wonder.
Photo: Manol Ceron
A Toronto Photographer named Manol Ceron captured the endurance that Bulokhova showed during 14 months of physical and emotional agony in a new photo series entitled "Elizaveta". The images show the fragility of life and the conquering nature of a woman's fortitude. The incalculable hours that Bulokhova spent in recovery bleed through, and show that true beauty springs from the ashes.
Photo: Manol Ceron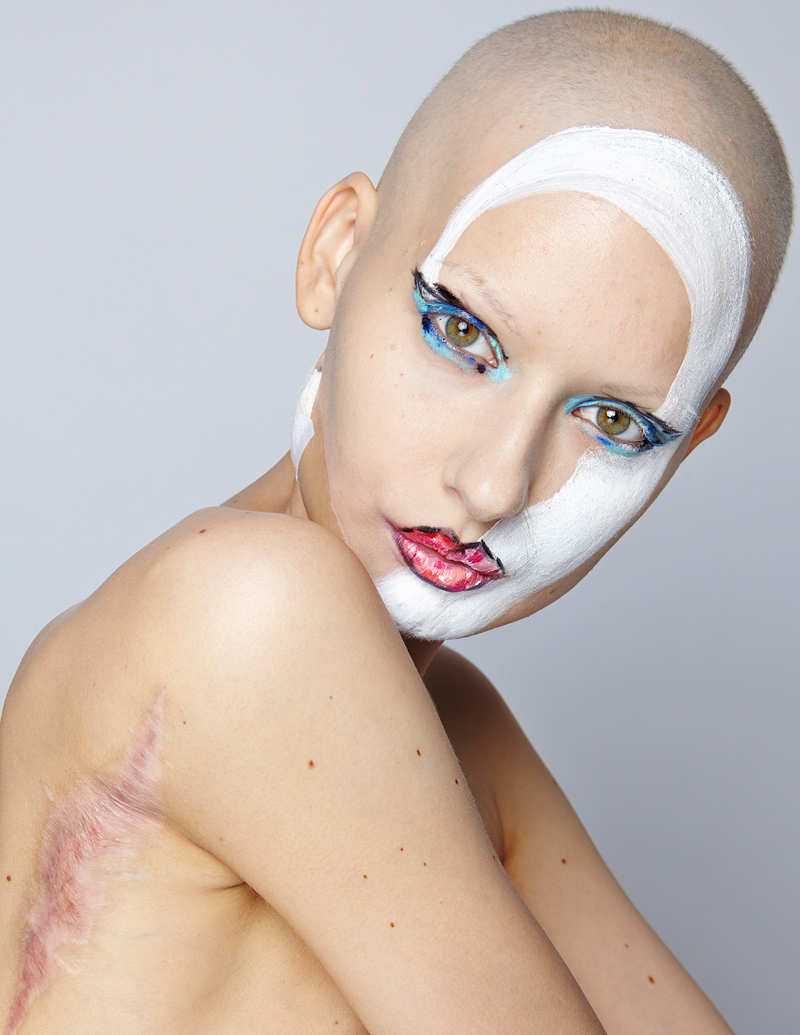 Photo: Manol Ceron
Photo: Manol Ceron
Photo: Manol Ceron
Photo: Manol Ceron
Photo: Manol Ceron
Photo: Manol Ceron
Photo: Manol Ceron
Studio space kindly donated by A Nerd's World – www.anerdsworld.com
Photo assistant: Ken Appiah
Makeup by Julia Stone
Sources: vice.com