BY: JESSICA BEUKER
Michael Buck wanted to prove that paying for a house shouldn't take a lifetime or require burdensome loans. So the 59-year-old British farmer and retired art teacher decided to build a cob house in his garden—for a mere $250 USD.
Nestled in the countryside, just north of Oxford, Buck vowed to build his house using only materials he could find himself, to keep the cost low, and to do it all without the use of power tools. According to Oddity Central, he designed the home on the back of an envelope and then spent two years collecting local materials for construction, which he either foraged or salvaged himself. The house took eight months to construct, as he used only his hands—no power tools.
To make the base, Buck learned the technique of cob. Cob involves a mixture of sand, clay, water and earth. Straw is added to the mixture and then put onto a stone foundation and trampled. The layers build up and harden over time. The walls were painted with a mixture of chalk and plant resin.
The floorboards came from a neighbour's old boat, and glass for the windows were salvaged from a scrapped truck. The thatching on the roof is made from straw, which Buck gathered and hauled from nearby fields.
Unfortunately, he hit a snag in his planning and ended up running out of straw and nails, so he had to spend $250 to purchase these items.
Of course, the process was a bit easier for Buck, who already had the land available and didn't require any special permits since the house is considered a summer home.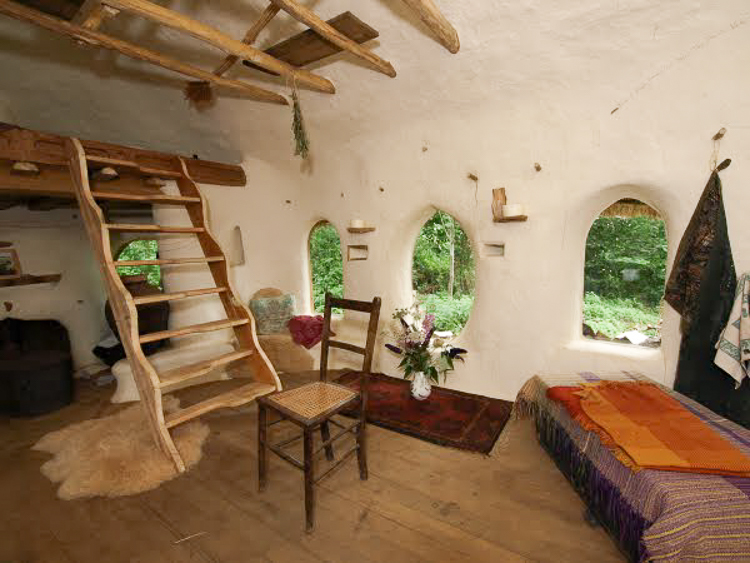 The 300-sq. ft. house has no electricity or running water, although there is free water available at a nearby creek. The house itself is well insulated thanks to the cob walls and thatched roof, but a wood-burning stove provides extra heat, and can also be used for cooking. Candles and lanterns scattered around the rooms provide extra light.
Outside the house is a pile of wood for the stove, a tin tub for bathing, a well that serves as a refrigerator for food, a composting toilet in an outhouse, and even a chicken coop.
Buck rents the quaint little home to a woman who works at a nearby dairy farm. Instead of money, she pays the rent in milk.
"A house doesn't have to cost the earth, you only need the earth to build it," Buck said to Oddity Central. "I wanted to show that houses don't have to cost anything. We live in a society where we spend our lives paying our mortgages, which many people don't enjoy."