BY: SAMANTHA TAPP 
How eco-friendly are you teaching your children to be? Probably not living in a self-built, sustainable, eco-home under a solar geodesic dome, eco-friendly. Hjertefølger means heart follower in Norwegian, and the Hjertefølger family are definitely living up to their name. For them, following their hearts meant moving to a remote part of the Arctic Circle to build their dream home.
In December 2013, the family of six moved to Sandhornøya island in northern Norway, located over 1,000 km north of Olso. The family began building the eco-house four years ago with the help of family and friends. Their goal was to build a sustainable home that could last in the harsh climate conditions that northern Norway experiences.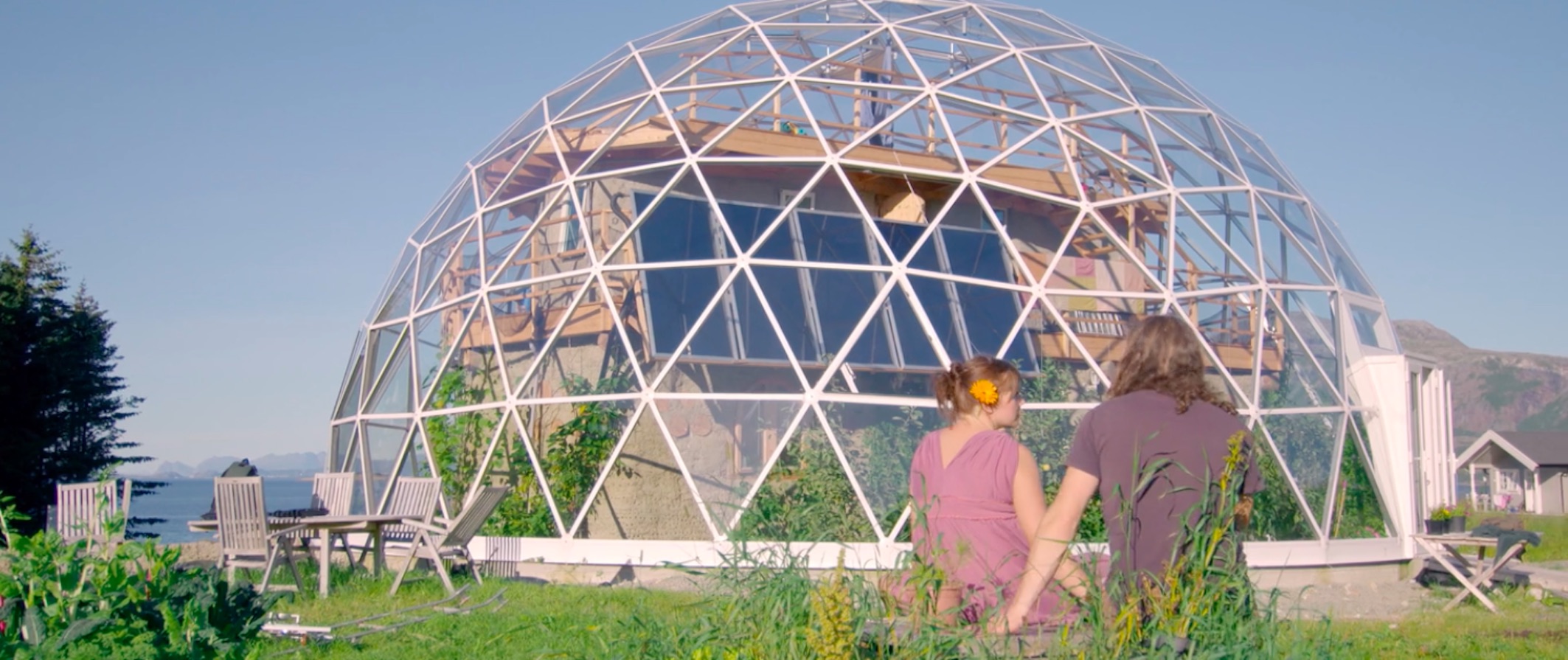 Ingrid Hjertefølger said in a mini-documentary that, "we wanted a house that is healthy to live in and good for the environment," and that's exactly what they created. Their house has three-stories, five-bedrooms, with a 25-foot-high solar geodesic dome covering it. The dome is basically a sphere made of a network of triangles. Staying true to their goal to stay environmentally-friendly, they made their home out of cob, which consists of sand, water, clay and straw. They mixed the cement with a cement mixer, their hands or feet. Eventually the cob hardened and turned into a solid mass, which they then transformed into brick.
The glass dome around their home not only protects their home from the natural elements, but allows the family to keep their garden alive for five months longer than it would be able to if the garden was outdoors. Although there are three months without sun when the family can't utilize their garden, during the remaining months the family grows tomatoes, apples, peppers, plums, apricots, grapes, cucumbers, squash and herbs to name a few.
There is an irrigation system in the garden covered by leca sand and a timer that regulates the amount of water that is distributed into the garden. Oh, and the water? The house has clean water coming in and out of the house, so all waste water is reused for fertilizing and watering the plants. They also compost, and only use biodegradable cleaning products.
"The feeling we get as we walk into this house is something different from walking into any other house," Hjertefølger told Inhabitat. "The atmosphere is unique. The house has a calmness; I can almost hear the stillness. It is hard to explain. But it would have been impossible getting this feeling from a house someone else has planned and built for us, or a house with corners and straight lines."
The overall vibe of the house and the family is magical, as you can tell by just glancing at the photos. Not only do the house and the surrounding nature (and the crazy views of the Northern Lights) look like they came straight out of a movie, but the Hjertefølgers also raise their kids with the same mindfulness and optimism that they used to construct the idea of their home.
"I believe we can contribute to making the world a better place," Ingrid said. "By just living genuinely, and happy and free as possible."
Their goal is to give their children a great childhood with the tools and insight they need to succeed and manage life on Earth. In the future they hope to build additional cabins for camps and yoga retreats, as well as hold workshops, classes, tours and concerts in their own home.
"I think that if everyone fulfilled their dreams and did the things they were good at the world would function wonderfully," Ingrid said. "I believe there's an intelligent design behind everything and everyone is supposed to do their part and what's needed."