BY: ZOE MELNYK
All nomads share the same undeniable urge to travel the world free from any monetary or time restrictions. A life filled with stability seems equivalent to a life in prison, and while escaping a mundane life may not be illegal, it's often frowned upon by the general public.
Despite the initial setbacks of breaking free from the 9 to 5 grind, Maria Leijerstam made an enormous leap of faith in quitting her successful job as a business consultant. She left her significant other so she could move back home and pursue the adventurous life she'd always envisioned. 
Maria quit her full time job, left her spouse and took a chance at ultimate freedom and adventure

Leijerstam decided to bike the length of New Zealand to cleanse her thoughts and test out the idea of nomadic traveling. Through her 23 days of cycling, she became absolutely infatuated with the stunning scenery and the ability to change her course at a moment's notice.

During this time, Leijerstam also developed the idea of creating her own business, now known as Burn Series. The site contains training and racing information for anyone interested in running, cycling, kayaking and orienteering.
After completing her first adventures and creating a successful sport company, Leijerstam took her extreme cycling passion one step further and decided to become the first person in the world to cycle 500 miles from the edge of the Antarctic to the South Pole.
"I am not adverse to risk at all, and I get excited by new tough challenges"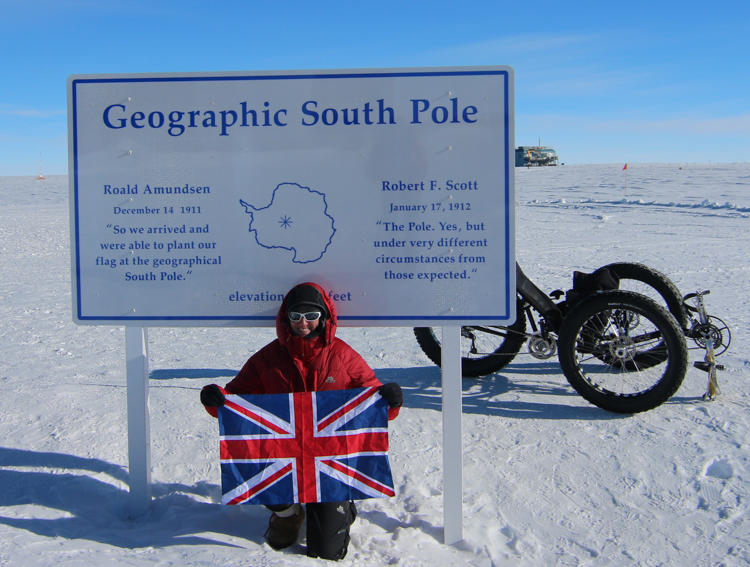 Leijerstam trained for the seemingly insurmountable feat by cycling over 600 kilometres across Siberia's frozen lake Baikal, along with practicing in places like Norway and Iceland.
Despite suffering from frostbite in her trial runs, Leijerstam continued with her plans, and on December 27th of 2013, she became the first person to cycle to the South Pole.

Leijerstam spent four years preparing for the trip with her team, and used her background in rocket science to create a bike that far surpassed the bikes of her two male competitors. However, her 10-day journey came with its own setbacks. Even with a soft shell, three layers of clothing, and a jacket designed to withstand temperatures of -50 degrees Celsius, she still found frostbite on the limited skin exposed under her goggles.
The frostbite was only a minor issue, since Leijerstam still arrived at the base camp ready to celebrate her achievements. She used the remaining few days to sleep, ski, and enjoy her time at the South Pole.
Maria's arrival at the South Pole after cycling for over 17 hours

Cycling to the South Pole may be her most notable achievement to date, but Leijerstam isn't finished with her extreme adventure exploring. She already completed the Marathon des Sables, which are six marathons over the course of seven days in the extreme temperatures of the Sahara Desert.
Leijerstam's future goals include returning to New Zealand, pedal boating around Greenland and Iceland and cycling across the Atlantic Ocean.

So, if you're unsatisfied with the stability of a typical office job, take a cue from Leijerstam and change the direction of your life. While extreme sports may not be the exact path for everyone, there is a community for any kind of traveling you could possibly desire.

Watch the documentary HERE.
Sources:   bbc.com,  vimeo.com,  theargonauts.com,  blogspot.com,  factorymedia.com,  cdn.com,  grindtv.com,  walesonline.co.uk,  dailymail.co.uk