BY: ROB HOFFMAN
It may be slow, but that's exactly the benefit a growing number of travellers are seeking when they trade their cars for well-equipped bicycles to take cross country. By designing a towable living space, many have turned the road itself into a long-term home. The problem, however, is it can be difficult for the average person to design an adequate shelter that can both support living habits and be pulled behind a standard bicycle.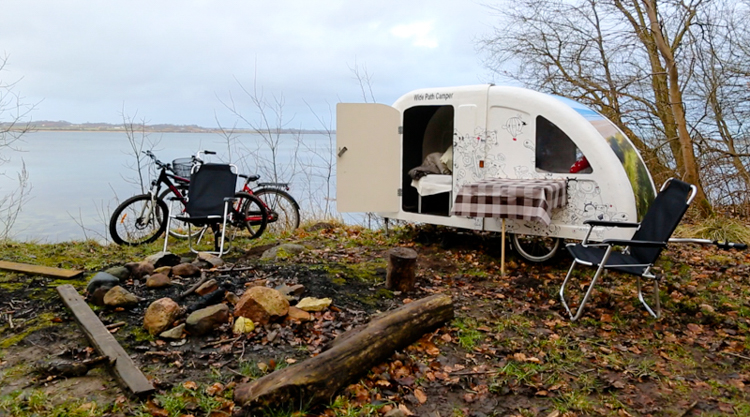 This is why the Denmark-based company, Wide Path Camper, developed a 100-pound, expandable mini-camper designed to tow behind a bike and offer its owners a sleeping, wining and dining space. In its smallest form, the camper sits at 39'' x 51'', but can be expanded to twice its size in under five minutes, to 39'' x 102''.
Inside the camper is a dining room table suitable for four people, and as the video indicates, a candle-lit French-style dinner at the foot of a gorgeous lake. Alternatively, the inside can be transformed into a double bed.
One thing that should be noted for all beginner bike-travellers, is the reality of towing a 100-pound trailer. Gear Junky rightfully bursts the bubble of the camper's functionality by reminding us that this much weight is a lot to tow around without some sort of electric-assistance bike. In fact, the Wide Path may be best suited for towing behind a small vehicle. Nontheless, it's a way more manageable tow than a standard-sized airstream, or really most other trailers on the market. It even permits storage for up to 300 pounds of equipment.
The only downside to this scenario is you're missing out on the immersive travel experience of long-distance bicycling, which lets you fully take in your surroundings and explore cities without the burden of traffic. All in all, it seems that the Wide Path is best suited for the Ferris Bueller-type, who disregard the stress of the ticking clock under the mantra that "life moves pretty fast, and if you don't stop and look around for a while, you could miss it."
If this sounds like you, the Wide Space could be yours for $4,000—or an additional $280 to add a kitchen, and $1,200 for solar panels. It's dirt cheap for what it offers. Just prepare your thighs for some serious burn.
Image sources: gobybike.eu,  widepathcamper.com,  bicycling.com,  blogspot.ca,  husvagnen.se,  gearjunkie.com