BY: MELISSA BOODOO
As people cycled their way to work, their smog masks tied firmly over their nose, debris-filled air circling around them, an important nationwide alert sounded off.
The models pose for a photo before undergoing their transformation.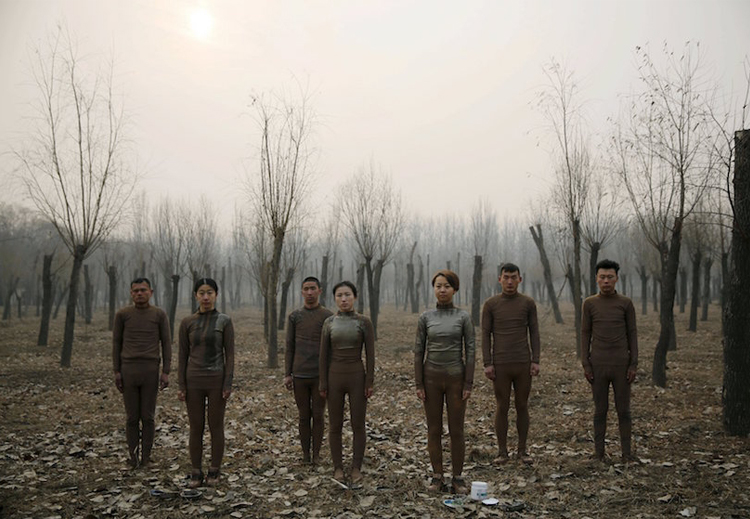 Photo By: Kim Kyung-Hoon
Artist Liu Bolin, who is also known as the "Invisible Man" for his astonishing camouflaged body painting, has created a reaction piece about his growing concerns over China's never-ending air pollution problems. Bolin covered seven models with body paint until they blended into the smog ridden background, located on the eastern outskirts of Beijing.
"Instead of passively disappearing, I'd rather actively make people disappear to express my attitude," he told reporters in a recent interview about the project.
Photo By: Kim Kyung-Hoon
Though China has been plagued with thick smog for years now, just last month China's pollution levels had reached an all-time high when the highest possible red alert warning was issued in Beijing, as well as in 10 other cities across the nation. Schools in Beijing were forced to close down, outdoor constructions were brought to a halt, as well as the removal of 2.5 million cars on the streets.
A staff member painting a model on-site to blend her into the barren background.
Photo By: Kim Kyung-Hoon
Photo By: Kim Kyung-Hoon
Photo By: Kim Kyung-Hoon
These images were released just days after the capital had issued its first alert about the air pollution to make a critical point about the quality of air, and that the air pollution in China is just one of the many signs of the climate change issues that are being dealt with globally.
Photo By: Kim Kyung-Hoon
Photo by: Kim Kyung-Hoon
"This work actually shows the helplessness modern people feel," he said. "The fear in their hearts. Their struggles."
Photo by: Kim Kyung-Hoon
Photo by: Kim Kyung-Hoon
Image Sources: themalaymailonline.com,  artnet.com