All Photos by: Tod Seelie
If the love and drug-fueled hippies of the '70s were ever born again and decided to relive the river-running adventures of Huckleberry Finn, this certainly would have been it.
Brooklyn-based street artist, SWOON, and her dumpster diving crew of 30 pulled as much scrap wood as they could find from construction sites, buying what they couldn't find from Build It Green. They assembled three 20-foot sculptures on floating pontoons in Koper, Slovenia and used them to sail their way across the Adriatic to Venice.
Through their travels they collected flowers, music, trinkets and stories and put them into their Floating Cabinet of Wonders to display to the world with a mission of inspiring hope in a time riddled with over-consumption, and economic pressure and environmental disrepair. They called this project the Swimming Cities of Serenissima, an Italian word which means "most serene".
The crew set sail with merely pennies to their name and survived off a hearty diet of beer, prosecco and bread. They hit their fair share of obstacles, including storms, arrests, and having to circumnavigate around international marine laws, insurance forms, and the ominous Italian Coast Guard. One member even broke his neck jumping off a building.
What kept them going though was the sound of the waves, the danger, and the sense of beauty to it all. Three weeks later, when they finally floated triumphantly into Venice they were greeted with the art, music, theatre and magnificence of The Biennale, a festival to which they were not invited but they were warmly received by an international audience.
Photographer Tod Seelie captured it all in these incredible photos: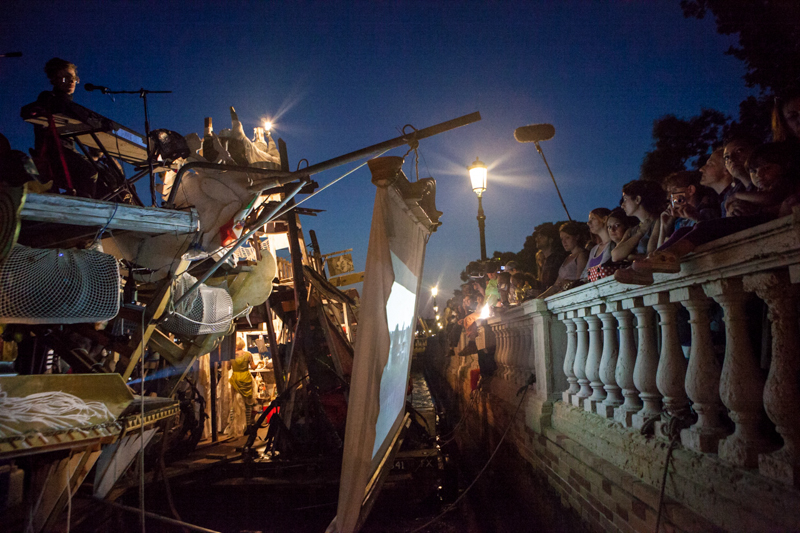 Sources: wired.com,  thechive.com,  wordpress.com