BY: ROB HOFFMAN
Francis Gendron recently launched a DIY sustainable greenhouse guide that makes it possible for anyone to construct their own indoor garden-house, built entirely out of recycled and natural materials, and powered entirely by renewable sources.
Gendron's guide includes a DVD and E-book, providing step-by-step instructions to building a "sustainable passive solar greenhouse," basically a fancy term for "your own private oasis to kick back in a hammock and catch a tan mid-winter while you eat fresh tomatoes from your surrounding organic garden." The DVD is produced and directed by filmmaker Curt Close in conjunction with Anaconda Productions.
The inside of the greenhouse resembles a small jungle with light that pours in from all sides due to the windows that encase the wooden frame.
Gendron's design was inspired by Michael Reynolds, an American architect with a 40-year backlog of eco-building research and widely recognized for his breakthrough Earthship designs. Reynolds even went  so far as to establish his own Earthship Academy in Taos, New Mexico. Gendron was the academy's first graduate.
The idea behind Gendron's greenhouse design is to provide healthy, organic food, while simultaneously lowering energy costs and giving eco-enthusiasts a green place to shake the depression of winter's barren landscape. Tires, bottles, glass and wood line the walls and foundation of the greenhouse, leaving no materials to waste. Geothermal technology uses heat from the earth to keep the temperature balanced and the house warm during winter months.
The greenhouse includes an aquaponics section—a symbiotic gardening system that allows one to harvest vegetables simultaneously, with minimal effort and gardening supplies, at a rate that far exceeds the time it takes to grow regular crops. Growing your own food also allows you to avoid GMOs and other harmful pesticides and preservatives. It also allows you to save money on produce and fish.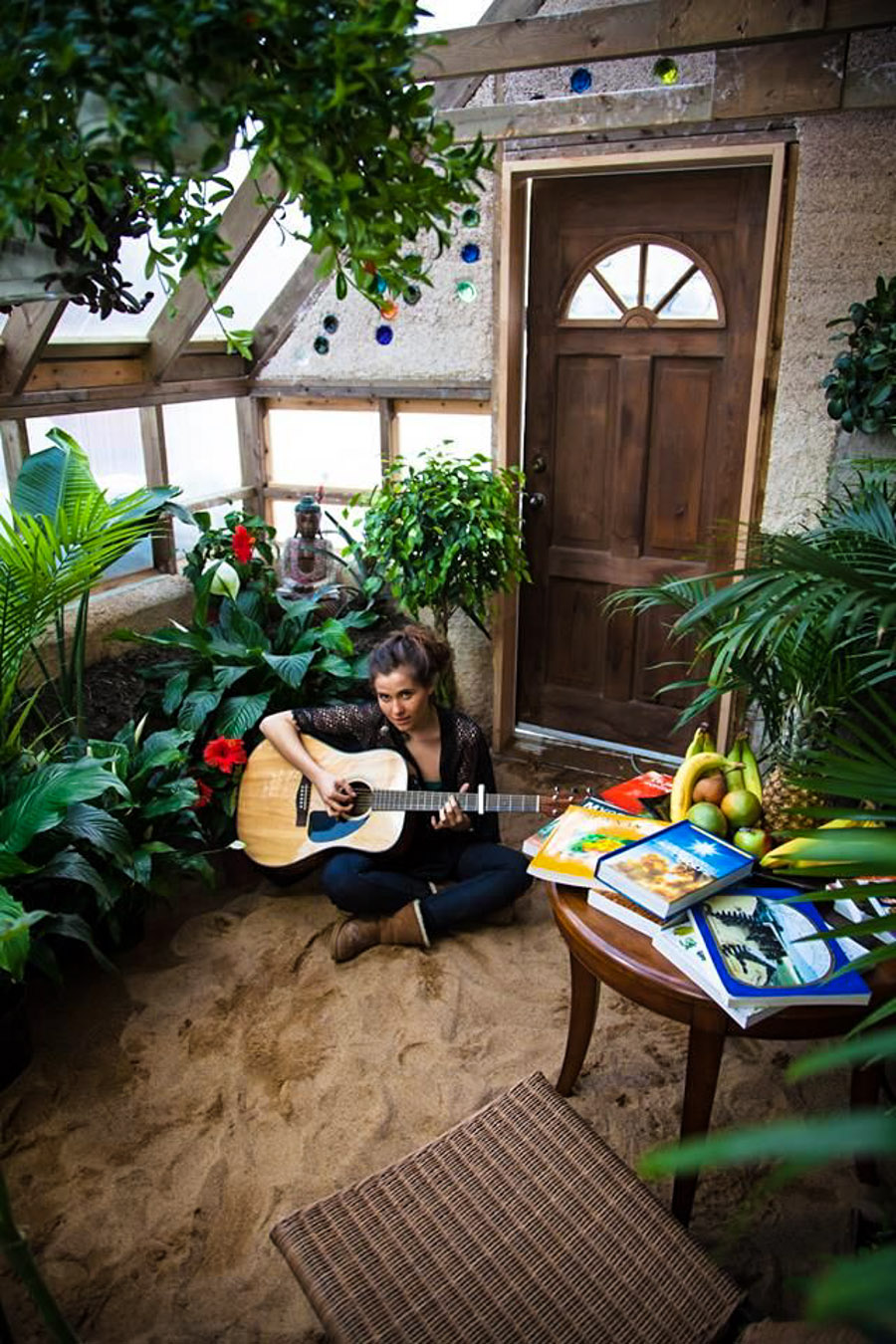 "The synergy between this sustainable technology and the natural phenomena giving us food, water and warmth could literally change the world," Gendron tells Alternet. "In Quebec, our biggest environmental impact is linked to food because it comes from so far away."
Gendron also makes recommendations as to how to find the proper housing materials, including "tire parties," which basically means a get together that encourages friends and families to contribute old tires and other unused materials that you can recycle into the construction of your greenhouse. Even if you aren't interested in home-grown meals, eating organic, promoting local produce or reducing energy costs, one of the largest benefits of this greenhouse remains: a sunny, naturalistic environment to kick back in all year around.
Sources: Greenhouseofthefuture.com,  Permaculture.co.uk,   media-cache.com