There's a reason why nudity is becoming a popular additive to public spaces and activities—from nude beaches, to yoga classes, art galleries and snow-sledding. Pairing nudity with already-popular sports, practices and hobbies is guaranteed to attract attention and the business of eccentrics.
We see nudity as an adventure, or even a challenge, putting us outside of our comfort zone and into the ultimate state of vulnerability. And yet, once you strip down—hopefully in a socially-permitting area—you feel an unexpected confidence and release of stress. If you can conquer the fear of public nudity, you can conquer anything.
Life takes on a different feeling when you're naked. You become invested in your immediate surroundings, present and sensorily awake.
There is a natural freedom derived from shedding the boundaries we have long accepted as inherent.
Here is a list compiled of the world's best places to get naked:
1. Verona, Italy: Italian Body Painting Festival
This colourful festival has been taking place in Verona, Italy since 2006. Painting techniques range from brush to airbrush.
2. Bare Necessities: Nude Cruise
Since 1990 Bare Necessities Tour and Travel has been creating the finest clothing-optional vacations and nude cruises in the world. You can step out of your cabin wearing nothing but a smile and be welcome throughout the ship.
3. Toronto, Canada:World Naked Bike Ride
The naked ride is meant to be an international protest "against oil dependency and urban pollution," according to the Naked Bike Ride Toronto website.
4. Altenberg, Germany: Naked Snow Sledding Championship
Annually, European competitors strip down to nothing but their underwear and boots to complete a 97-yard toboggan race down a frozen slope. The first place prize is $1,000.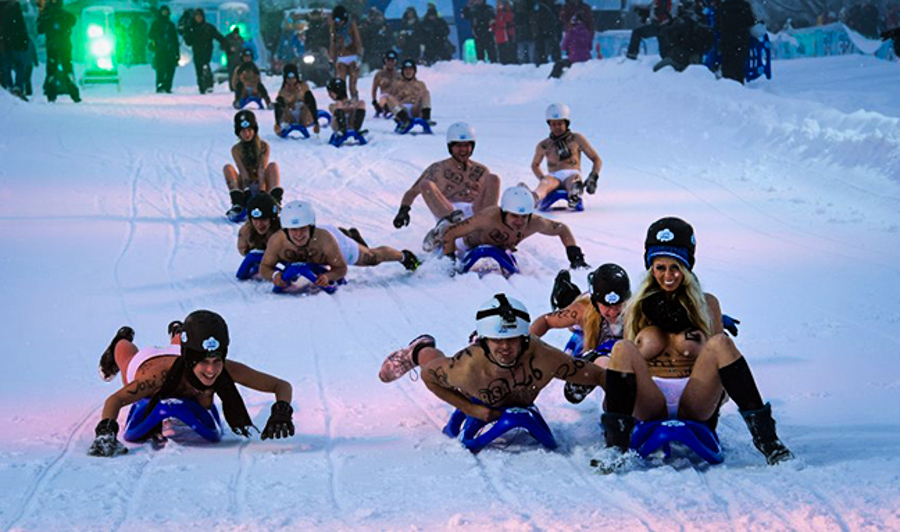 5. Los Baños, Philippines: Oblation Run
An annual event held by the University of the Philippines at different UP campuses. The event was first organized in 1977 to promote Hubad na Bayani (Tagalog for Naked Hero), a film. The name comes from the Oblation, a statue of a nude man located in every University of the Philippines campus, which symbolizes "a selfless offering of one's self to the country."
6. Black Rock Desert, Nevada: Burning Man
Burning Man isn't your usual festival. It's a temporary city built every year, dedicated to community, art, self-expression, and self-reliance.
7. Budapest, Hungary: Bath Houses
Budapest isn't called the 'City of Baths' for nothing. It has more thermal and medicinal water springs than any other capital city in the world.
8. South Pole, Antarctica: The 300 degree Nude Run
Participants sit in a sauna set at 93 degrees Celsius (200 °F) for 10 minutes before going outside naked and running around the Ceremonial Pole. Afterwards, they usually warm themselves in the sauna again, often with the aid of alcoholic drinks.
9. Saidaiji Temple, Japan: Hadaka Matsuri, Naked Festival
Naked festivals are held in dozens of places throughout Japan every year. Men literally wear nothing but loincloths and struggle fiercely with one another over a pair of lucky sacred sticks.
10. San Diego, California: Black's Beach
Black's Beach is the largest nude beach in the United States.
Sources: googleusercontent.com,  idealmagazine.co.uk,  protothema.gr,  blogto.com,  spiegel.de,  en.wikipedia.org,  drmike2000,  gloriaperez.com.br,  meanspirited.net,  huffpost.com,  deviantart.net