BY: ROB HOFFMAN
Chris Burkard's photography is a call to action for the traveler who refuses to see the world from the inside of a five-star resort, or overtop the latest edition of "Lonely Planet".
His catalogue of surfing, adventure, and landscape photography offers a side of exploration that even the most seasoned travelers seem now to neglect: actual discovery. From Iceland to the remote coasts of Russia, Chris has uncovered, photographed and surfed the parts of the world many of us couldn't even identify on a map.
Chris began taking photographs at the age of 19, and by 28, Chris earned himself the title of the 2010 Red Bull Illume Overall Winner for photography, as well as an internationally renowned artist, remote wilderness explorer and ultimate badass. Of course, as a photographer, success didn't come easily.
SEE ALSO: Mike Wilson Was A Pro Skier By Age Eleven. Now He Is YouTube's Biggest Badass
Chris realized from the beginning that you couldn't learn to shoot inspiring landscape, action sports and adventure photography in a classroom. Instead, he made a point of dedicating his time to the exploration of uncharted territory, arctic waters, frozen tundra and open seas, doing whatever it took to get the shots no one else was willing to get. As Chris explains, the apprehension to put on a wet suit and spend the day swimming through the sub-zero sea with your camera gear, dodging surfboards and narrowly avoiding frostbite is a feeling that lasts long after you regain feeling in your extremities.
His career began with an internship at Transworld Surfing. Chris stresses the benefits of finding an internship, mentor, workshops or anything that can give you a hands-on introduction to the industry. It's also a great way to make connections. Naturally, Chris's experience at Transworld catapulted him into the front lines of surf photography. But his photos give the viewer a more dynamic and immersive experience than the typical candid surf-shots.
Chris's photography isn't just about the surf, but rather the unexpected harmonization of man and the forces of nature not intended for human solace or sport. It's a strange thing to see surfers in full-body wet suits, boards tucked under their arms, yet the ground coated in snow and a blizzard forming overhead.
We're reminded that behind each visually stunning photograph is a back-story equally as magnificent. As always, true adventure excludes the possibility of comfort, and progress demands pursuit of the unknown.
I had recently had the opportunity to catch up with Chris and ask him a few questions. This is what he had to say:
What's the most insane thing you've ever done to get a shot?
There's been many insane things I've done to get a shot! I'd have to say each time I jump in below freezing temperature water it's pretty insane and my body just feels a jolt. Even if we warm up our suits for an hour in the car that spike of ice still rushes through my body and wakes me up. In a bad way!
Who is the most interesting character(s) you've ever met on the road?
The most interesting characters are always the locals of any place I travel to. Their culture and livelihoods intrigue me and pique my interest in so many ways. What's funny is sometimes they will look at my team and me and think we're all crazy for trying to find surf in the Arctic or somewhere cold and frigid. Maybe, we are the most interesting characters on the road each time?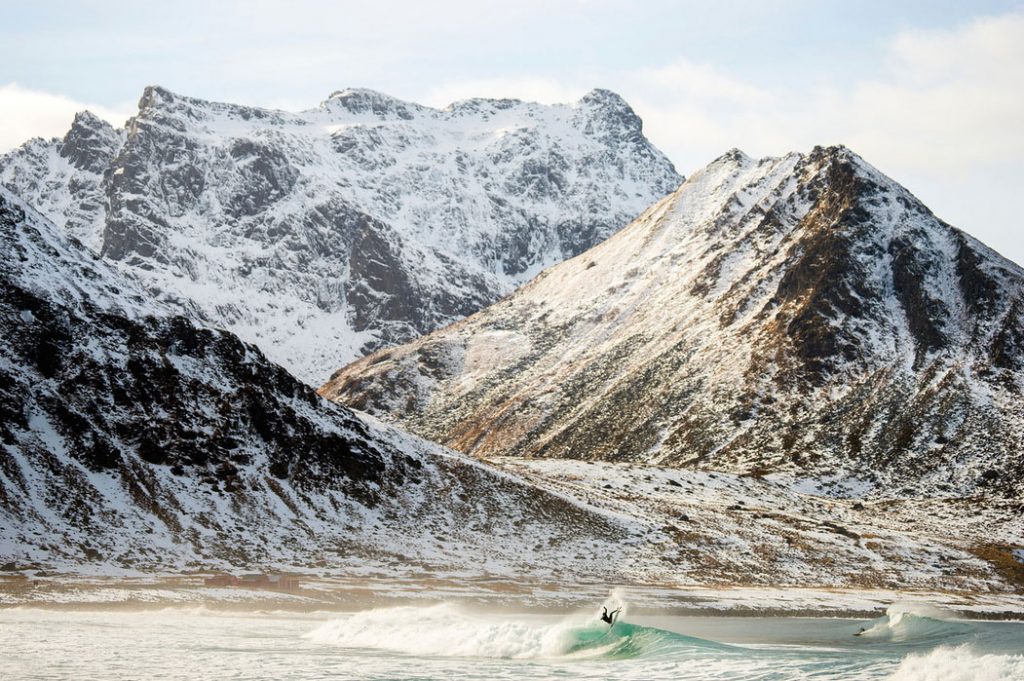 Where do you sleep when you venture out into these remote areas, and how do you keep everything (including yourself) warm?
My car has been a safe haven for many trips. We've also converted the roof rack to outfit a tent for sleeping! As for keeping myself warm, there have been great advances in outfit technology to keep us warm but still remain light. However, nothing beats a nice hand warmer from time-to-time or jumping into a hot tub somewhere.
You've said, "Style is key as a photographer". At what moment did you know that you had found your own distinguishing style? What's the quickest and most effective way for one to develop their unique style? 
I wouldn't necessarily say I knew the exact moment I found my style, but when my peers and fans would look at a bunch of collected photos at galleries or showings and I'd hear "Oh, that's a Burkard", is when I knew I found a certain unique style. To me, it was just about shooting what I thought was captivating in my own eyes and best showing it to the world. I don't know if there is a quick and effective way to develop your own style. I think it took me a while and a lot of photographs to find my voice but to others it may come really quick. It all depends on how you see the world and how the world sees your work. My advice would be to continually shoot the things you love but also turning them into tangible things for the world to see and critique. If you don't show your work, how will you ever know if it has your personal style?
Can you explain the difference between the rush you get from surfing a warmer climate, versus the rush you get from surfing a harsh northern climate?
The difference between a warmer climate and a harsh, northern colder climate is the boundaries and limits we are pushed to. The sheer willpower needed to jump into frigid temperature waters is a real testament to the human spirit and I thoroughly enjoy that rush much more than the nice, calm warmer climates.
You've given the advice before, "I don't think school is going to teach you the types of skills you need to do what I do". What's the best way to get started when pursuing a career in your field?
The best advice to get started in your field is to shadow and learn as much hands-on experience as you can get. Internships, apprenticeships, and workshops—those will teach you the best real-life experience you can get to jump-start your career. Granted, some folks learn well from sitting in front of a book but when it comes to photography I believe it's best to just get out there and dive in headfirst.
What kind of emotions, feelings and thoughts do you try to inspire in your viewers, through your photography?
In my photographs, I try to evoke the same senses that I felt that very moment I pressed the shutter button. I want to push my viewers into the photograph, not stand in front and look at them. That's what I feel like when it comes to photographs of cold-weather conditions, I want my viewers to feel the same freezing temperatures that I felt when I stood there shooting photographs.
What's the most magical place you've ever been to, and why?
There are too many to choose from! But I always find myself coming back to Iceland time and time again. No matter how often I travel there, I seem to never explore it enough to be satisfied. There's something so mysterious about Iceland and its people, culture, landscapes and mostly importantly, the Northern Lights that captivate me to travel there!
What advice would you give to aspiring action sports/landscape photographers, who don't yet have the money and resources to access the remote and stunning terrain we see in your photography? How did you do it when first starting out?
I myself didn't have a lot of money to begin with but I was lucky enough to find an internship over at Transworld Surfing where I learned a lot about the industry of surf magazines. From there, everything just fell into place when I would take my camera and shoot anywhere I can jump into the ocean.
Your style of travel has put you into the heart of some of the harshest and most distant areas of the world, leaving you exposed to the full throw of the elements. Have these experiences taught you any lessons of spiritual or intellectual significance that you would like to share?
Most definitely! These harsh and life-threatening conditions test me to my absolute limits. Aside from the physical aspect, I always have to be mentally prepared for something that could go wrong. I default to Murphy's Law where if something can go wrong, it will go wrong. But I've learned to let go of not having control over everything and once I learned that everything else just falls into place. The human mind is so adaptive to change that we can always roll with the punches and stand triumphant after everything is said and done.