BY: DEXTER BROWN
With daunting and insurmountable college debt, some young and starving students have turned to SeekingArrangement.com to find a sugar daddy or sugar momma (a wealthy, older person looking for love or companionship) to help pay for their college tuition.
According to The Huffington Post, there are over three million users on Seeking Arrangement, with nearly eight women for every man, and to tackle their debt, some sugar babies (typically younger, debt-ridden students or recent graduates), have taken on more than one sugar daddy, while asking for $1,000-$3,000 per month from each.
In many instances, sex is involved, and as that is the case, some feel Seeking Arrangement is essentially a prostitution or escort service.
A student at New York University, the college with the highest number of sugar babies, shared what it's like to live as one with NYU Local, a campus news blog, and some of what she said felt like it could've been pulled out of a 50 Shades of Grey-inspired novel. The sugar baby went by the fictitious name of Natalie Hill for the piece, and her story started like the stories of many, many, many, many, many, many other sugar babies.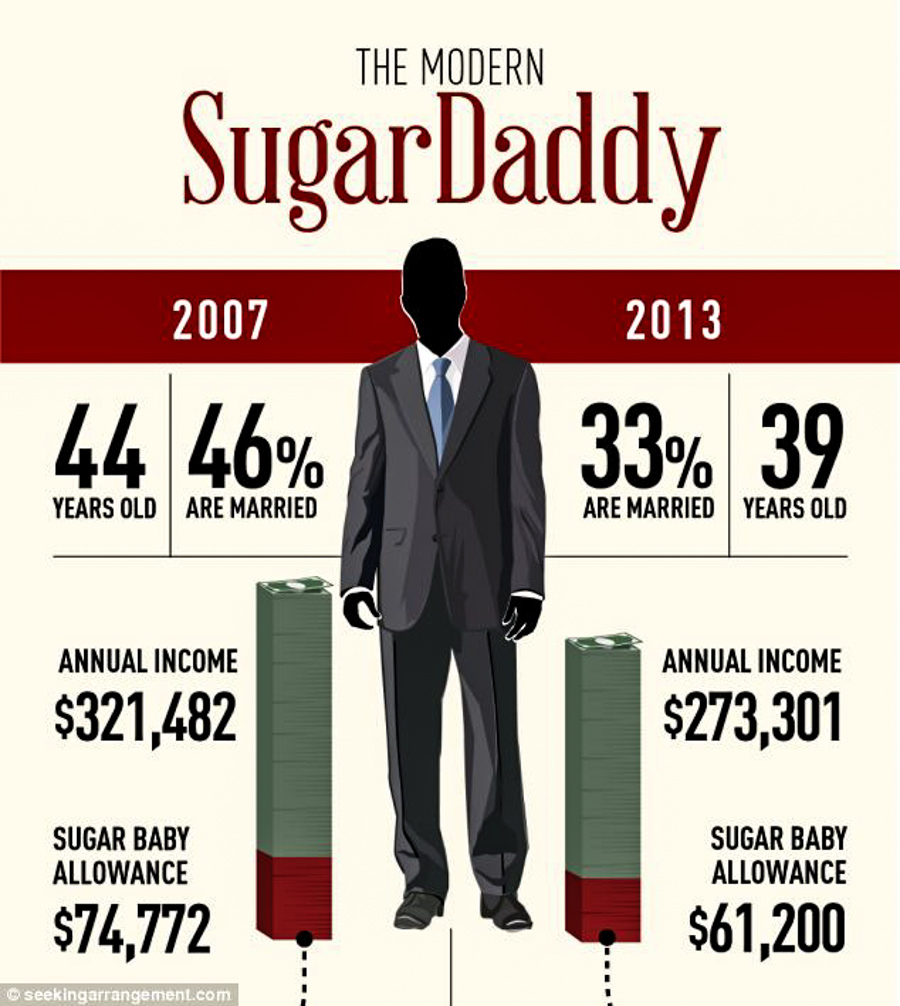 Hill said joining Seeking Arrangement started as a joke between her and a roommate. The two got an apartment, and their bills started stacking up. When things got particularly bad, Hill decided to join, and soon enough she was receiving messages. People on the site ranged from 30 to 55 with net incomes from $250,000 to $5 million a year.
When asked why she didn't just waitress, the NYU sugar baby told NYU Local that she could easily make $2,000 to $5,000 by meeting with a sugar daddy four times a month. As for the guys she met, they varied and came from all walks of life.
"I got one 60-year-old guy who messaged me and was adamant about meeting up. He was quoting Ralph Waldo Emerson and that's what drew him to my profile immediately," Hill said. "He just seemed like a lonely man that wanted companionship—a man who wanted fun and intellectual conversation."
A 33-year-old IT manager she met on the site left quite a different impression as he started licking the inner contours of her ear during the second date. "I just had to get out of there," she said. "Discussing the pay was pretty awkward." Hill said she wound up getting "just a free meal and saliva to last a lifetime."
Sex was always the elephant in the room, Hill noted, and she felt it was hard to find anyone not interested in it, except for the Ralph Waldo Emerson fan mentioned above.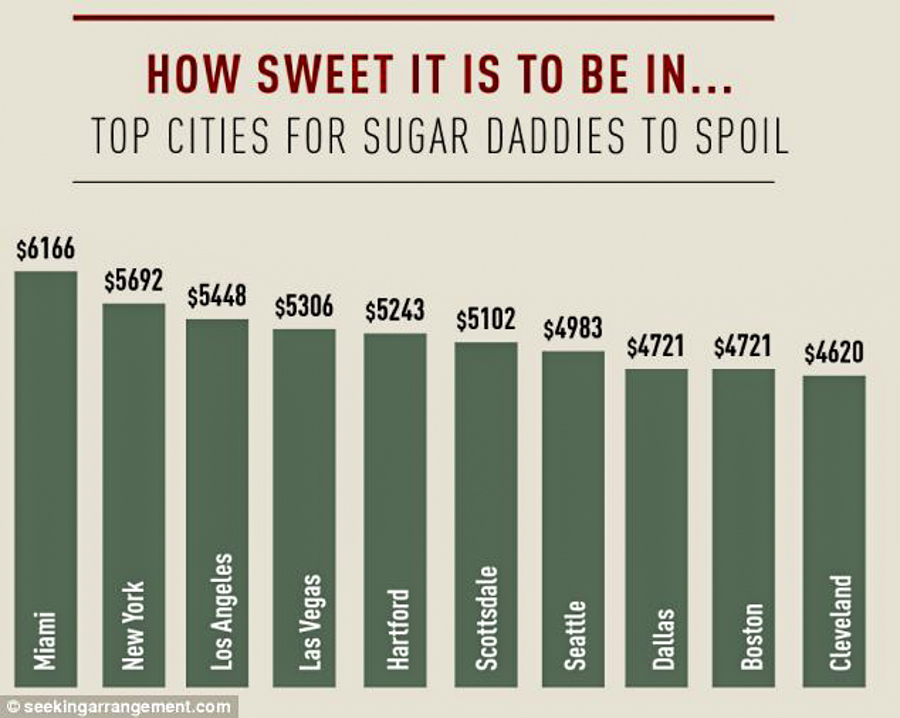 Hill understood why some people consider the site as prostitution and was conflicted about being a sugar baby altogether. "My moral compass was always quivering. It never settles down. Morals are subjective. In the case of being a sugar baby, I never quite have come to terms with it," she told the paper.
Other sugar babies aren't afraid to mince words and are quite open about how they view the financial aspects of their relationships. Another sugar baby put it quite simply in a piece for xojane.com, "I sell sex. And I don't mean that in a metaphorical way in that I model, strip or work for one of those phone sex lines. I don't sell the idea of sex. I literally sell sex."
Much like many of the other sugar babies who have shared their stories, she was also a broke college student trying to make ends meet and decided to join the site after feeling concerned about debt. "Within two days, I had approximately 65 different messages in my inbox," she wrote. "I decided on my first sugar daddy after a week. He was a lawyer who lived a little outside of the city who had a penchant for nipple clamps, bondage, and tea bagging."
Through emails the two decided on an "allowance" of $450 and the daddy-stepdaughter fantasy he wanted played out; however, the sex seemed cold and calculated. "I spent most of the hour with my eyes shut trying to separate myself from my natural response to sex by thinking of how quickly I could shower and get dressed before meeting my friends for dinner," she said in the piece.
The financial transaction was just as inhuman. "After the hour was up, I came out from the bathroom to find a wad of 23 $20 bills on the couch waiting for me on my way out," she wrote. "I had just been paid for sex. I was officially a whore."
Much like Hill, this sugar baby felt quite conflicted about her "job." "I'm constantly torn about how I feel about what I do," she said. "The job that was supposed to liberate me from my financial woes has done nothing but alienate me from all of my relationships."
Seeking Arrangement seems oblivious to the psychological and emotional harm they could cause by providing a platform for sugar baby relationships, and the company sees little, if anything, wrong with the practice. The site likens sugar babies to concubines, courtesans and geishas of the past, and they also think the relationships they're peddling, which they refer to as "arrangements" or "mutually beneficial relationships," are normal. "It's human nature for successful people to want younger and more attractive partners. It's also natural for younger men and women to seek out more experienced, sophisticated, wealthy and generous partners," the site says.
Sources: mtlblog.com,  dailymail.co.uk,  tumblr.com,  dshhonline.com