Boxy, compact, metallic and affordable –shipping container homes have changed both the real estate game and the recycling market. These mini-homes have proven popular among millennials, young couples, and city-slickers looking for a taste of urban life without shelling out exorbitant amounts of dough on a condominium or apartment. Container homes have already made a splash in Europe; in Amsterdam, more than 1,000 containers have been repurposed into apartments, clustered together in a sprawling container home neighborhood that almost looks like something out of Fallout. In dense Pacific Rim neighborhoods like Beijing or Tokyo, where limited space forces construction companies to build up and not out, boxy skylines have returned with a vengeance as homeowners and contractors alike adapt to new housing trends.
Turning a container home from salt-stained rust bucket into a compact home takes time, effort, and money… but results can be as spectacular as they are compact. Even so, we're all different, and it's a sad fact that we aren't all born handymen. How many of us have accidentally detonated our upstairs toilet while trying to fix the plumbing? (Just me?) The point is, there are some of us out there who no sane man would trust with a tool belt, lest we wind up winning a Darwin Award while trying to tighten a screw. What container homes exist for the mechanically, ahem, declined? Fortunately for us, there are plenty of companies that have adapted to take advantage of the container market: purchasing containers, refitting them, and selling them to prospective clients. Generally, these companies do business on a per-transaction model. Three major companies in North America include: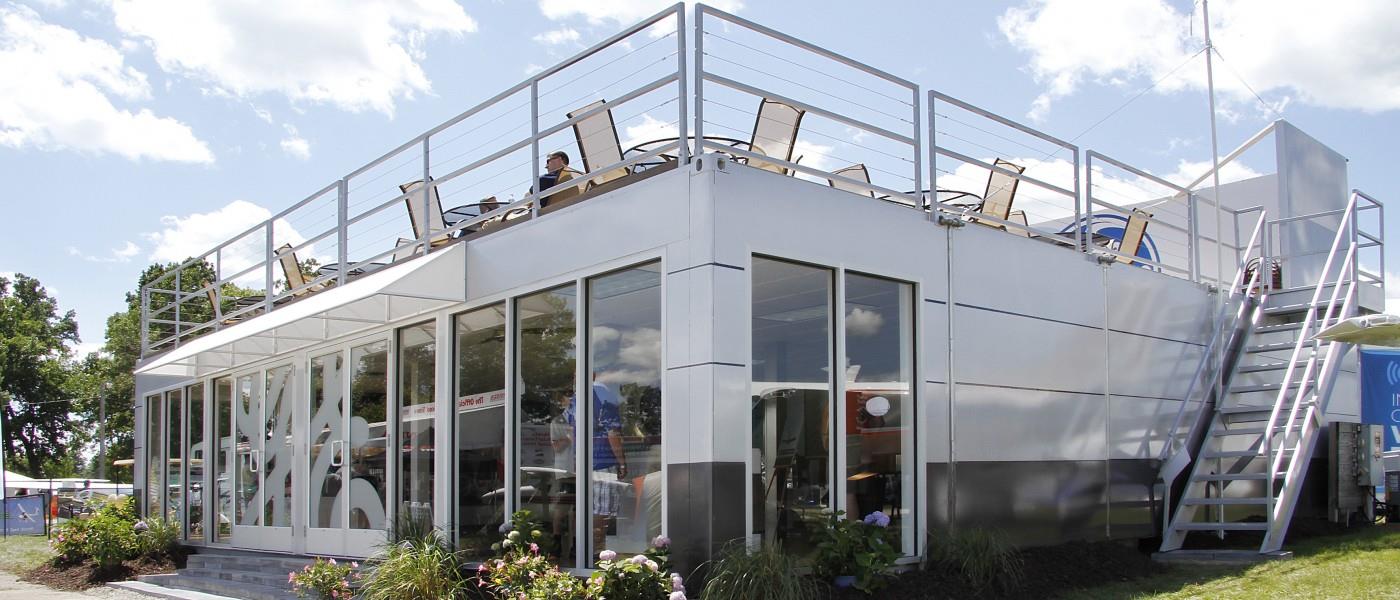 MODS International, located in Wisconsin offers a variety of homes; their products, among the sturdiest and most compact of the container homes, make popular centerpieces at different trade shows and product displays. A 40-square-foot unit contains all the basic amenities, including kitchens, bedrooms, and microwaves with the basic model. Simple sewage and electrical connections give the home a modicum of portability.
The confusingly-named Honomobo sends shipping container homes all across the Canadian Great White North, working one-on-one with their clients in an innovative and design-focused environment, helping them assemble a home that fits customer specifications. Notably, Honomobo boasts "local delivery and reassembly"; all of the containers they use can be comfortably picked up and carried around on trailers or flatbeds for ease of transit.
The manufacturers promise local delivery and assembly as part of their modus operandi; the company cleans and refits the containers in their main Alberta facility, then carry them to their destination via lift-and-load trailers.
Atomic Container Homes provides services in North America for a wide range of clients. Shipping containers are just one of their many specialties: in addition to providing portable container homes for their clients, they focus on socially-conscious projects such as providing affordable company housing for construction workers. Sustainability and portability remain key features of this company.
Compact, aesthetically-pleasing living doesn't necessarily have to be beyond reach for the un-handymen among us; and as the container home trend continues to grow in size and prominence, it's doubtless that more and more companies will jump on the gravy train – or trailer, as the case may be.