Scree, the tiny, loose volcanic pebbles, is abundant along the Loowit Trail. This 28-mile long footpath circumnavigates Mt. St. Helens, a volcano famous for its 1980 eruption, located in the southwest corner of Washington State. Scree infiltrates your shoes and socks, causing blisters, it emits fine dust, making it difficult to breathe, slows down your forward progress by tying up every step. Most of the trail is exposed to the sun, with very little tree cover or other shade. My buddy Clifton and I decided to run the Loowit trail in one go, ultramarathon-style, despite all those obstacles.
In order to get an early start, we camped near the trailhead at Climbers Bivouac. It is a parking lot with campsites scattered throughout, a couple of pit toilets and a registration kiosk for those attempting to summit the 8500 ft. mountain. This is the usual starting point for climbers, with a required safety procedure: signing in before the climb and signing out upon coming back down safely. We were not subject to that requirement, since our trail did not venture above 480 feet, the mark above which climbing permits are mandatory. We started running up the two-mile Ptarmigan Trail towards the junction with the Loowit Trail at half-past five in the morning, this additional chunk having made our total distance a solid 32-mile jaunt.

In order to be light on our feet for running, we packed light. Our backpacks contained a mixture of Picky Bars, Clif Bars and assorted energy gels, amounting to about fifteen pieces of trail food per person. We had headlamps, some band-aids, moleskin and Ibuprofen. I carried a pump water filter to fill our water bottles, a small knife and a lighter, just in case. All-in-all, my pack tipped the scales at under seven pounds, including water. Three pieces of gear deserve a special mention: the pack itself, a ULA Fastback, light, comfortable and well-balanced, Zensah Recovery Capris, which provided much needed compression relief to my aching leg muscles during the later stages of the run, and a Patagonia Houdini wind shirt, versatile enough to protect from the early morning cold, the mid-day wind and the ever-present sun.
Shortly after the start of our counterclockwise jaunt, we discovered the main modes of travel possible: pleasant and relatively easy running on manageable stretches of the trail and slow-as-molasses progress crawling up a scree slope or gingerly hopping between the boulders of a volcanic rock field.
The initial tough stretch of trail ended after passing the wrongly-named Muddy River. We filtered some water using the pump filter and had our first snack. Next up were the Plains of Abraham, a landscape resulting from the 1980 eruption, when the cataclysm created an expanse of rolling hills, by now covered with vegetation. During our late-June run, blooming purple lupines were particularly noticeable among the green shrubbery.
The terrain was not difficult, so Clifton and I pinned our ears back and sped up, in an attempt to make good time. After the early-morning cloud cover blew over, the volcano's crater became visible from the northeast and north slopes, a sight easy on the eyes, that put some spring into our step.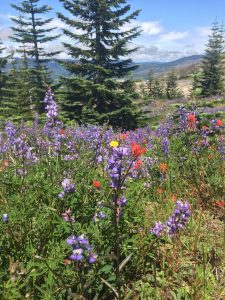 In the next few hours we continued crushing miles around the mountain, pausing only to eat and filter water from streams along the way. In general, I find it best to eat at least every two hours during high-intensity backcountry activities, which provides steady influx of energy. A personal favourite is a healthy dose of caffeine, which can come in energy bars, gels, drink mixes or plain old truck stop caffeine pills. In the latter case, I make certain to break a 200 milligram pill in half, keeping the dose down to a somewhat tame equivalent of one cup of coffee.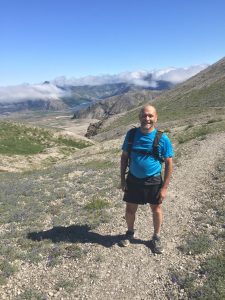 By the time we crossed the Toutle River, which flows in a deep canyon, it was all but certain that this adventure was in the bag. With only ten more miles to go, we imagined finishing within two hours and getting home early. Apparently, the mountain gods had other plans for us. The hardest part of our journey started around that time with a steep, long climb, which seemed to take forever. The only thing making this stretch bearable was the shady tree cover along the way. After the climb came a field of sharp boulders, which slowed us down even more. We had to cautiously navigate between their sharp edges, with running nearly impossible. After getting out of that, we ran the remaining few miles on sheer willpower, reaching the parking lot where we started about 12 hours ago.
Our celebratory meal, the Colossal Tillamook Bacon cheeseburgers at Burgerville in Woodland, Washington, followed by cool, tall Basecamp Brewing Wit beers at home, tasted like the best food and beverage ever. We felt triumphant, as everything went off without a hitch, we brought along enough bars and gels, found enough water, had enough training, experience and resolve to finish our run strong. All that stokes the fire of wanting to plan the next adventure.