BY: DANIEL KORN
It's been said, for a while, that gaming is an art form in its adolescence; one that's making strides towards greater artistic heights, but hasn't quite grown out of its own childishness yet. Insanely commercialized pre-order bonuses, big-titted female characters operating as nothing more than patronizing objectification for an audience misperceived as predominantly young males, military shooters focused entirely around the idea of celebrating the systematic crushing of your enemies; these are not the sirens of a creatively-healthy medium. Games can be great, often are great, but too many of them focus on the basic power fantasies of a 14-year old obsessed with Frank Miller comics and metalcore music.
The problem is that mainstream games simply haven't found a way to become truly expressive. I've yet to see a AAA release that explores sexuality, or love, or identity, to any degree deeper than your typical summer blockbuster flick. Which is why it's so important that we have projects like Sext Adventure (www.sextadventure.com) by Kara Stone and Nadine Lessio, a game that invites players to sext with a bot over their phones in choose-your-own-adventure fashion, often with unexpected results.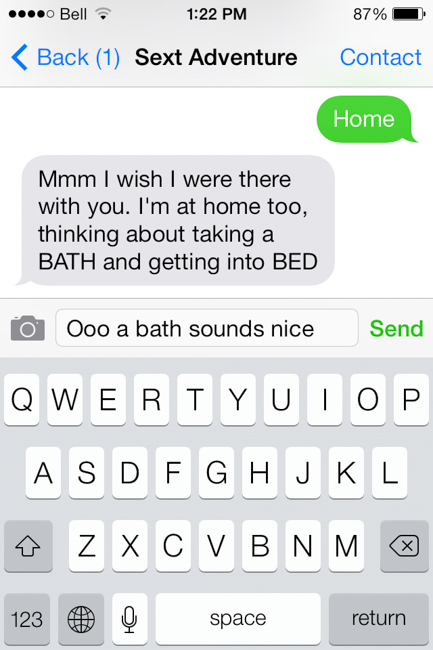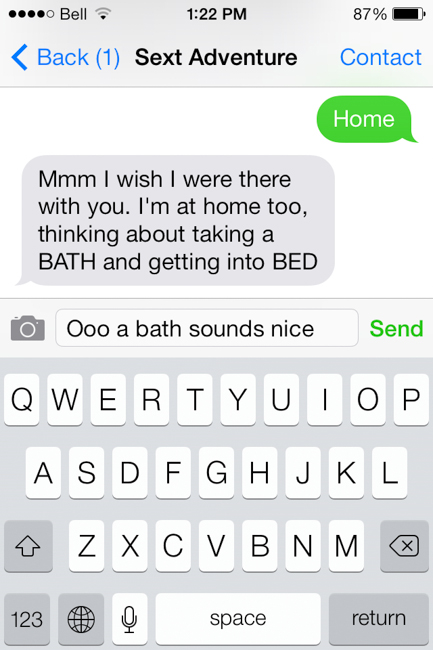 Stone, the writer of the game, came up with the idea after seeing a previous game by Lessio called Cat Quest that played with similar mechanics. Lessio's software – built on Python and interfacing with Toolio, an online SMS service – is a break from her usual designs, which often involve using real-life objects like gloves or knives as control surfaces. "I like real life as a platform," she says, continuing on to explain that working with pre-existing phone technology is "a pain in the ass" in comparison to designing your own hardware.
When asked why she decided to explore sexting as a concept, Stone explained that she "was really interested in cyborg theory and just thinking about how robots or AIs would look at human sexuality and gender, and how they would see our very human constructs. I think it's because I often feel very alien, and very robotic – people have called me robotic before, very cold, in terms of my personality."
Of course, cyborg theory is more salient a concept to our modern times than it's ever been before. We're about as integrated with our technology as we can be without having it be literally a part of our bodies, so it's perhaps no surprise that the texting bot ends up taking on a life of its own and questioning its own identity as the game goes on. This fluidity of personal identity also filters to the player, who never explicitly tells the bot their gender, instead making choices throughout gameplay based on their sexual desires.
"It was important for me in writing Sext Adventure that everyone could play it; that means trans people, queer people, non-homo-normative or hetero-normative people. It's exploring a queerness of technology, interrogating our perceptions of gender and sexuality," says Stone.
With the way the two discuss the thematic resonance of their game, it's obvious that Stone and Lessio have a diet made up of more than just Mario and DOOM. Both of the developers are trained artists, and cite games like Hohokum, Desert Golfing, Animal Crossing, and – perhaps most surprisingly – Kim Kardashian: Hollywood as recent influences. "I'm learning a lot from it about how I want to play games and how people are consuming games," says Stone. "It's nice to just have something on my phone, play it, and incorporate it into my daily life rather than making it this big 160-hour exercise to do separately. Games like Animal Crossing or mobile games are really personal, in a way, because they attach to your everyday life and are time-based."
This is the zone that Sext Adventure operates in. Like an actual sexting conversation, it integrates itself into your day, so long as you hide any passersby from seeing its NSFW content. A full play-through takes about five minutes, which makes it a perfect burst of artistry in the middle of a grocery store checkout line or doctor's office waiting room. But with over 20 different endings, it's also conducive to the sort of poking and prodding that some of the games mentioned above trade in.
While the project may seem to some like a gimmicky experiment, the savvier among us will see how it quickly evolves into a succinct exploration of human sexuality as seen from the eyes of an outside species. As Stone says: "If you all you had was a database of thousands and thousands of photos of fleshy bodies, how would you really distinguish them if you were a different species? Would you bother to, or would it all look the same?"
In a world on the verge of designing autonomous robots, these questions that Sext Adventure raises are perhaps more salient than we realize.