BY: SINEAD MULHERN
If you're new to yoga, it can be hard to get the gear right. Yoga pants or close-fit shorts? What kind of mat and what is the difference between a yoga bra and a regular sports bra?
With a new class in Calgary, rookie yogis can scrap a lot of that yoga apparel confusion. They can actually scrap the clothes completely because this class is done in your birthday suit. It's called Naked YYC and runs out of Like Minded People Studio. It's the first of its kind in Calgary.
Katherine Medina is the brains behind the new co-ed naked yoga classes. It's not about sex, it's not about ogling. It's not even about eliminating the sweat-logged Lululemons at a steamy hot yoga session (although I'm sure we've all considered it).
Medina says in an interview with Huffington Post that it's about accepting your body and putting the body issues to rest. It started as a females-only class. Women were encouraged to strip down in a safe environment to let go of their insecurities about their physical appearance. It wasn't long before Medina got inquiries from men though. Could they do the same thing? What if they had similar issues? She decided to open it up to both sexes.
She says to remove clothing is to remove restrictions. "Why practice naked yoga?" reads her website. "To live outside of society's norms."
You might also like: I Spent The Afternoon Naked In Public And There Was Nothing Weird About It
By attending these sessions that started in late November, participants are seeing real naked human bodies, not the airbrushed ones usually seen in the media, but the ones with bumps, blemishes and scars, or, in other words, the vast majority of humans' bodies. Doing yoga naked also creates greater ease of movement. No tight tops that limit the ability to contort the body into the most obscure poses.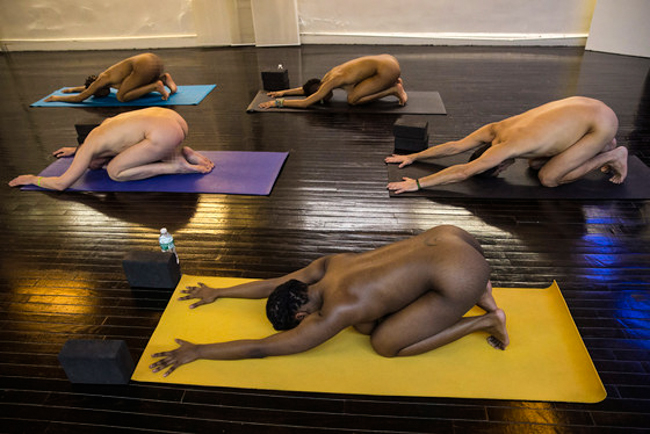 The environment is constructed to be a peaceful one and Medina is stubborn to keep it that way. She says she has zero tolerance for ogling or harassing inside the studio. If people want an orgasm, they can go elsewhere.
It should be a journey of working out negative feelings to get to a more positive headspace.
Why get naked? "To notice feelings about seeing and being seen and to work through them in a safe yoga community," she writes.
Other studios that are doing similar things exist in Winnipeg, Vancouver and New York.
Sources