BY: NADIA ZAIDI 
In a bold move against censorship, 25-year-old model Imogen Anthony held an open flame to her nipple in a picture she posted on Instagram.
Her audacious actions are in support of "free the nipple" – a campaign aimed at liberating women from being chastised for publically displaying their nipples. Anthony's photo was also in protest against Instagram's censorship policies, which don't permit women to show their entire breast.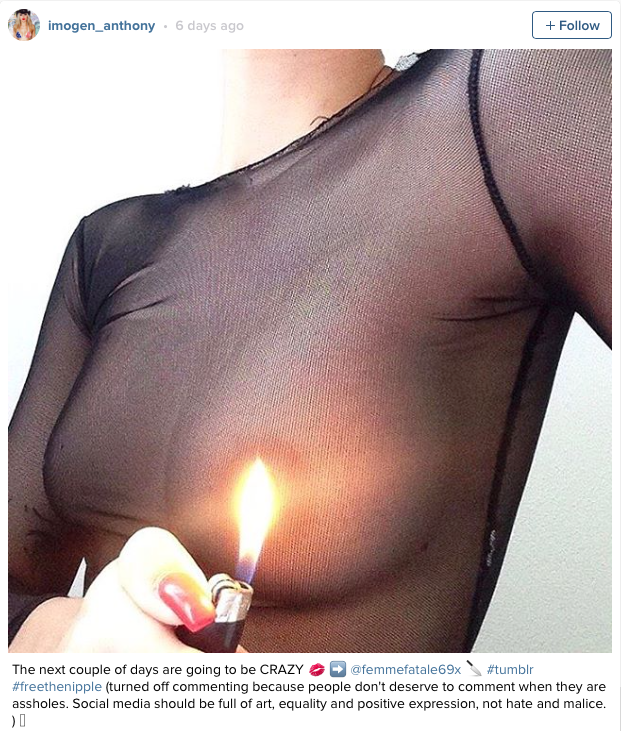 But the model, who boasts over 100,000 Instagram followers, has me wondering about the intent of her actions and the movement more generally.
It also has me question how we go about the fight for equality. I don't know if arguing against bodily censorship online, or otherwise is arguing for a fundamental right, per se. And if so, is Instagram the correct platform or an adequate vessel for change?
I respect, support and believe that censorship should not be gender-specific. As a woman, I denounce the way our bodies are deconstructed and labelled 'inappropriate' when they don't serve the male gaze.
Yet holding a flame to her nipple seems as much a call for individual attention as it is a statement against censorship.
Frankly, we have become a culture obsessed with external validation and prone to wagon jumping. I worry about the messages we evoke through viral image sharing and popular social movements that force us to notice and react without arousing deeper, more cognizant understandings.
In the fight to make women more than a sum of their parts, photos like Anthony's, and women marching topless in solidarity, almost fixates us on just that – the nipple.
That might be the biggest irony yet.
If equality rests on a woman's nipples, we are missing the mark. The nipple is the tip (pun intended) of the iceberg.
Freedom of expression, right to choice, desexualisation of women's bodies – those issues are universally systemic. Opinions regarding those matters must not try speaking for an entire gender.
We need to ask ourselves whether baring your breasts is obliging change, particularly if the choice isn't socially, politically and radically inclined.
Can a woman's body ever be desexualized despite the biological role it plays in reproduction?
Instagram forcibly removed Rupi Kaur's shared photo of a woman baring her period-stained behind, before they eventually back-pedaled it as a "mistake." Menstrual blood is the thread to evolving humanity. It is natural, necessary, and powerful. But it's not like everyone wants to see it, or any other form of bodily fluids.
And I certainly don't think Instagram is the current platform for social reform and transcendence. We choose to over share every aspect of our being online because we're a society of entitled individuals with an unhealthy need to show the profundity of every occurrence.
We have long viewed female bodies as sexual objects. To completely depart from that notion requires a lot more than allowing women to showcase their nipples on Instagram and on the streets.