Alice in Wonderland is perhaps one of the most iconic children's stories of all time. Whether you are most familiar with the classic 1865 novel with its detailed black and white sketches, the dark, twisted, live-action movie version with its Tim Burton flair, or the colourful, whimsical, Disney version that feels more like a two hour trip on mushrooms – the curious, blonde-haired little girl and her mad friends have likely made their way into your life at some point.
Alice Liddell inspired the children's classic Alice's Adventures in Wonderland by Lewis Carroll (Charles Lutwidge Dodgson) after she asked that he tell her a story during a boating trip in Oxford. The relationship between the two has been shrouded in mystery and suspicion due to the unconventional amount of time Carroll spent with his friend's children. He used to take them on picnics and boat rides, and while they were gallivanting Carroll would be inspired by the children and tell them fantastic stories.
The relationship between the Liddell children and Carroll is further clouded is suspicion thanks to the lack of his personal diaries from 1858 to 1863. We do know that the relationship between the family and the author suffered a sudden collapse in June 1863. Again there is no definitive record because the diary entries suspected of being around this time and centering on the breakdown were torn out. Much speculation about the breakdown has been tossed around by Carroll's biographers.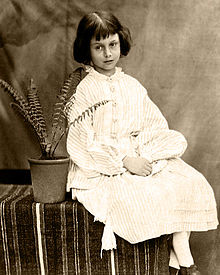 Alice Liddell by Lewis Carroll
Morton N. Cohen speculated that the break came from Carroll expressing a desire to marry Alice who at the time was 11. This theory coincides with the general belief that  Alice's mother had become increasingly uncomfortable with a grown man's friendship with her daughter. In 1966 Karoline Leach found the "Cut pages in diary" document. The document is allegedly a note written by Carroll's niece, Violet Dodgson. Her memo is meant to summarize the torn out pages from June 27-29, 1863. If it's true, it is believed Violet or her sister Menella removed the pages from the diary.
Her memo says:
"L.C. learns from Mrs. Liddell that he is supposed to be using the children as a means of paying court to the governess—he is also supposed soon to be courting Ina"
The interpretation of this memo is generally that it was gossip that tore Dodgson and the Liddells apart. That it wasn't his attachment to Alice that was inappropriate but to the Liddell's governess and their oldest daughter Lorina. Biographer Jenny Woolf believes that the attachment was not on Carroll's side but was an attachment Lorina held for him. Woolf justifies this theory by explaining that Menella would remove the pages highlighting Lorina's unrequited love because she did not want to embarrass her by having details of a spurned childhood love available to the public. The censored and condensed version of Lorina's infatuation were to ensure Lorina would not be offended.
Cohen believes the note was written by Carroll's great nephew who wrote it after remembering conversations with Carroll's nieces about the break.
Carroll did not visit the Liddell's for over 6 months. He eventually revisited but the friendship did not rekindle. And the relationship eventually faded away.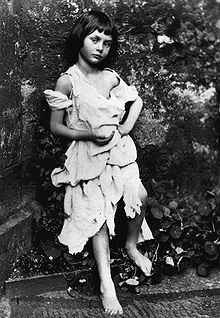 Alice Liddell dressed up as a beggar by Lewis Carroll
Carroll stated himself that his Alice is not based on Liddell. While the original drawings of Alice do not resemble Alice Liddell, they actually more resemble her sister Edith. Yet there are still many links between the fictional and real girl. Firstly, the story is set on May 4, which is Liddell's birthday and November 4, which is Liddell's half birthday. On said date the fictional Alice in Through the Looking-Glass declares she is "seven and a half exactly", the same age Liddell would be on that date. Secondly, the books are in fact dedicated to Alice Liddell. And thirdly, at the end of Through the Looking Glass, Carroll included a nameless poem that is commonly referred to as "A Boat Beneath a Sunny Sky". This is an acrostic poem that when read downward, taking the first letter of every line spells out Alice Liddell's full name.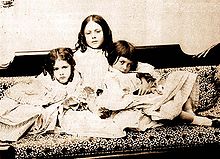 Alice Liddell (right) with sisters by Lewis Carroll
Carroll seemingly enjoyed photographing Alice and her sisters, as all the pictures before this are photographed by him.
Alice married a cricketer named Reginald Hargreaves and had three children with him. She died in 1934 at the age of 82.
Alice Liddell, age 20