I let my eyes adjust to the dim lighting as I approached the man at the bar where I asked for an application. My chest was tight with fear and oxygen saturated in the warm musk of stale beer and sex—I had just stepped through the strip club doors for the first time and in a matter of minutes, I was hired.
The front put up by the club was glamorous. The girls walking across the room and stage resembled creatures from a fantasy world, an unreal beauty holding the customers in a trance. Behind the walls, it was as if I had stepped into a horror movie. Everywhere I looked was covered in a greasy film, the washroom floors flooding from the toilets. Piles of garbage filled the rooms where the public was not allowed, a slum of clothing and beauty supplies scattered across the floors and lockers. Outside, the girls on break were squatted in a boarded up alleyway on the filthy ground, smoking cigarettes and inhaling cocaine among the garbage bins and bags of concrete. The allure of beauty that the girls encompass onstage is undeniable, but close up, the difference is haunting. Ultimately the beauty is a lie, a mass of plastic surgery, wigs, tans, nails, and endless makeup build up the illusion.
Behind the walls, it was as if I had stepped into a horror movie.
I was alone in the changing room, insecurities running laps around my mind. I took a deep breath and stepped out, four inch heels and lingerie as my only barrier. I could feel all the eyes in the room turn on me as I walked through; dropped jaws from the men watching, and thinly veiled glares from the girls working.
The first night, I simply watched. It was like a game in an arena, filled with patterns and fouls and rules. The only thing different was that all the rules were unwritten, and held disastrous consequences should they be broken. It was a version of Hunger Games, where the girls trash each other verbally and claw at each other in the back rooms.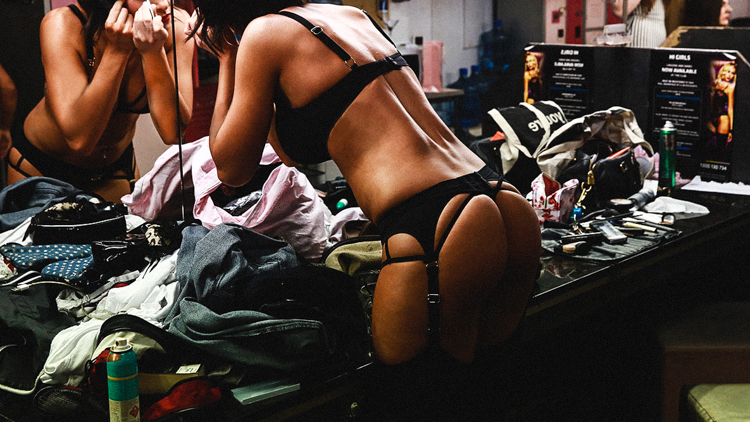 The second night, I danced. Everyone's eyes were fixed on me, mesmerized as I moved across the stage. I had a moment of complete clarity where I felt more connected to myself than I ever had been. I was in this position for my own experience, and the ability to face my fears head on was liberating. I couldn't have cared less what anyone thought, and I had never been more proud of myself. Surprisingly, I had fun. I was genuinely enjoying myself.
As a student in university, it does not surprise me to find out that nearly one third of all strippers are dancing to pay for their tuition. According to the Bureau of Labour Statistics, the annual income of a full time dancer is $125,000. Average Canadian tuition is $24,000 for a bachelors degree, and could be paid for through dancing in under three months.
What I did not expect to happen in the club, was the overwhelmingly high amount of prostitution. In the clubs, performing any sexual activity is called 'doing extras' or a 'full service'. Walking upstairs, you will see many girls performing extras on the chairs, couches, or stairs. It is done in an unmonitored and unhygienic setting. However, there is a strong force of security despite the risks. A girl got pushed to the ground by a customer, so she calmly went downstairs to the manager. The customer was led outside by a group of guards (tall, 300 pound men), and a few moments later the girl was walking away with a few hundred dollars tucked into her bra. Needless to say, the man will not be allowed to return to the club.
In the clubs, performing any sexual activity is called 'doing extras' or a 'full service'.
I had the opportunity to interview another girl that was dancing, and spoke to her about her experiences. Describing her first night working, I realized her experience was very different than mine. "I felt degraded and terrified, and to be honest, I hated it. I learned very quickly that you can't trust anyone, ever. The only reason I kept going was the money. Eventually the money became the most important thing, and so I pushed myself through." I asked her about her biggest challenges, and what she told me did not come as too much of a shock. "My biggest challenge was probably the fights with the girls, and being addicted to cocaine. When you're working in a club, it is a completely different world. Having an addiction in a club feels normal, but when you step out into the real world it's not; suddenly you have a life and a family, and the addiction destroys everything except for your life at the club."
The stripping industry changes everyone that partakes, for the better or for the worse. I danced, and my confidence has gone through the roof and my body image fears have dissipated. I stayed completely strong in my values and did nothing to betray myself. But the dancer I was speaking to told me "be careful because the girls get jealous. Don't try to make friends here. I'd watch my back if I were you, there's already a lot of talk about you going on."
Though the experience showed me how strong I was, I knew I could not stay in the industry without consequences. It was time to exit while my luck was still high. The industry is dark, full of corruption, pain, and illegal activity. If you aren't careful, you might follow the promise of a better life into a rabbit hole of glamour, drugs and false-wealth. Though my experience was generally positive, stripping is like playing a game of Russian Roulette: sometimes you settle your debts and make it out unscathed, other times you are crushed down into the grime of an industry that thrives on your addiction to the fast life.