BY: ROB HOFFMAN
CO-AUTHORED BY: TYLER FYFE
Is hitchhiking dead? Or have we wrapped our spirit in safety foam?
Of course, the question immediately draws one's mind to the horror film "The Hitcher" or the infamous "highway of tears," a stretch of road between Prince George and Prince Rupert, B.C., where 18 women were murdered while hitchhiking between 1969 and 2011.
These were not the things I had in mind when I made plans to hitchhike from Toronto to Cape Breton, a beautiful island in northern Nova Scotia—about a 25-hour drive east.
It took nearly three hours to catch my first ride. When I finally did, the driver, a man in his mid-50s named Rick, invited me to his house to stay the night. I had no idea who this man was, or where exactly he was taking me, but on the road I feel it's important to embrace spontaneity.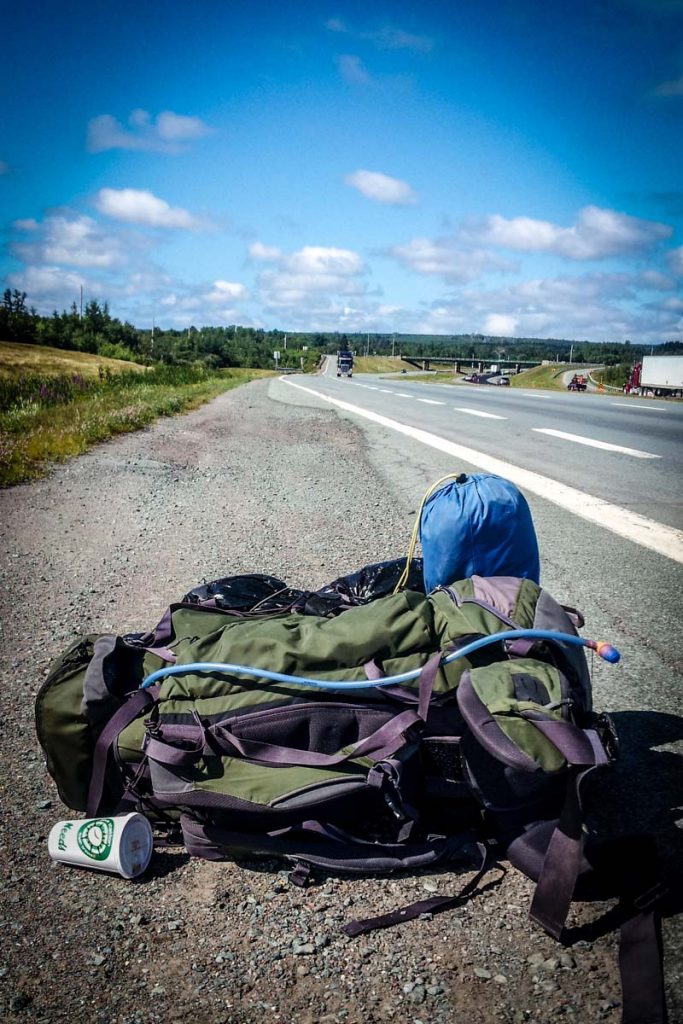 After a few hours on the highway, we took a turn off and started driving down some serious back roads. I wondered what I would do if this guy tried to go Manson Family on me. Ironically, I felt safe remembering my knife was in the back seat, somewhere deep in my bag.
At that exact moment, he turned to me and said, "So… you're not going to kill me, right?"
We ended up drinking beer and shooting pool.
Then I used that knife to carve out his face.
Just kidding.
Sometimes, people pick you up for selfish reasons. They see you on the side of the road with your backpack and it inspires a great adventure lost inside of them—an adventure imagined but never acted upon. They will now live it vicariously through you.
In all my experience (and I have hitchhiked coast to coast twice), getting picked up was never the hard part. As Jack Kerouac puts it, it's more "having to talk to innumerable people, and mak[ing] them feel that they didn't make a mistake picking you up."
Conversation is the currency of a hitchhiker.
The next day, after about four hours sitting on my bag beside a gas station with my thumb hanging out over the highway, I could feel discouragement swelling in my stomach, trying to spoil my hopeful disposition. I tried to remember my own advice: trust the road. New Brunswick was testing my patience.
"I saw you sitting there for a good four hours" came a voice beneath a low-hanging baseball cap in a bright white semi.
"How far ya going?"
"Halifax."
He was standoffish at first, which at least made me appreciate the fact that he probably picked me up out of sympathy.
After an hour, we pulled into a truck weighing scale. "You're 10,000 pounds over in the front," said the woman with a gunt in the booth.
"Well, I guess we gotta move some of this shit."
Inside the truck were stacks of aluminium bars weighing 120 pounds each. It took three hours to finish the job of shifting the bars to displace the weight across the trailer and, with the trucker's half-starved and aging frame, I honestly don't think he could have done it alone.
"Well, gotta say, lucky thing I picked you up," he said.
It's funny how coincidence connects the lines between two people in need.
After that, he opened up, and I could tell he'd had a pretty lonely life counting the exit signs passing the moving screen of his windshield. We smoked a joint and he told me I could crash in the top bunk of his cab.
The next morning, I was dropped off in Halifax.
I really had no plan as to how I would navigate the Cabot Trail without a car, but I held fast to my motto: trust the road.
This traveller's proverb is founded on the philosophical principle of The Law of Attraction. Positivity begets positivity, but equally so, negative energy is also magnetic.
I remembered a traveller I had met two provinces back and two days earlier who said he was heading to the coast from Montreal. Turns out he had just landed in the Halifax.
We met up at a patio on the Halifax harbour for a beer.
"Listen man," he told me. "I don't know what your plans are for the next few days, but I'm getting a rental car tomorrow, and I heard of this place called the Cabot Trail."
"You want me to come with you?" I asked.
"Well I mean, if you want. I know you have your own plans…"
"Danish. I'll come."
The good fortune allowed me to see east coast locations I hadn't even considered because of the restraints of hitchhiking—Peggy's Cove, Lunenburg, Chester, Mahone Bay. At the end of our last night on the Cabot Trail, Danish took a midnight ferry from Cape Breton to Newfoundland, and, despite only knowing each other for a hiccup in time, I was truly sad to see him go. I slept on the cold ground at the ferry terminal that night. It was also my last night on the coast.
I woke up early the next morning and noticed a long pier stretching its arm from a sandy beach out over the green eyes of the ocean.
As I walked to the end of the pier, the sun was just coming out from behind the Atlantic. As the golden rays cast down upon on the jade mirror, my bare body made ripples shaped like an arrowhead on the surface. I blew weed smoke across the breaking surf as I dried my socks on the point.
"Hey Lad."
I turned around, startled to meet the leathery face of an old man.
He spoke with in a thick Cape Breton accent—the sonic offspring of a drunken Irishman and the stereotypical Canadian tongue.
I held up the pipe. "Want some?"
"Nah, I jist 'ad a puff before leaving the hoouse." He said. "Where ya comin' from?"
"Ontario. Hitchhiked all the way."
"Hitchiked, eh? I hitchhiked to Ontario when I was young. Went wit tree friends. They gave up after an hoour. I made't all de way," he said.
"Is that right?"
"Yeh, but that was back in de days when yah still actually could hitchhike, hah hah hah."
Why did everybody keep saying that?
Here I was, at the edge of the Atlantic, over 2,000 kilometres from Toronto, and I had done the entire length with my thumb out. During my trips across both ends of the country, I've seen countless other hitchhikers doing the same along the way.
Had I taken a bus, the two-week trip would have cost me $542 round-trip after taxes, plus another $80 for a bus tour of the Cabot Trail—not including the additional living expenses of life on the road.
After all was said and done, I only spent about $250—less than the price of a one-way bus ticket.
Of course people will tell you, "You just can't be too certain these days."
But if hitchhiking's greatest tragedy were the 18 fatalities that occurred between 1969 and 2011, consider this: That's about the number of fatalities that occur almost every year from shark attacks—does this mean we should stop swimming in the ocean?
My trip had seemed to add up perfectly. Any small variation in timing would have changed the entire equation. Was it all just pure luck?
The truth is, hitchhiking is the immoderate effort of small miracles. It is unadulterated synchronicity—even borderline religious.
Sure, we've all seen and heard our fair share of terrible stories "these days." We see them in the paper, on the news, and on the Internet. They trickle down into the mouths of our parents, our friends, and our neighbours. But here lies the true danger of life: the grip of perpetual paranoia preventing us from pursuing a story of our own.