BY: JESSICA BEUKER
The tiny house movement has been growing for quite some time and is a popular living choice among many, likely because of the low cost of utilities, simplistic lifestyle and reduced ecological impact. Whether you build your own or buy one, sometimes these tiny homes come with one big problem – the price tag. While it is less expensive in the long run, many people don't want to dish out thousands of dollars for a living space no bigger than a bathroom.
Scott Brooks found a way to build his small home, while also overcoming high costs. He used mostly salvaged materials and a few gifted items, keeping the total price under $500.
According to Gizmag, the house measures 83 square feet and sits atop concrete blocks on a 20-acre plot of land in the U.S. Pacific Northwest. The land is owned by Brooks' friend, who also helped him design the house. The design was made specially to incorporate things they already had laying around.
Some of the salvaged materials included skylights, a door and a window. He heats the place using a wood-burning stove he was given as a gift.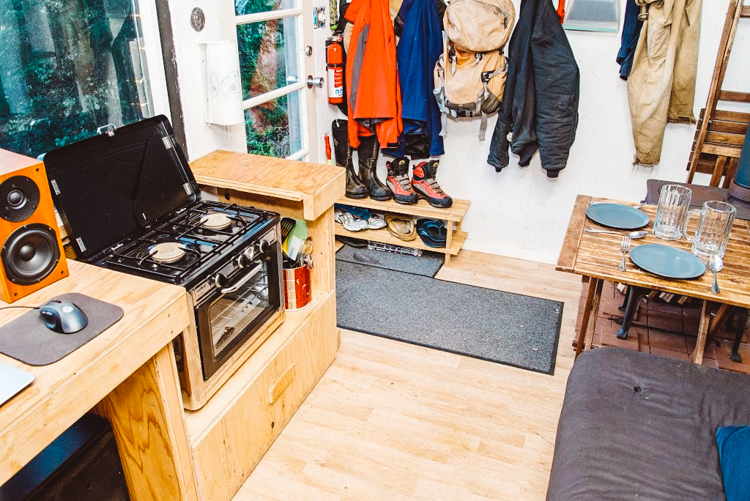 Once the design was finished, Brooks and a few of his friends built it, while one of his friends even constructed an outhouse and outdoor shower for him to use, as the house has no plumbing or running water. Brooks also has no refrigerator and instead uses a cooler for his food. His electricity is provided by a standard hookup.
The interior of the house was designed by Brooks himself, who had never had any experience with tiny home design before. The inside of the house includes a large fold-down loft bed, which sits above the couch, a plywood work area, which folds open to reveal a two-burner propane stove and food prep area, a small folding dining table, and plenty of storage space.
Brooks said that living in such a small space encourages a certain kind of lifestyle. He spends most of his time in the great outdoors. Brooks is proof that the tiny house lifestyle can be attainable at a super low cost if you can be creative and learn to utilize everything you have. Plus, it doesn't hurt to have a friend with a little bit of unused land.
Sources: blogspot.ca