The Victorian mansion towered above us as nervousness bubbled and churned within my stomach. The sounds of schoolgirls' giggles and splashing water filtered over a tall wooden fence and I began to think that maybe I should have made that initial investment in a male-enhancement pill. I could tell my girlfriend's mind was reeling, as she seemed to be finding solace at the bottom of a gin bottle. Fuck it.
I took a few last drags of a cigarette while we strolled underneath a sign that read: Oasis Aqualounge*. The door swung open and a bearded man shot us a devilish smile: "Welcome to sexual fantasy, where possibilities are endless and imagination runs wild."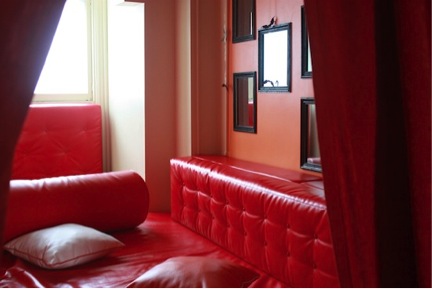 The DJ blared gunshot blasts of techno music while people wrapped in towels swayed in tribal rhythm. The bartender raised a bottle high in the air as two girls made out ferociously beneath him. We were given towels and a key to a locker—ironically, being the only ones clothed, we felt quite exposed. The bearded man, named Leaf, led us past the dance floor to the heated outdoor pool, the steam room, and the sauna, and took us up the stairs to the more private playgrounds.
"Members can have sex anywhere but the hot tub. You can swap partners, fuck strangers, watch people have sex, or maybe spice up your sex life by having other people watch. Our cardinal rule is you always have to ask others for permission and you can only ask once…"
I found it nearly impossible to concentrate on what he was saying as the moans of a woman echoed down the hallway and one of walls seemed to be shaking.
"Oh yeah, we also have free condoms and lube placed all over the building. Anyway, that is the end of my spiel. I think you guys are ready to dive in head first," he said.
We stripped down, locked our stuff up, and then made our way down to the hot tub. The atmosphere was like a drug. Awkwardness quickly becomes obsolete when you are dangling in the breeze. It's a social environment of raw vulnerability; the only mystery seems to lie in conversation. Sure, people will look, but what I found more surprising was that people actually listen.
"I have been to Toronto's popular bars a million times and have been slapped on my ass or had my boobs grabbed. One time, I even had a guy untie the back of my dress. I mean, these inappropriate things happen all the time over there. But I find when I come to this place I feel safe and respected," said Jana Matthews, owner of Aqualounge.
She calls her sex club an equal-opportunity playground because places like this advocate consensual sex. And, since everyone is naked, the atmosphere is rendered neutral. Thus, women cannot be objectified. Here, women are urged to initiate sexual advances, experiment with new relationships, and be sexually free.
As I nursed my beer, a blond woman casually slipped into the bubbling water and snuggled up close to my girlfriend. She raised her eyebrow seductively and, through a thick German accent, asked if we would like to play with her upstairs. My girlfriend's eyes widened; it was clear that, to the German, she was the main course. She lightly declined, saying that we were just warming up to the place.
"Oh, you are first timers," laughed the German. She quickly changed the subject. "Look at that guy over there. He has the dick of a bull elephant!"
It was true. I compared it to my forearm and wondered if the thing had a spine. It probably chews gum and stunt-doubles for Vin Diesel. I guess the one risk of coming here is realizing you aren't the Don Juan you thought you were.
We stepped outside onto the patio and jumped into the pool, joining a bald man and a shiny-chested girl who was wearing a dog collar and bouncing up and down. He told me that they travel all the way from Detroit to come here, as places like this don't exist yet over there; most people are still closed-minded on such issues.
Yet why are certain topics on sex still considered taboo in the new millennium? Since the mid-1960s, Western society has been moving towards sexual liberation. Through porn, mass media, and the gay rights movement, we have slowly rooted ourselves in the conviction that the erotic should be celebrated as a normal part of life instead of repressed by family, religion, or state. Perhaps sex clubs like this one, which have been popping up all over Canada, are another vital step in dissolving the stigma of shame that still persists around sex.
One last shot of gin and we were burning like a Molotov cocktail. My girlfriend winked and grabbed me by the hand before leading me up the stairs. I heard a loud buzzing coming from the second floor. We poked our head into the "dungeon." A young woman was riding a Sybian, yelping and clutching herself for dear life while a man cranked the machine to full power. People surrounded and cheered as a woman in leather bounded herself in chains and ropes while rocking herself back and forth on a sex swing.
We continued upstairs to the red room and pulled the curtains shut. A giant leather bed stretched across the entire room and little windows rested in one wall. We are a devoted couple, but a little exhibitionism never hurt anyone. We made love tooth and nail. She bent over, legs spread, her face to the mattress.  She twisted her head and kissed me. The fire was roaring; the chemistry was unbelievable. I felt her relax into the clutches of a mid-orgasm daze.
"That was the best sex we've ever had," she whispered.
As we left the club, we realized that this place isn't anti-monogamy, nor does it attract perverts. It is about extending your comfort boundary and exploring sexual territory in an open-minded environment. So don't be a prude. Liberation is here. Ladies and gentleman, let your erections guide the way.
Oasis Aqualounge is a sex club in Toronto, Canada. "Unwind in our hot-tub, dry off in our sauna and take a dip in our year round outdoor heated pool in a private sunny courtyard."