BY: JESSICA BEUKER
Most people get queasy looking over the edge of a balcony on a tall building. Fortunately, professional free climbers Tommy Caldwell and his wife Becca, are not most people. They are adventurers and extreme campers, facing cliffs and mountains, relying only on their hands, feet and equipment to get them to the top. When night falls and it's time for them to rest, they attach their tents to the sides of the vertical cliffs, with 3,000 ft. below them and a blanket of stars above them.
Extreme mountain climbing involves attaching a portaledge—a tent-like construction you lie on—to an attaching spot, usually a cliff. According to Travelettes, portaledges were first developed in the 1950s when climbers began to do bigger expeditions and needed a safe place to spend the night and rest. The first options looked like hammocks, followed by BAT-tents, which are also hammocks, but come equipped with an optional roof. In the 1980s the portaledges that are used today were created. They have a strong base and are surrounded by a metal frame, which is attached to adjustable suspension straps that hang down the cliff.
Free climbers typically work in pairs, that way if one person falls, the other can hold them up. Their meals are compact in size and very nutritious, so that they can be easily carried. The climbers have to carry all of their camping equipment and the climbs can last for weeks. During the climb they will endure freezing wind, rain, snowstorms and falling ice sheets. Despite the sometimes harsh conditions, Tommy Caldwell describes the experience as "the ultimate view and ultimate camping location."
If you're looking for a unique camping experience, but can't see yourself dangling off the side of a mountain, then perhaps you'd prefer a home among the trees. Tree tents are a creation designed for those who want something different, and who prefer the option of escaping to the woods any time of the year.
Created by Luminair, the spherical Tree Tent is crafted from hybrid aluminum and steam-bent green ash. The sustainable tent is three metres in diameter and is large enough to sleep two adults. The tent anchors to trees and provides a comfortable and low-impact shelter in the woods during any season.
image courtesy of luminair
According to Gizmag, the Tree Tent offers all the bells and whistles you can think of including 100 per cent wool winter thermal liners, a wood stove for heating, cooking and boiling water, an under floor battery pack and solar charger for renewable electricity and a water storage tank and pump.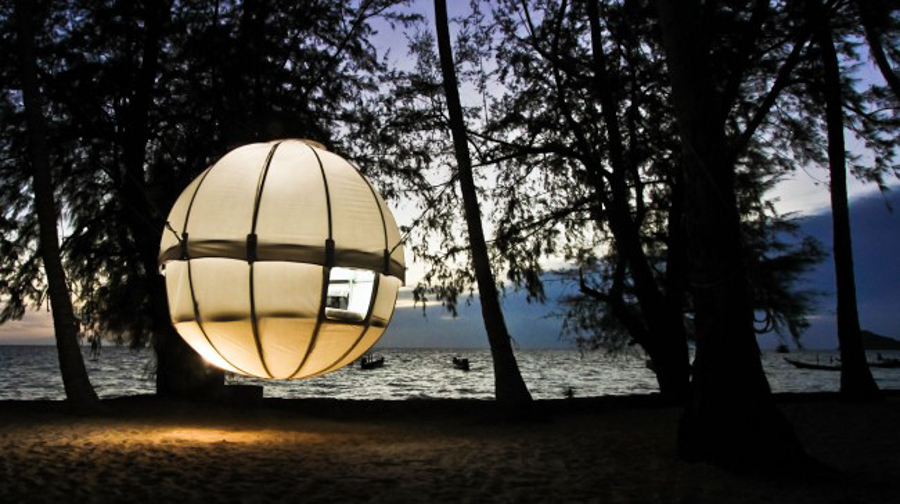 image courtesy of luminair
Unfortunately, the bells and whistles will cost you. The tent with rigging is already priced at $13,000, while the stove and solar powered battery system is $1,600 extra. Building time of the Tree Tent takes about four to six weeks.
The options for quenching your camping thirst are endless. You can climb with the daring and thrill seeking to camp above the world on a beautiful mountain, or set up camp in a quiet and peaceful forest, making friends with the treetops. Or maybe you're content in your own backyard, doing things the old-fashioned way—on the ground and with lots of s'mores.
Sources: All-That-Is-Interesting ,  wordpress.com,  blogspot.com,  traveler.es,  perierga.gr,  British Airways