BY: TYLER FYFE
A single scar of asphalt runs the length of the basin of the Inyo-White Mountains in the isolated desert of Eastern California. This is the only road in or out and located thirty miles from the nearest town stands a school unlike anything you will find at your local college fair.
Deep Springs College is about as far from the constant buzz of social distraction as it is from the standard business model of post-secondary education. As it passes through your driver's side window, what might seem like a wind-whipped desert farm of cowboys is in actuality a near century-old institution that has produced razor-blade minds including U.S. Congressmen, geophysicists, software moguls and the recipient of the 2005 National Book Award.
Accepting only 11 to 15 students every year, with a student body of just 26, all students admitted to Deep Springs are granted $50,000 scholarships to ensure that the focus is on feeding minds and not on feeding profit margins.
In the modern structure of colleges, imaginations are effectively caged by the rigid degree requirements of many programs that often limit one of the main functions of education— exploration.
This is why Deep Springs only has two required courses and has three pillars of learning: academics, labor and self-governance.
The self-governance of Deep Springs is possibly the most radical idea in relation to standard school models. Students are involved in every aspect of the college from hiring professors, to choosing the curriculum. The student body meets in a weekly committee to make community decisions—including budget and admissions—using the college as a mini-model of democracy. Cooperation is key in individuals being able to exercise influence on large-scale change.
Classes run more like a conversation than a lecture, the belief being that students have as much to learn from each other, as they do from their professors. Because of the small class size, students are known by their face, instead of by their student number, meaning more opportunities to debate and less cherry-picking of knowledge. If your opinion is not constantly being challenged or changed by others, then you simply aren't learning.
Grades alone cannot measure the width of an educated mind, so the modern college cliché of solely focusing on academic education is much like asking students to experience the world through a telescope.
Deep Springs' students spend half their time sharpening their minds and the other half callousing their hands. Quite literally, students held the hammers that built this college from the ground up. All students work a minimum of 20 hours per week, doing everything from herding cattle to gardening. The purpose of this is twofold: it allows the school to maintain its independence, but also instils a sense of self-discipline and individual responsibility for the community at large. Fixing a broken piece of farm machinery is similar to the way one might approach fixing a broken political system—isolate the problem and find a solution.
During the 2 years spent at the college—for the 6 to 11 percent of applicants that actually get admitted—there are only two rules. One, you cannot leave the community or disturb the community with any outside visitors. The second is, there are no mind-altering substances. Once accepted to Deep Springs, you're essentially making a commitment to completely drop out out of society and undergo the most intense period of mental and physical transformation of your life.
Although Deep Springs is traditionally, and currently an all-male school, they are currently going through the legal application process to become co-ed.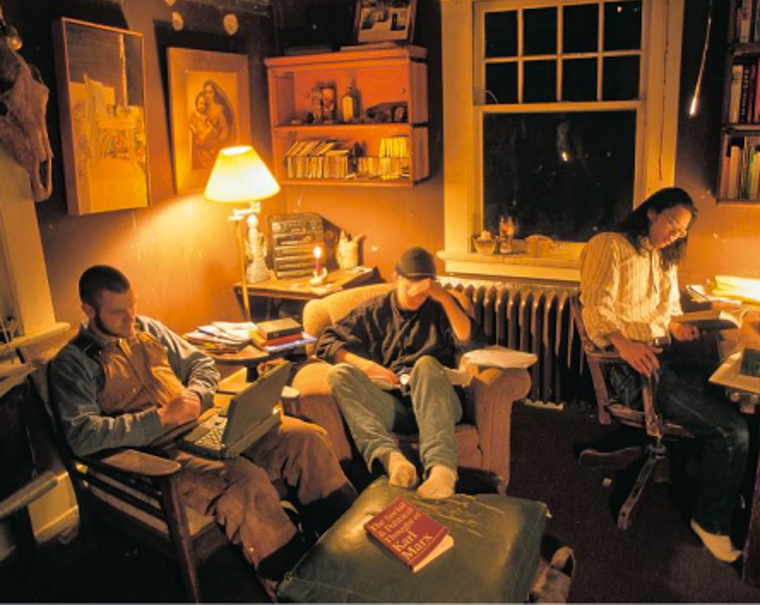 Founded in 1917 the school was built on the principle that education was not meant to supply the workforce, but to instil students with a higher understanding that would serve society. As student loans and bachelors degrees have become the norm—seeing a steep rise in tuition costs—colleges and universities have grown into big businesses. Many college campuses today might resemble more of a strip mall than a school, with fast-food chains, mandatory meal plans, three-story exercise complexes and multi-million dollar football fields. I can't help but think that we are straying farther and farther from the point of education, luring consumers to post-secondary for all the wrong reasons.
Deep Springs reminds me that beneath the flashy amenities and the prospect of keg stands and inebriated sex there still stands a minority gripping tightly to the underlying purpose of education—stewardship.
For more information see here.
Images Courtesy of: Image Source