BY: JOHN DILLON
"Hands up don't shoot" fell from the mouths of thousands of protesters like bricks fell on the faces of the NYPD. Weaving through traffic and drumming on windows they marched through Manhattan's Union Square. Minutes after a St. Louis grand jury chose not to indict Ferguson Police officer, Darren Wilson, for fatally shooting Michael Brown demonstrations erupted all over America from New York to Los Angeles.
Though his name was plastered on the ends of wooden pickets, these people were not mobile for the family of Michael Brown; rather his name has become a symbol of the continuation of covert racism, which has led to broader questions like: what happens when the criminal justice system spreads its voracious fingers into every part of a neighbourhood's day-to-day life? How do high incarceration rates affect communities as a whole? Do we really understand the poor, isolated African American neighbourhoods, and is there meaningful public deliberation about the social policy surrounding them?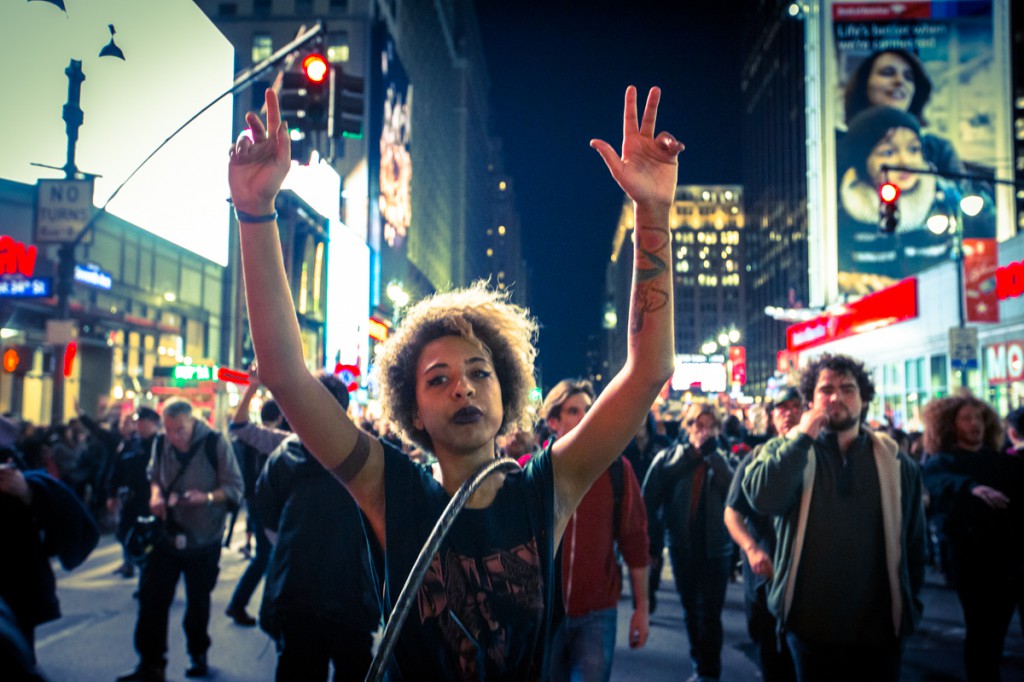 So goes a conventional story:
His mom is bitching at him to buy some diapers; little does she know he lost all her money in a dice game, so Dwayne hits the street in search of some last minute customers. Selling PCP a little too close to a rival block, Dwayne finds himself getting knuckle dusted and spitting blood all the way to his friend's house, who happens to own two guns and a van. They murder someone from the rival neighbourhood during a backyard barbecue. Stray bullets fly into the living rooms of law-abiding citizens and the entire neighbourhood is put at risk.
Some have regarded this false narrative as a social trend, for it would appear in sensationalized media coverage that most young black men behave this way in poverty stricken communities. Yet in Delinquency in a Birth Cohort criminologist, Marvin Wolfgang, studied 10,000 adolescent boys from Philadelphia to adulthood; only 627 members, just 6 percent of boys, were responsible for more that 50 percent of the crimes committed by the entire sample. Most inner city young males don't commit violent offences and are simply trying to survive and scrape through the system.
This false narrative became institutionalized during the beginning of the War on Drugs, with the decisions of the Anti-Drug Abuse Act of 1986.  This created a 100 to 1 sentencing disparity between crack and powder cocaine possession, which some have argued to be discriminatory against low income minorities. In The Celling of America: An Inside Look at the U.S. Prison Industry, Daniel Burton Rose found that although African Americans only comprised 13% of regular drug users nationwide, they accounted for 35% of arrests, 55% of convictions, and 74% of prison sentences for drug possession crimes. According to Human Rights Watch, that means that African Americans were sent to state prisons on drug charges 13 times more often than white men.
High incarceration rates ignore families and destabilize the household with far reaching impacts on children. In these situations, African American youth are usually forced into dropping out of school in order to generate income for their family now lacking a primary breadwinner. According to Black Youths and Illegal Drugs, by Joseph Pearson, the irony of the War on Drugs is that it inflates prices, making the drug trade far more lucrative. With the disproportionate profit it makes more logical sense for teens to take the danger pay for working in a drug gang than it does to take a safe minimum wage entry-level job that ensures poverty and the sufferings attached.
Naturally this increases the incarceration rate, which leads the justice system to use race as a negative heuristic in trials, which then further promotes a reinforcing effect. The higher the imprisonment rate, the larger the quantity of damaged families, the more the heuristic will be enforced through eyes of the courts and the subconscious of fear-mongering white citizens. This can be seen in the Trayvon murder case.
The big question is do these indictments affect the lives of the less criminally involved men of the community in the same way they affect the perpetrators? The War on Drugs incarcerated a disproportionately high number of African Americans, yet the damage goes beyond the individuals and their families. According to Race, Crime, and the Pool of Surplus Criminality (2002) , African-American communities are targets of disproportionately high levels of surveillance thus their privacy rights are infringed upon without probable cause.
In the United States v. Armstrong case it was alleged the defendants were being selectively prosecuted because they were black. The court ordered the government to provide a list of all prosecutions for cocaine and firearms where the race of defendant would be identified. The case was dismissed after the government refused to comply. Due to the methods of police work on the street and the nature of the U.S. judicial system, racial barriers are constructed which confine many African Americans and thus a deep distrust for police and the government is bred.
Poverty and unemployment are social problems that accompany drug violence that cannot be solved by a pair of handcuffs and a harsh sentence. The ghetto story would end differently if the system focused on the needs of the victims and offenders. This is what thousands were marching for.
What would happen if convicted and over-represented minorities found themselves participating in a restorative justice program, rather than staring at the blank wall of a prison cell?
What would happen if we didn't try and rehabilitate offenders by isolating them with career criminals?
What would happen if we didn't glorify police brutality on primetime television?
The precedence might be put on achieving peace instead of achieving a subjective notion of justice. Before we crucify protesters for acting at the tipping point of a long line of legally excused and disproportionate police violence against unarmed citizens, let us examine the system that has pushed protesters to the streets.