BY: PILGRIM
When it comes to the knowledge we have of our planet, we've barely even scratched the surface.
The ocean makes up about 70% of the Earth's surface and 99% of its living space. In fact, 94% of life on Earth is aquatic and from blue whales to angler fish, the ocean contains our planet's largest and most elusive creatures.
The ocean also houses some of the world's most sublime landscapes, the Earth's longest mountain range being the Mid-Ocean Ridge system, an underwater mountain range four times the length of the Rockies, Andes and Himalayas combined. Hidden within the ocean are also more historical artifacts than all of the world's museums combined.
Amazingly— despite all these incredible facts—more than 95% of the ocean still remains unexplored. Moreover, according to a study published in 2011 by PLoS Biology, a startling 91 percent of ocean species have still gone undiscovered.
According to Robert Kunzig, a scientific journalist specializing in oceanography, humans have examined "perhaps a millionth or a billionth of the sea's darkness. Maybe less. Maybe much less." Bill Bryson comically sums up this reality in his acclaimed novel, A Brief History of Nearly Everything, "It's rather as if our firsthand experience of the surface world were based on the work of five guys exploring on garden tractors after dark."
Space, on the other hand, is relatively well explored compared to the ocean. Considering that the NOAA'S budget for ocean exploration is exceeded by NASA's space exploration budget by about 150 to 1, there is little surprise that we actually have better maps of Mars than we do of our own seabeds.
Considering the importance of the ocean to the sustainability of all life on Earth, how can this possibly be justified?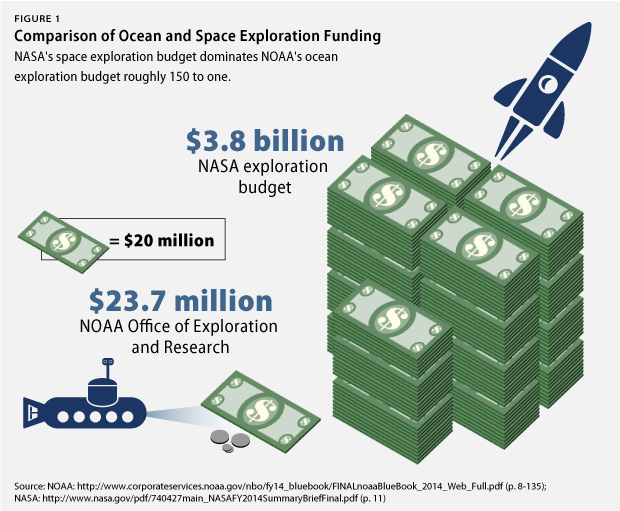 Of course, the romantic reasoning is understandable. Space exploration captures our greatest curiosities and imagination. Alternatively, exploring ocean floor topography in the depths of the ocean shares the explorational exuberance of investigating an 1,000 mile plot of wet sand with a magnifying glass in the dark.
In fact, a vast portion of the ocean is almost completely vacant. "Altogether less than a tenth of the ocean is considered naturally productive…Coral reefs, for instance, constitute well under one percent of the ocean's space but are home to about 25 percent of its fish." Says Bill Bryson.
Still, the ocean is a truly incredible place with depths that far surpass the height of our tallest mountains, an abundance of undiscovered life and potentially even undiscovered resources. One cannot help but wonder how many vital discoveries we have neglected by refusing to fully explore and thus understand our great seas.
This question, however, does bring to mind a rather interesting thought: perhaps our indifference to ocean exploration is essential to ocean sustainability. I mean, let's be honest here, human exploration has been synonymous with colonization and resource extraction and historically has never been a friend of environmental health.
The over-exploitation of our oceans' fish supply is no secret, some researchers even forecasting the extinction of our commercial fish supply by 2048.  New England's fishing boats could once pull in twenty thousand pounds of halibut a day. These days, the fish are nearly extinct from the northeastern coast of North America.
In other parts of the world, the stats are equally as humbling. According to the UN Food and Agriculture Organisation, coastal fisheries in West Africa have declined by 50% in the past 30 years.
This is all not to mention the numerous oil-spills, nuclear power plant disasters, garbage dumping and plastic waste invading our oceans.
Of course, this does not nullify the possibilities that lie beneath our oceans' surfaces.  However, until we're prepared to uphold the integrity of that which we discover, perhaps we're not ready yet to explore. Until then, I suppose we'll keep pursuing space like the shiny new toy we're willing to empty our entire bank account for. And the ocean will remain the balance in your bank account you're too afraid to look at until the day your card gets declined.