BY: RANDALL PARKER JR.
I've only been self-identifying as an anarchist since the fall of 2011. At that time, I was 28 years old and well beyond the age of wanting to "be cool" by taking on an unconventional identity. The reason I finally chose to identify myself as an anarchist is because I finally understood what anarchy means. I've also discovered that anarchy, or voluntarism as many are now calling it, is by far the most peaceful position one could advocate.
Close your eyes and picture an anarchist. It wouldn't be a surprise if the person you pictured was throwing a flaming Molotov cocktail or doing something else destructive. Not surprisingly, this is another instance of our biases being poorly calibrated.
Anything less than anarchy is to legitimize the offset and imbalance of power in the world through distinct classes in modern society and the violation of natural human rights. The position of anarchy, where the individual is the most protected minority, is most akin to the state of nature. It's also no coincidence that it is the most moral system of social organization possible.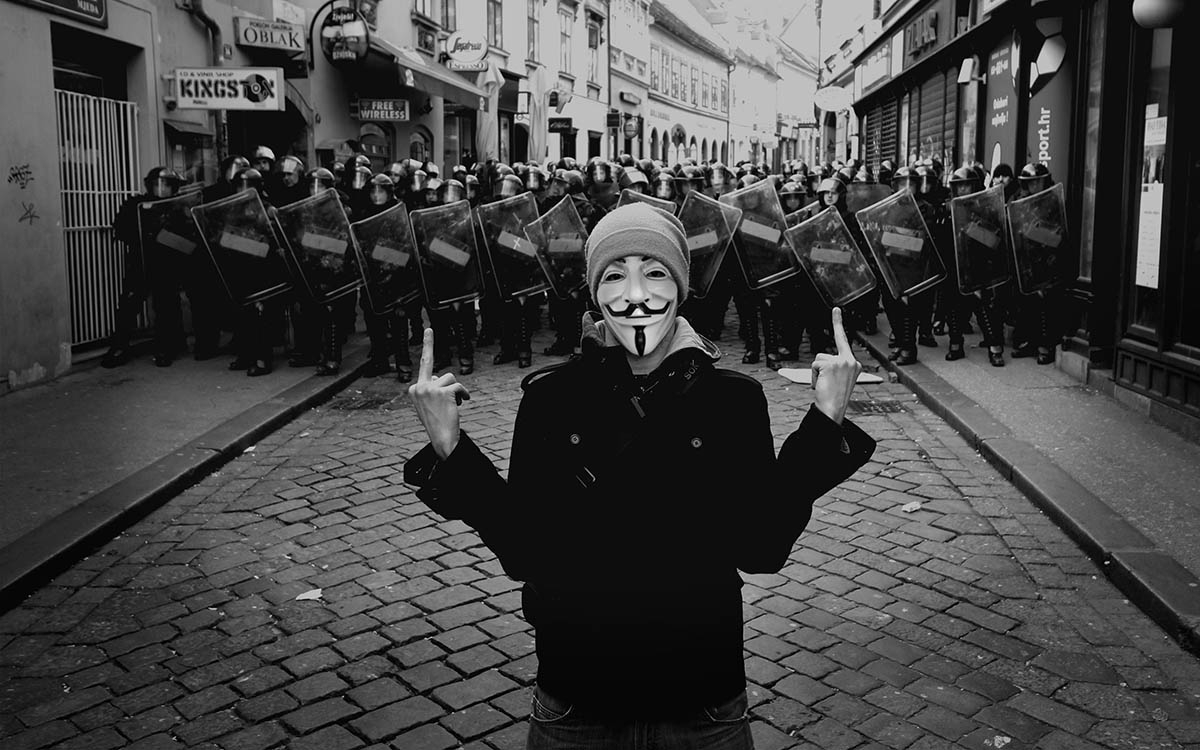 Anarchy literally means without rulers. Let's consult etymology— Archy translates to rulership. The preface 'An-' means without. Therefore, the correct literal translation of anarchy simply means without rulers as opposed to without rules as is commonly, but incorrectly, believed.
In fact, most anarchist authors or acquaintances of mine are not against all forms of hierarchy or authority, just those forms that are coercive. Most would easily submit to the authority of a dentist, doctor or engineer for a particular professional matter. It is the coercive authority of the state leading to social engineering that anarchists reject.
Anarchy, then by definition, is simply not compatible with the type of strong-armed, geographically monopolistic governments to which we are all so accustomed.
An anarchist refuses to use patriotic or nationalistic terminology to self-describe. Sure, call yourself an American, a Hungarian or a citizen of the Planet of Zolar, but the three identifications are all just completely abstract ideas. There is nothing intrinsically true that makes you the nationality you say you are. The truth of your nationality is little more than a collection tradition, culture and geographical circumstance— all things assigned by the lottery system of birth, none that are individually unique.
A government or a nation is not anything that is actually true of the world; it's just a shared hallucination among people and sometimes across generations. The truth is, national identity is accompanied by the element of ignorance and often by sentiments of exceptionalism. Nationalism can be a great force of destruction by impregnated citizens with falsehood and an identity that calls for patriotic support over critical thinking.
So, to quickly recap, for me, becoming an anarchist happened quickly. Having identified as a Democrat and having voted for Obama in 2008, the evolution to anarchism happened by accepting evidence and by using logic and reason to form my conclusions.
Once "deprogrammed" from nationalism, I instantly could begin equating taxation to theft. If you take something from someone against his or her will, that is theft, right? The notion of a social contract is also questionable, for those about to argue that we, as "citizens," have a duty to pay taxes. How exactly can a personal duty be established that was created prior to my own existence and therefore prior to my ability to consent? Although using money for collective benefit through social safety nets is noble, consider the reality whereby The US Department of Defense spent $615 billion dollars in 2014 on the military.
Take another route to the same conclusion. Consider the bank-bailouts seen in the US and other global markets since the meltdown of 2008. Those quick and gargantuan fiscal decisions were sold to the public, outside of debate or referendum, and were designed to transfer billions of dollars to failed businesses—by virtue of their massive size—for the sake of supposedly preventing a cataclysmic collapse of the global economy. Actually, had those institutions been allowed to truly fail, perhaps today we would have a far more strengthened economy with a greater range of options and a more stable foundation. Instead, we've seen larger banks consolidating, thus reducing options for consumers.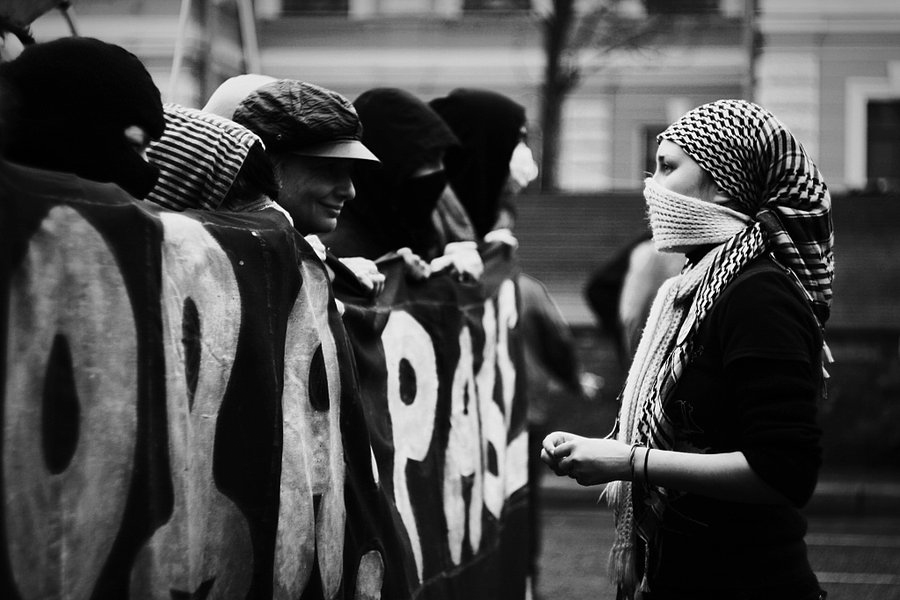 The common thread throughout modern society is almost that of a swelling socialism, not the cool anarchistic kind, but the centralized state-authorized, top-down kind that caused millions of deaths by starvation under Stalin and Mao. In this world, the individual bears the weight for the collective. The problem with this is that only a few individuals often really benefit from this arrangement. So, as an anarchist, I believe individual rights should trounce corporate or special interest.
If there were an actual way to keep centralized governments in check to only the tasks of defending individual liberty and enforcing contract rights, then perhaps I would consider lending my support.
However, our best attempt at that so far was a piece of paper with words scribbled on it called a Constitution. That well-intended document has not prevented the restriction of human rights as much as it has become toilet paper for modern politicians to wipe their ass with.
Decentralized order is looking like the new way. Technological marvels such as Bitcoin and the Tor browser are examples of the new Internet generation taking social organization and infrastructure into their own hands. Teenage hackers in IRC channels all around the world are drawing the roadways of the future social map.
The only drive of centralized systems of authority in society is fear. A free market is an expression of efficiency when expressing value. Any bastardizing of the free market is a consequence of the abuse of power and of coercion. Any law or statute is just an opinion backed by force. To achieve abundant and robust freedom in our modern, technocratic lives, we might try to shrug off the tethers of the century-old models of social organization. Let's organize society in the best possible way without clinging onto traditions that continue to drown us with their limp and bloated cadavers.