Just off the Mexican coastline, 28 feet below the ocean's surface, stand over 500 life-sized sculptures making up MUSA: the worlds largest underwater museum.
The project began with the objective of diverting divers and snorkelers away from the popular Mesoamerican Reef, the second-largest barrier reef on the planet, which provides home and food to hundreds of fish species, as well as sharks, and marine turtles. Thousands of curious visitors dive the natural reefs each year, unintentionally damaging them in the process.
Roberto Díaz Abraham devised a plan to protect the coral reefs by building an artificial reef, which over a span of years would encourage marine plants to grow and attract sea life. He teamed up with Jason deCaires Taylor to create a museum by submerging over 400 life-sized sculptures in a collection Taylor calls the "Silent Evolution." Each statue is modelled after local residents and provides commentary on how humanity interacts with its environment; whether negative or positive.
At this museum science and art intertwine. The sculptural works are built to  provide a new marine ecosystem, literally symbolizing the growth of new life, which may be why Abraham describes the museum as the "art of conservation."
Two thirds of our world is underwater and there is still so much on this incredible planet that is unknown, yet due to climate change, overfishing, and unsustainable tourism our oceans are in jeopardy. This museum shows art can provide more than aesthetic function and can address crucial problems occurring in our oceans.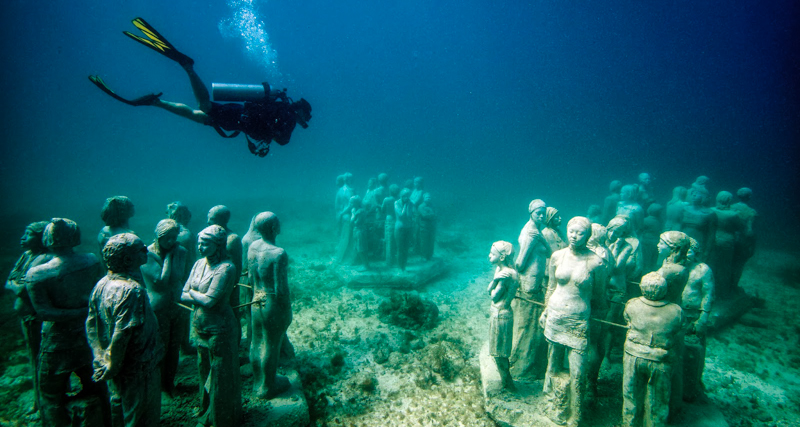 Sources: free1.cz,  businessinsider.com,  voyagesnet.com,  blogspot.com