BY: ROB HOFFMAN
Instead of compulsively checking your Facebook notifications, why not monitor and control the health of a garden that will supply you and your family or roommates with daily organic, homegrown meals? Aquaponics is a gardening system that not only grows vegetables for you, but also provides fish to eat, and does it all at a fraction of the water-cost and space necessary for cultivating a normal garden while fitting neatly inside your living room.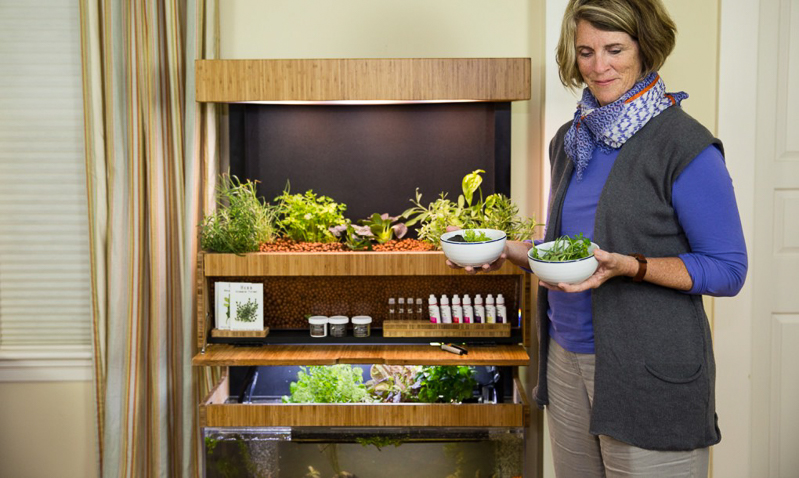 A new variation on the traditional aquaponic system was recently released, called the Grove Ecosystem, which essentially combines the method of aquaponics with the reliability and functionality of a paired smart phone application. According to Inhabitat, the Grove Ecosystem can provide users with enough ingredients for "as much as a salad per day." The Grove Ecosystem was developed at MIT and tested with "50 early adopters in Boston." The garden is connected to their application, "Grove OS" which easily guides you through the cultivation process, allowing you to choose from plant presets for a number of standard fruits and veggies. You can also put your Grove in "vacation mode" if you plan to leave for an extended period of time.
For those who are not familiar with aquaponics, it is a method of gardening that creates a symbiotic relationship between plants and fish. The garden is situated on top of the fish tank, so that the vegetables can drink from the tank with the added benefit of natural fish fertilizer (poop). This form of gardening uses 90% less water than current farming systems, yet actually speeds up the growing process significantly. It also allows you to grow food indoors, and harvest fish (like tilapia) alongside fruits and vegetables.
Grove was co-founded by a pair of MIT students, Gabe Blanchet and Jamie Byron, and continues to manufacture out of Clinton, Massachusetts—a small town just west of Boston. The Grove Ecosystem is also constructed out of sustainably sourced bamboo, and includes a 25-gallon acrylic aquarium. The garden is completely soil free, using porous expanding clay pebbles, and custom LED grow lights that keep the plants growing all year around. It also is a nice, soft light that looks aesthetically pleasing inside the home.
On Kickstarter, the Grove Ecosystem has already surpassed their goal of $100,000, reaching nearly $300,000 with 26 days left to go. It's not surprising that people are so quick to jump on the initiative. In recent years, there has been an increasing precedence on food-accountability and minimizing the distance between where food is grown and eaten. This system perhaps offers the best solution so far.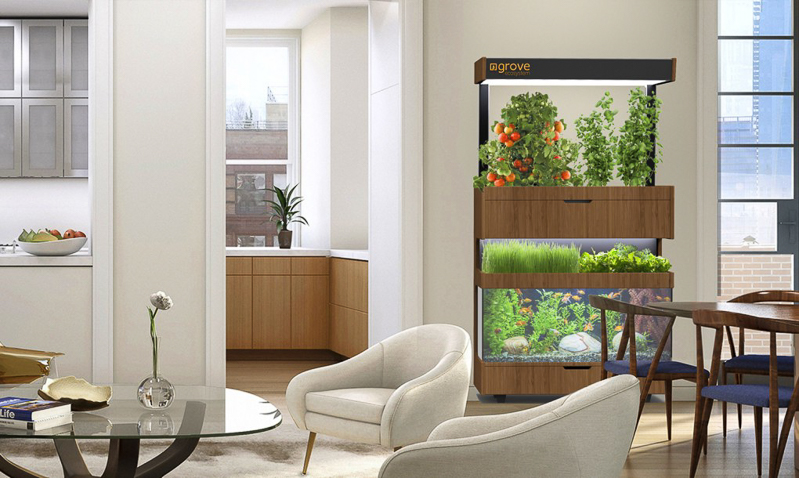 Image sources: inhabitat.com