BY: JOHNATHAN MOSS
Peering over a 40 foot-high ledge, balanced on his front tire, Scottish BMX rider Kriss Kyle counts the seconds it takes for his beads of sweat to topple to the ground. It may seem contradictory but Kriss Kyle is terrified of heights. He admits that conquering the fear that rushes wildly through his veins is the reason for getting up each morning. As he falls forward, mere seconds in the air feel like eternity, and as his tires finally touch the ground once more he momentarily experiences nirvana.
The short film called Kaleidoscope follows Kyle performing one jaw-dropping trick after another, in a colourful environment filled with enough confusion to disorient a compass. He rides calmly through a labyrinth of optical illusion, an environment where nothing is as it appears, whose surface shape-shifts leaving only enough time for hair-pin reactions.
Pulled from the depths of Kriss Kyle's brain, built by a team of 40 creatives, and precisely choreographed by director Ben Scott, the futuristic skatepark is packed with moving ramps, curved rails, trampolines and endless loops. It is created to deceive the eye, forcing Kyle to assume the position of an 8-bit video game character weaving his way through an acid trip-inspired Nintendo game.
It seems like only a couple of years ago, when the bold 15-year-old in his hometown of Stranraer, would skip class to ride the train alone for over three-and-a-half hours to Unit 23 in Dumbarton, the UK's largest indoor skatepark. He would ride until the lights shut off until eventually the owner of the skatepark, Chick Mailey, said Kriss could set up a bed in the back if he liked. Without a flicker of hesitation, he said yes, explaining to Mpora that "It's every kid's dream waking up in the UK's largest indoor skatepark."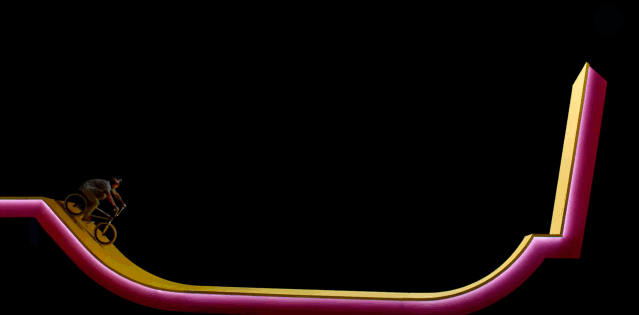 Through deep-seated passion and personal resolution, eventually his bike became an extension of his body. With his creative lines and unrivalled style, the 22year-old now stands shoulder to shoulder with Danny MacAskill. This video may look too good to be true, but trust me, the whole thing is real. It is merely a product of unrelenting practice and dedication to his craft. Feeling like a frail old man, his body tattered with bumps and bruises, he watches the video decorated with 4 of his world-first tricks, smiles, and knows the spilled blood was worth it. Bar none, Kyle is one of the most imaginative riders of our generation.
So sit back and strap on your seatbelt kids, and prepare to witness a video you'll be telling your grandchildren about on your death bed.
WARNING: be sure to throw down some newspapers or keep a towel close by; this video has been known to cause its viewers to piss their pants in wild, adrenaline-induced, mind-blown excitement.
Image sourcing: mymodernmet.com,  netdna-cdn.com