BY: MARIYA GUZOVA
Since 2014, the number of homeless people on the streets in America has dropped by about
40,000 people. This steady and incredible decline in homelessness stems from a new wave of thinking amongst the people who are trying to help.
Since the 80s, the most prevalent school of thought surrounding homelessness has been that a person isn't ready to maintain a permanent living situation until they have dealt with their mental health issues or addictions. This is why homeless shelters have been the only help homeless people are receiving from the government.
Homeless shelters are meant to provide a temporary place for someone to stay while they deal with their issues, and once they're successful, they theoretically can find a permanent home on their own.
This method isn't working however. Homeless shelters have become extremely overpopulated, and most people don't see them as temporary, but rather as their only and most permanent home. Over-population of shelters pushes people back on the streets, and many find it impossible to overcome their problems, and remain homeless for year on end.
Thankfully today, there are people like Gregory Kloehn, who think outside of the box. His argument is that giving a person a stable, and permanent, home allows them to deal with their problems, and make their lives better. Addressing complex and deep-seated problems is easier when you have a place to sleep, to call your own, and to go to for shelter.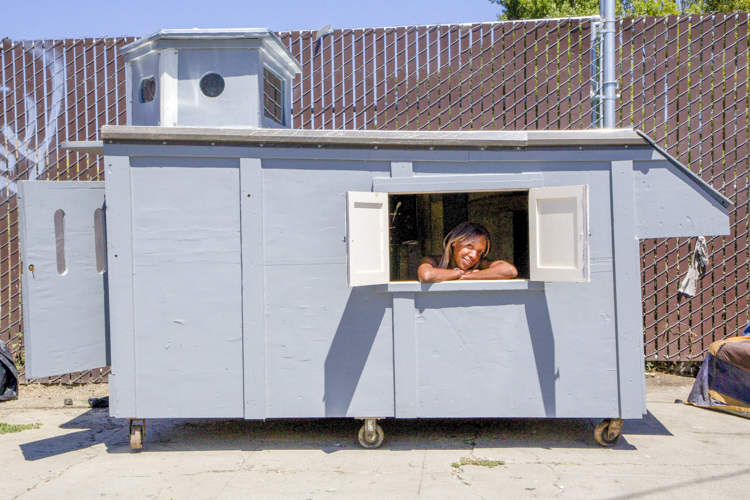 © Brian J Reynolds
Gregory Kloehn is an artist from Oakland who has made it his mission to provide homeless people in his town with exactly that. Using illegally dumped materials like plywood and car parts, he constructs small homes and gives them to people living on the street.
© Brian J Reynolds
Tiny homes have become an entire movement throughout the world as a way to live greener, simpler, and cheaper. People have created various ingenious ways to make homes more portable, smaller, and more environmentally sustainable. And Kloehn is taking this movement to the streets.
Each tiny home costs Kloehn around $100 to make, making it an efficient method for battling homelessness. The homes provide a viable and permanent shelter for people on the streets, and protect their belongings from being stolen or taken off the street by the city.
© Brian J Reynolds
© Brian J Reynolds
The space inside is only large enough to sleep in and store your things, but for those living on the streets, this is a luxury that makes a world of a difference.
Image sources: theawesomer.com,  dprmag.org,  fatalreport.com,  mtlblog.com,  widelec.org,  kpbs.org