BY: MATTHEW CHIN
With the price of rent in Brooklyn on the rise—increasing to an average of about $2,700 per month—the cost of living in New York has a hefty price tag.
Gregory Kloehn, an artist based in Brooklyn, is swapping the high-priced luxury of an apartment for a quaint home about half the size of a shipping container. Kloehn purchased a new dumpster for $2,000, and repurposed it to become a tiny home for him to reside in. The green garbage container took Kloehn six months of customization to make it suitable for the basic needs of an ordinary home.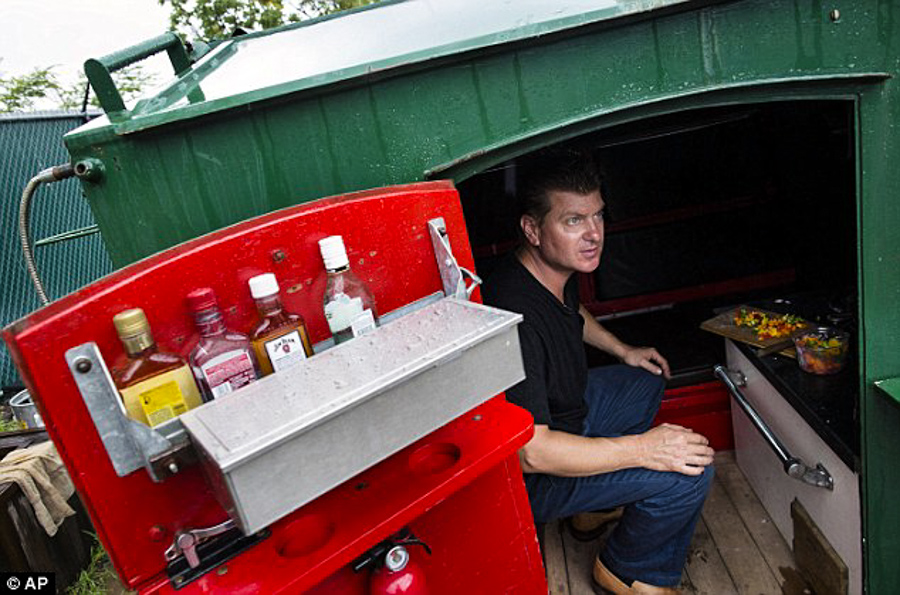 Inside Kloehn's 28 sq. metre home is a toilet, microwave, stove, sink, padded seating area for lounging or sleeping—about half the size of normal single bed—and two front-facing windows.
In the back, a barbecue, mini bar, and shower that sticks off the side of the dumpster brings the tiny home experience to the big city. The roof of the container acts as a deck shaded by an umbrella, and a six-gallon water tank connects to the ceiling for drinking, toilet use, and showering.
Kloehn's dumpster is a mobile home on wheels, so he can set up in any parking lot or back alley with a power source. He is now a full-time tiny home constructor, making homes that mimic his own and selling them around Brooklyn. By building homes from discarded shipping containers or unused dumpsters, Kloehn is making the nomadic lifestyle practical in the big city.
Sources: magazine.good.is,  dailymail.co.uk